Celtics
Here's what Walter McCarty learned about coaching from Brad Stevens and Rick Pitino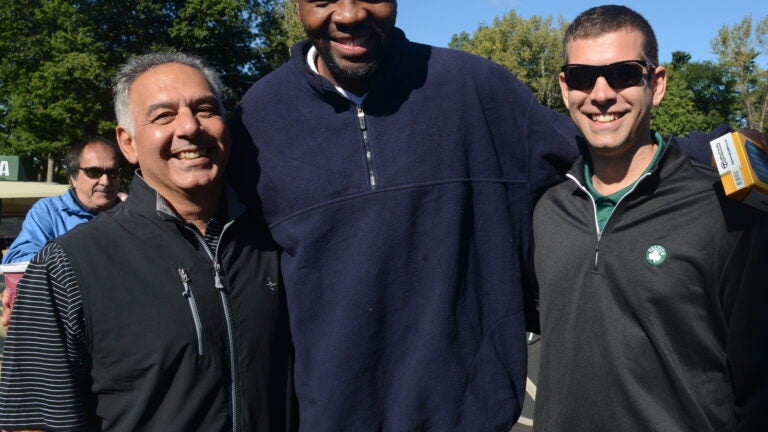 Walter McCarty is headed home to Evansville, Indiana to take over as head coach of the Purple Aces. As he enter the college ranks, McCarty has a wealth of experience to draw on from his own playing career, as well as the time he spent as an assistant to Brad Stevens in Boston and Rick Pitino in Louisville.
On the Yahoo Sports NBA podcast with Chris Mannix, McCarty said he'd always told Celtics general manager Danny Ainge that if the right college job came along, he would take it. The University of Evansville was the one. Season ticket sales have tripled since the school announced last week they'd hired the former Celtics fan favorite.
"I just love the interaction, the teaching, the development, helping with young men," McCarty said. "Not just on the court but being that father figure and helping them get to the next step, just being a success in life. I really enjoyed those relationships."

McCarty spent the past five seasons as a member of Stevens's staff. He's watched the head coach maximize the Celtics' talent, a skill Stevens also showed at Butler, turning the Bulldogs into a program capable of beating the blue-bloods without having an abundance of blue-chip recruits. McCarty said he hopes to do the same in Evansville, using the coaching style he's seen firsthand for the past five years.
"To leave that is scary, but it also shows me how I have to build my staff, how I have to build my program," he said. "It's a huge lesson for me. I'm glad that I've been a part of it because now I can go somewhere and feel confident that I know how you should do it. I know how to get it done."
What sets Stevens apart, McCarty says, is the relationship he has with the players. The players are always treated with respect, never thrown under the bus, so when one isn't getting the playing time he wants it's hard for him to turn on their head coach. The Celtics young players don't dwell on their mistakes and at practice, Stevens make sure the team doesn't dwell on anything, period.
"There's no time wasted with Brad," McCarty said.
Stevens, of course, isn't the only successful college coach the former forward has worked with. McCarty won the national championship playing for Pitino at the University of Kentucky, then joined Pitino's staff at Louisville as an assistant in 2007. The pair enjoyed plenty of success, but their spell together in Boston at the turn of the century did not reach those heights. Pitino resigned in 2001 with a combined 102-146 record as the Celtics' head coach.
McCarty said that Pitino failed in Boston because he took over a young team and expected to turn it into a juggernaut overnight. He compared that Celtics group to today's Sacramento Kings and Phoenix Suns, teams with too many inexperienced players chasing contracts. Instead of being patient and letting the team grow over time, adding pieces in free agency and developing the younger players, Pitino rushed the process and walked away when it didn't happen immediately.
"Coming in he wanted to do it right away, put pressure on himself, got into it a little bit with the media," McCarty said. "I just think he tried to do it too fast and it didn't work."
Now, as McCarty tries to put together a team of his own, he's looking for players who will buy into the culture and develop into stars. He expects his connections to the NBA to help on the recruiting trail because he's been in the league and knows what it takes to get there. As for his coaching staff, he wants assistants he knows and can trust. Or those that come recommended by Stevens and Pitino. Either way, his phone's been ringing off the hook with applicants who want to work with him.
"I thought I was a popular person," McCarty laughed. "I didn't know I had so many friends until you can start hiring people."