Celtics
Second knee procedure will sideline Kyrie Irving for playoffs
"He is expected to make a full recovery in 4-5 months."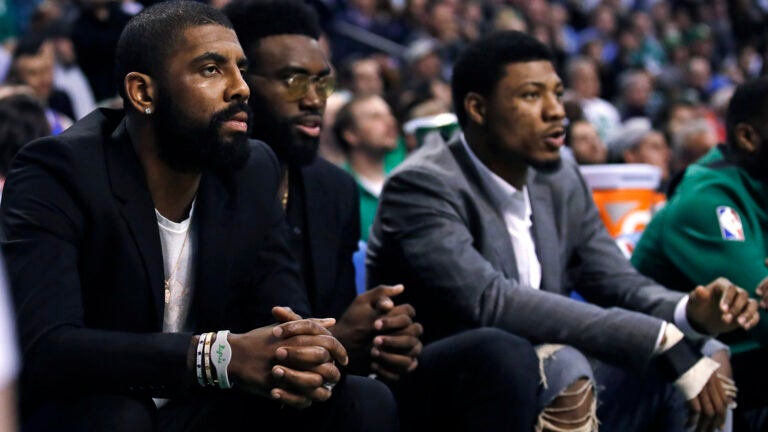 Celtics guard Kyrie Irving will have a second procedure on his left knee that will keep him out for the rest of the regular season and the playoffs, the team announced Thursday.
The Celtics said Irving will have two screws removed from his left knee on Saturday and that the recovery time was four to five months. The screws had been inserted during his 2015 surgery to repair a fractured kneecap.
Irving also had a procedure to remove a tension wire in the knee in March, and initially Irving was expected to return to basketball activities in three to six weeks.
The tension wire had also been inserted in Irving's knee during the 2015 surgery.
The Celtics issued the following statement:
"This Saturday, Celtics guard Kyrie Irving will undergo a procedure to remove two screws implanted in his left patella after the patellar fracture he suffered during the NBA Finals in 2015. Following a mid-March procedure to remove a tension wire that had been implanted at the same time as the screws, pathology indicated the presence of a bacterial infection at the site of the hardware. To ensure that no infection remains in the knee, the screws will be removed. The fracture in Irving's patella has completely healed, and his knee remains structurally sound. He is expected to make a full recovery in 4-5 months."
Irving posted a lengthy statement on Instagram:
https://instagram.com/p/BhMonavHMi0/?utm_source=ig_embed&utm_campaign=embed_profile_upsell_logged_in_test
Irving, who has not played since March 11 vs. the Pacers, appeared in 60 games this season. He averaged 24.4 points and 5.1 assists.
The Celtics (53-25) are in second place in the Eastern Conference and have four games to play before the postseason begins.