Celtics
Kyrie Irving, Gordon Hayward in US Olympic basketball team pool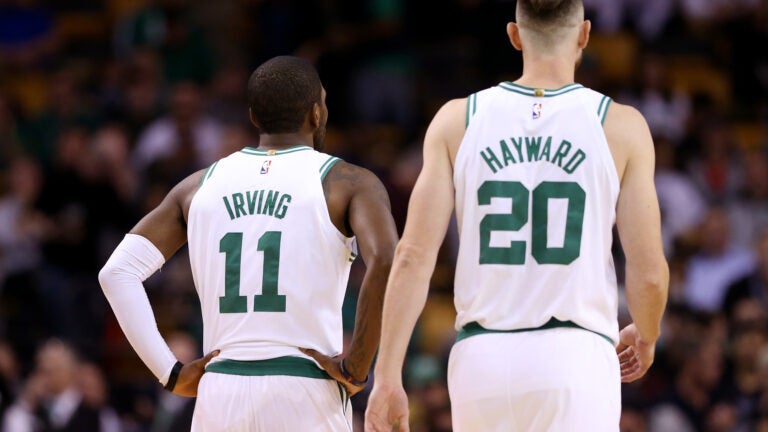 LeBron James is putting himself in position to play in a fourth Olympics, and Kevin Durant and Chris Paul a third.
The NBA stars were among the headline names on the list of 35 players chosen Friday for USA Basketball's national team pool of players for 2018-20.
Stephen Curry, Russell Westbrook, James Harden, Kyrie Irving and Anthony Davis also were on the list of players the Americans can choose from if they qualify for the 2019 Basketball World Cup and 2020 Olympics.
The remainder of the list: Golden State's Klay Thompson and Draymond Green; Toronto's DeMar DeRozan and Kyle Lowry; Washington's John Wall and Bradley Beal; Portland's Damian Lillard and CJ McCollum; the Clippers' DeAndre Jordan and Tobias Harris; Detroit's Blake Griffin and Andre Drummond; Indiana's Victor Oladipo and Myles Turner; Cleveland's Kevin Love; Minnesota's Jimmy Butler; New Orleans' DeMarcus Cousins; San Antonio's Kawhi Leonard; Oklahoma City's Paul George; Houston's Eric Gordon; Boston's Gordon Hayward; the Lakers' Isaiah Thomas; Charlotte's Kemba Walker; Dallas' Harrison Barnes; Memphis' Mike Conley Jr.; Milwaukee's Khris Middleton; and Phoenix's Devin Booker.
The players are expected to attend minicamp in Las Vegas from July 25-27, when U.S. coach Gregg Popovich will take over the team for the first time.
James won gold in 2008 and 2012 and a bronze in 2004 as a rookie. He skipped the 2016 Olympics but made clear at the time he wasn't retiring from international basketball, leaving open the possibility of playing again because of his admiration for Popovich, who replaced Mike Krzyzewski after the last Olympics.
Carmelo Anthony is the only U.S. man to play in four Olympics. He was not on the list, saying after winning a third gold in 2016 that he didn't plan to play anymore. The other 11 players from the Rio roster are back, while seven players in the pool won gold in 2012 in London.
That includes Durant, who has played on the last two Olympic gold medalists, and Paul, who played in 2008 and 2012 before also opting to sit out the Rio Games.
The Americans are well on their way to locking up a place in the 2019 World Cup in China, despite using G League players thus far under the new qualifying system that features games during the NBA season. That tournament will be used to qualify teams for the 2020 Tokyo Games and NBA players will participate.