Celtics
What experts are saying about the NBA's Eastern Conference playoff picture
Can the second-seeded Celtics get out of the East?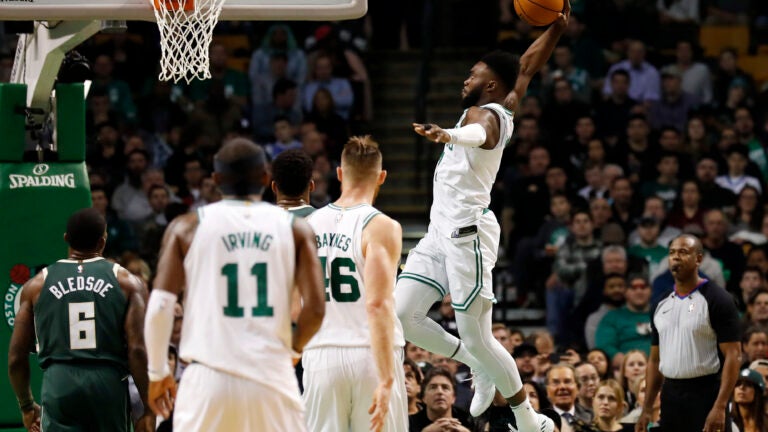 The Celtics might be launching their bid for Banner 18 down two All-Stars, but they aren't the only team with question marks in the fuzzy Eastern Conference playoff picture.
Brad Stevens's team faces Giannis Antetokounmpo and the Milwaukee Bucks on Sunday at 1 p.m in the series opener. The Celtics enter the postseason as the No. 2 seed with Gordon Hayward, Kyrie Irving, and Daniel Theis done for the year and Marcus Smart out until late in the first round at the earliest. But they are still a Brad Stevens team.
Elsewhere in the East, Cleveland's LeBron James will chase his eighth consecutive Finals appearance with an almost entirely different ensemble around him than the one he played with before the trade deadline, the top-seeded Toronto Raptors seek to make their breakthrough, and Joel Embiid takes the Sixers into the playoffs on a 16-game winning streak.
Here's what experts are saying about the wide-open Eastern Conference:
Neil Paine, Chris Herring and Kyle Wagner, FiveThirtyEight
FiveThirtyEight's model predicts the Celtics have a nine percent chance to win the Eastern Conference and a two percent chance to lift the Larry O'Brien Trophy. It gives the Raptors a 42 percent shot to make it out of the East, followed by the surging 76ers (30 percent) and LeBron James's Cavaliers (14 percent).
The [Celtics] defense is so good that they can lock you down to keep themselves in the game long enough to have these 'Luck of the Irish' wins. Brad Stevens can out scheme you enough to buy a couple points here and there. But in a playoff setting, if the Bucks are decent defensively, they should win this series just because they're gonna have so much more offense. They're going to have so much more versatility offensively…The talent on this roster, when factoring that against the Celtics injuries, they really should win this series. That's saying a lot given that Brad Stevens is on the other side.

The numbers say this might finally be a breakthrough year for the Toronto Raptors, who are in the playoffs for a fifth straight season but have only one conference finals appearance (and zero NBA Finals berths) to show for it. Everything seemed to come together for Toronto this season, from a mega-efficient offense to a defense that improved to fifth-best in basketball. Add in a career year from DeMar DeRozan and a world-beating second unit, and the result was the top seed in the East — with a 42 percent chance to win the conference, according to CARM-Elo. That number is much higher than the 30 percent chance that CARM-Elo is giving the 76ers, the team our model thinks has the second-best chance of making it to the NBA Finals. And it's hugely better than the 14 percent we're giving the three-time defending conference champion Cavaliers. If the regular-season indicators mean anything, Toronto has earned every bit of its favorite status.
Jack Maloney, CBS Sports
Boston wins if they're able to get enough offensive production. Even with the injuries, the Celtics have still been a strong defensive team, and there's little doubt that end of the floor will be a problem. But without Hayward and Irving — as well as Smart, who is known more for his defense but is big on the offensive end too — the Celtics are going to have trouble scoring points. If their youngsters are able to handle the increased pressure of the playoffs and put points on the board, they can win this series.
Milwaukee wins if Giannis takes over and the Bucks' defense stifles the Celtics. The Greek Freak will be the most talented player on the floor, and the Bucks need him to play like it. There's no reason to expect him to play poorly, but the Bucks can't afford any off nights from their star in this series. In addition, they'll need their defense — which has been bad at times this season — to step up and stifle the shorthanded Celtics.
Yahoo Sports Staff, Yahoo Sports
The Wizards are essentially the same team they were when they pushed the Celtics to the brink in the conference semifinals last season, if not deeper due to the development of reserves Kelly Oubre, Tomas Satoransky and Mike Scott. It's just that they're constantly consumed by an identity crisis. Can they fold the best parts of who they were without Wall into what they could be with him? If they can find themselves in time, they're a threat not just in the first round, but beyond.

Victor Oladipo has proven this season that he's a star — a legitimate No. 1 scorer, playmaker and havoc-wreaking help defender, a guy who can definitely be the best player on a playoff team. Due in large part to the great leap forward that's seen Oladipo average career bests in (deep breath) scoring, rebounding, assists, steals, Effective Field Goal and True Shooting percentages (exhale), all while commandeering a superstar's share of his team's offensive possessions without a comparable uptick in turnover rate, the Pacers won more games in their first year without Paul George than in their last year with him. Which, obviously, we all saw coming. Now, they look poised to make life very difficult on the East's No. 4 seed for the next couple of weeks … or, at least, more difficult than any first-round opponent's been able to make LeBron's life in the last few years. To do so, though, Nate McMillan's going to have to come up with a way to make the Cavs pay for selling out to force the ball out of Oladipo's hands.
Jackie MacMullan, ESPN
Are we audacious enough to suggest the Sixers, those 28-wins-of-a-year-ago Sixers, can pull this off? Any moment Joel Embiid, the self-proclaimed Phantom of the Process, will start trolling Hassan Whiteside and we'll have a front-row seat to the unraveling. Philly's path to the conference finals doesn't include LeBron or the Raptors, so that alone qualifies the Sixers as a legitimate answer to this question. Everyone keeps chiding me that Ben Simmons isn't really a rookie. He's certainly not playing like one … so … could it happen? Too delicious to consider.

I'm putting all my chips on Giannis Antetokounmpo. Here are his numbers in four games against first-round opponent Boston this season: 33.5 points, 10.5 rebounds, 5.2 assists a game, with a .53.9 percent shooting percentage and an average of 10.5 free throws a game. With underrated Boston big man Daniel Theis shelved for the postseason, those numbers could actually increase. (And yet, invoking the immortal Jerry West, this does not necessarily mean the Greek Freak's team will win.)
John Schuhmann, NBA.com
This series promises to be relatively ugly, with close games. It will be strength vs. strength on the Bucks' end of the floor, with transition defense obviously being a huge key for the Celtics. Transition defense begins with offensive execution, so Boston will need to take care of the ball and seek the layups that the Milwaukee defense will yield. They should be able to do that just enough to move on to the conference semifinals. Celtics in 7.
Chris Ballard, Sports Illustrated
Warriors over Sixers in six games. It could have been ugly for Golden State. Then everything broke near perfectly in the playoff brackets. They will have to face only one of the three Western teams best-equipped to beat them—Houston, Utah, and the Thunder—and will theoretically do so with a healthy (or healthy-ish) Steph Curry. It won't be an easy road to the title, especially against Houston in the Conference Finals, a seven-game classic, but the smart money is on the Warriors busting out of their funk once the stakes are raised. In particular, Draymond Green is one of those rare competitors who seems functionally incapable of not going eye of the tiger when the time comes, and he and Steph's fire will be contagious.

Will the Sixers actually make the Finals? Maybe not. But it's no fun to pick the Cavs again, and this feels like a breakthrough season for Philly. Simmons, like a young LeBron, won't shy away from big moments, and neither will Embiid. Philly is equipped to take out the Cavs, especially defensively. Why not now? Somewhere, Sam Hinkie will be smiling.
Rohan Nadkarni, Sports Illustrated
Even when Brad Stevens had Kyrie Irving, he couldn't quite put together an offense that clocked in much higher than average. The Celtics are scoring challenged, and it's going to be a struggle for them to get buckets against the Bucks. The difference in styles will be interesting this series. For all of Milwaukee's faults, Giannis and Co. still finished with the seventh-best offense in the league this season. But Boston had the NBA's No. 1 defense. I expect Stevens to find a way to slow down the pace, and throw an array of athletic defenders at Giannis Antetokounmpo.

If the game slows down, Milwaukee may resort to a little bit too much of "your turn, my turn, your turn" between Giannis, Kris Middleton and Eric Blesdoe. That works in Boston's favor. The Celtics may not be able to score, but the Bucks aren't quite world-beaters on defense either. Basically, expect an ugly series that will likely come down to a decided coaching advantage of the Boston sideline. The pick: Celtics in 6.
Steve Bulpett, Boston Herald
The Celtics should be that team in this series. Things will get more difficult as they get deeper, but they have enough to weather the Bucks and give the wild card that is Marcus Smart time to return from his thumb surgery. Adam Silver will be handing a big gold trophy to someone else in June, but the Celts are still good enough to beat expectation. Their championship quest was deemed over when Hayward went down, yet they grew into an outfit that the Warriors, even in private conversation when they weren't just being polite, believed were a serious Finals threat.

Irving's surgery has essentially blown out that flickering candle on the porch, but the Celtics have to understand that they will have failed their admittedly altered potential if they wash out here.