Celtics
Eric Bledsoe on Terry Rozier: 'I don't even know who the f*** that is'
Charles Barkley had a succinct response to Bledsoe's comments.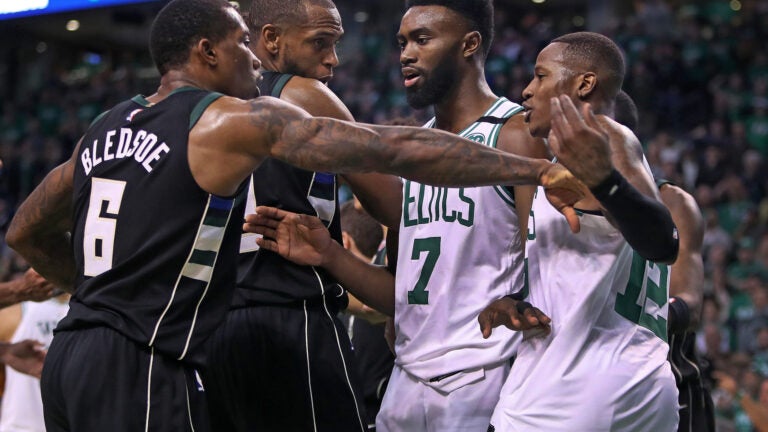 Even if he won't admit it, Eric Bledsoe appears to be taking things personally when it comes to Terry Rozier.
After a second-straight loss to the Boston Celtics, the Milwaukee Bucks point guard was asked Tuesday about Rozier, who scored 23 points and had eight assists in Game 2.
"Who?" Bledsoe responded, after being asked "how personally" he took the matchup against the opposing point guard.
"I don't even know who the f— that is," he added.
Chuck just keeping it real ? pic.twitter.com/fNiswUXoKJ

— NBA on TNT (@NBAonTNT) April 18, 2018
While the reason for Bledsoe's hostility wasn't immediately clear, it appears the comment may have been in response to Rozier's press conference following Game 1, during which he accidentally referred to the Bucks guard as "Drew Bledsoe," the former New England Patriots quarterback.
When asked about Bledsoe's comments Tuesday, Rozier told Yahoo Sports: "I'm concentrated on the Milwaukee Bucks-Boston Celtics matchup. If he don't know who I am, it's all good."
"He might be talking out of spite or something," Rozier added.
Of course, the natural answer to Bledsoe's confusion — whether real or feigned — as Charlie Barkley succinctly put it, is that Rozier is "the guy who's kicking your ass."
"Eric Bledsoe, you know I love you, but Terry Rozier is the guy who is whooping your ass right now," the always-colorful Barkley said on TNT's postgame show Tuesday night.
Barkley isn't wrong.
Filling in for injured point guard Kyrie Irving, the 24-year-old guard has averaged 23 points, 5.5 assist, and zero turnovers on 47-percent shooting in the Celtics' first-round playoff series against the Bucks. Meanwhile, Bledsoe, who makes roughly seven times more than Rozier, has averaged averaged 10.5 points, four assists, and three turnovers on 36-percent shooting in the series, which the Celtics lead 2-0.
In the individual matchup, Rozier also has the firm upper-hand. According to ESPN, Bledsoe has shot just 4-of-13 when guarded by the tenacious Celtics guard. On the other end, Rozier is 7-for-12 when guarded by Bledsoe, including his crossover, step-back three in the final seconds of regulation in Game 1, which left the Bucks guard struggling to recover.
Bledsoe did give credit to Rozier after that game.
"I was trying to play the stunt, and [Rozier] did a great job of reading it," he told ESPN. "And he made a big shot."