Celtics
5 takeaways from the Celtics' tantalizing Game 2 win over the Bucks
This series is about to get heated.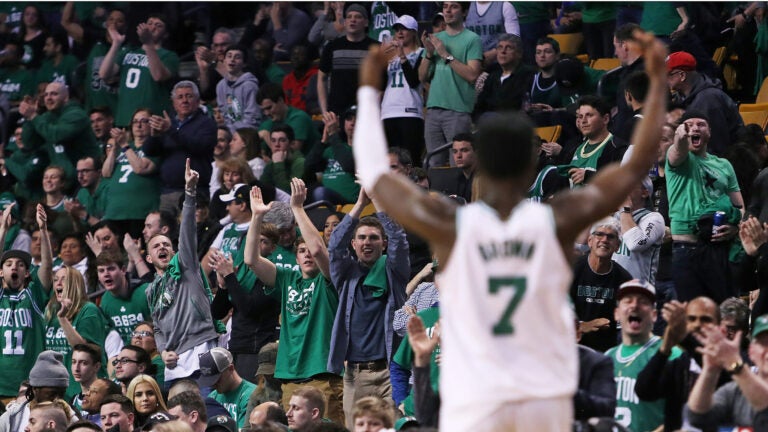 COMMENTARY
The Celtics got off to an 11-point, first-quarter lead and never looked back, earning a convincing 120-106 win over the Bucks Tuesday night.
Boston's postseason is off to quite a different start compared to last year's go-around, as the team heads to Milwaukee with a 2-0 series lead.
"It was a whole different vibe in the locker room entering the series against Chicago, being the one seed down two games," Jaylen Brown told reporters after the game. "Now being the two seed up two games, it just shows how good the NBA is and how good people are. We're not taking anybody lightly coming to Milwaukee. I know they're going to come out and make adjustments."
Here's what we learned from Game 2:
The Celtics wanted it more.
Bucks coach Joe Prunty said it himself to open his postgame press conference: "From the jump, I thought Boston played harder."
The Celtics hustled on several effort plays throughout the game, battling for loose balls and competing for offensive rebounds at every opportunity — whether the team was trailing by a point midway through the first quarter (Guerschon Yabusele saved the ball from going out of bounds, which led to a three-pointer by Terry Rozier) or up by 17 points with under 2 minutes to go in the fourth (Shane Larkin fought to regain possession after a tipped three).
As Prunty noticed, a lot of little things added up. The Bucks' seven first-quarter turnovers didn't help, either.
"You have to be ready to play right when you step on the floor," Prunty told reporters after the game. "This isn't a 'get comfortable, find my rhythm' atmosphere. No, your rhythm has to start before you enter the game."
"There's no wiggle room here," he continued. "We need to come out with more of a sense of urgency right from the beginning of the game and impose our will."
Celtics coach Brad Stevens, on the other hand, said he thought his team was "locked in on both sides of the ball." Stevens seemed pleased, albeit not complacent, with Boston's level of intensity.
"We better play competitive, better be tough," he said, in regards to the Celtics' approach for Game 3. "We can't let go of that. You don't have a chance if you don't do that. That's who we've been."
Jaylen Brown isn't afraid to step up into a superstar role.
Against the Bulls in the first round of last season's playoffs, Brown played 30 total minutes in the six-game series. But in the first round of this season's playoffs? The 21-year-old played 33 minutes in Game 2 alone.
"I think Jaylen loves the moment," Stevens told reporters. "I think he really appreciates the opportunity to compete on this stage and at this level. We've seen him be really able to lift his level in some of the biggest games against the better teams in this league all year."
Brown scored a team-high 30 points Tuesday night to become the youngest player in franchise history to score 30-plus points in a postseason game. He displayed immense confidence — taking a team-high 22 shots, including 12 three-point attempts. Brown shot 54 percent from the field and 41 percent from behind the arc.
Jaylen Brown put up a Playoff career-high 30 to lead the @Celtics to a 2-0 series lead! #CUsRise pic.twitter.com/qC2ndVwxcp

— NBA (@NBA) April 18, 2018
"Obviously, he's gaining more experience by the minute," Stevens said. "He did a great job of picking the right spots to attack tonight. I would say he's had a great year, from a growth standpoint, in almost every category in my eyes."
Stevens said he's not surprised by the impressive trajectory from Brown's second year, crediting both the amount of work the NBA Rising Star has put in and his "unique" athletic ability that allows him to separate and explode. Brown, however, told reporters he hasn't been paying attention to his individual growth.
"I've just been playing basketball all year," he said. "Ultimately, we just want to win games, so that's the only thing that we are concerned with. We are confident as ever. Teams have been writing us off all year, and we just keep proving people wrong, so that's what we're going to do."
The Celtics' offense continues to be a team effort.
Despite missing Gordon Hayward, Kyrie Irving, Marcus Smart, and Daniel Theis, the Celtics still have multiple players who can tally up points. Marcus Morris, Greg Monroe, and Shane Larkin all logged significant minutes off the bench, as Boston's reserves once again outscored their Milwaukee counterparts.
"We fight together, and we fight for each other," Larkin told reporters. "When you have a team like that, it's really tough to beat."
Six players — including Morris, Monroe, and Larkin — scored in double digits for the Celtics, as the team's offense remains a collective effort. Tatum, who scored 19 points in his playoff debut Sunday, was limited to two field goals. But the rookie found a way to contribute with a team-high seven rebounds and four steals.
Celtics are shooting 49 percent at the half. Tatum is 0 for 6, Yabu 0 for 2, everyone else 24-41 (59 percent).

— Chad Finn (@GlobeChadFinn) April 18, 2018
"They've got a lot of guys playing well right now, and we've got a few," Prunty said.
Moving forward, Prunty said Milwaukee needs to disrupt Boston's offense more by getting steals and deflections with their length.
"We have to be sharper and take on individual challenges and guard our guys while also defending as a team," he said.
Giannis Antetokounmpo's free-throw shooting is worth monitoring.
What started out as a ruse in the balcony slowly became a chant throughout the Garden. Whenever Giannis Antetokounmpo was sent to the free-throw line, fans started to count (at a rather rapid pace), "One… Two… Three… Four… Five… Six… Seven… Eight… Nine… Ten… Eleven… Twelve… Thirteen…"
Why?
According to the last two-minute report for Game 1, there were a few missed 10-second violations against Antetokounmpo Sunday afternoon. An NBA rule states a player at the free-throw line has 10 seconds to shoot the ball from when he catches it from the referee. Antetokounmpo took longer than the allotted time on at least three occasions.
"It has been brought up in the past," Prunty said. "We're aware of the things that are in the two-minute report. Like I said, it's been brought up in the past and there's a lot of things that get brought up that we address with the team as need be, but I don't want to go into the two-minute report being why we do or do not do things."
Antetokounmpo claims he didn't hear the crowd counting — "When I'm shooting free throws, I'm just focused on the rim" — but it's possible the noise got to his head. He was 4-of-9 (44 percent) from the line, including an airball in the third quarter. Antetokounmpo had made 76 percent of his foul shots during the regular season.
This series is about to get heated.
There seemed to be little to no drama through seven quarters of playoff basketball between the two teams, but tensions rose toward the end of Game 2.
Morris — who had a pair of ejections in the regular season — and Khris Middleton got tangled up under the Bucks' basket in the fourth quarter, prompting a foul on Morris and a small confrontation. As he walked away, Morris motioned for the crowd to start cheering. Middleton proceeded to miss both of his free throws.
"I expect it to be a hostile environment, especially for me" Morris said of Game 3. "I'm ready for it."
Later in the fourth quarter, Rozier hit a step-back three-pointer to give the Celtics a comfortable 112-97 lead with three and a half minutes remaining. Prunty called a timeout, and, as players retreated to their respective benches, Rozier and Bucks forward Thon Maker exchanged some words. Both were issued technical fouls.
But things didn't stop after the final buzzer sounded.
Bucks starting point guard Eric Bledsoe had an interesting exchange with a reporter in the locker room following the game. When Matt Velazquez of the Journal Sentinel asked Bledsoe about his matchup against Rozier — who hasn't committed a turnover in 78 minutes — Bledsoe asked for clarification.
"Who?" he said.
"Terry Rozier."
"I don't know who the f— that is," Bledsoe responded.
During his press conference following Game 1, Rozier had mistakenly referred to Bledsoe as former Patriots quarterback Drew Bledsoe.
Game 3 is Friday at 9:30 p.m. in Milwaukee.
https://twitter.com/SportsCenter/status/986454567083704321