Celtics
Terry Rozier on Drew Bledsoe's Game 7 cameo: 'That was dope'
"For real. I liked that."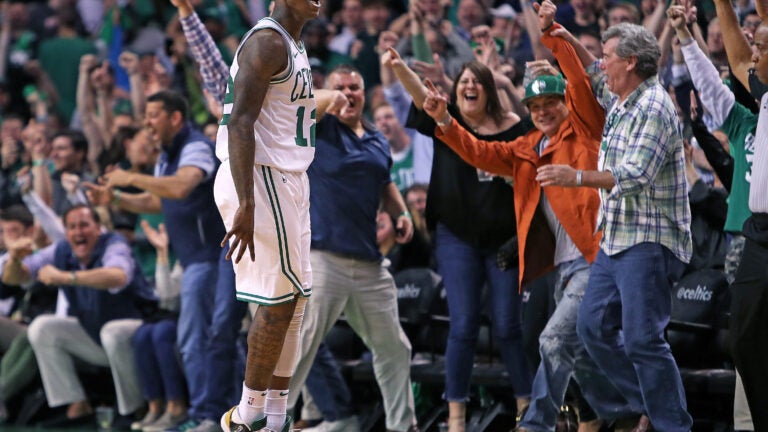 Things came full circle at the TD Garden Saturday night.
After a couple of roaring "Who is Bledsoe?" chants from the crowd, a familiar face made an appearance on the video board during the fourth quarter.
"Hey Boston, it's the original Bledsoe," former Patriots quarterback Drew Bledsoe said in a pre-recorded clip to pump up the crowd. "Game 7. Come on, Boston. Get out of your seats. Let's make some noise."
The OG, @DrewBledsoe #CUsRise pic.twitter.com/d8hbpY8jVj

— Boston Celtics (@celtics) April 29, 2018
Fans, of course, weren't taunting Drew with their simultaneous "Who is Bledsoe?" and "Bledsoe sucks" chants, but rather, they were trying to provoke a player with the same surname: Bucks point guard Eric Bledsoe.
After Game 1, Celtics guard Terry Rozier inadvertently referred to Eric as Drew in his postgame press conference. The minor mistake seemingly riled up Eric, who then claimed he didn't know "who the f—" Rozier was after Game 2. Though the two continued to jaw at each other throughout the series — including a scuffle that resulted in a technical foul in Game 5 — they shared an embrace after Game 7.
"I mean, it's the playoffs," Eric said after Milwaukee's loss Saturday. "What, you expect us to be out there shaking hands, giving out hugs the whole time? S— ain't gonna happen. He had a helluva series, man. I've got to take my hat off to him."
Rozier echoed his opponent's sentiment, saying that the chippy back-and-forth battle was just "part of the game" and a reflection of their mutual desire to win.
There may be no lingering hard feelings between the pair, but the fading animosity doesn't mean Rozier didn't find humor in Drew's surprise showing Saturday.
"Man, that was special," he said, grinning from ear to ear in his post game news conference. "That was dope. I don't know who thought of that, but that was nice. For real. I liked that."