Celtics
4 takeaways from the Celtics' wild 22-point comeback over the 76ers in Game 2
As Terry Rozier put it, all it takes to win are "our fans and us believing."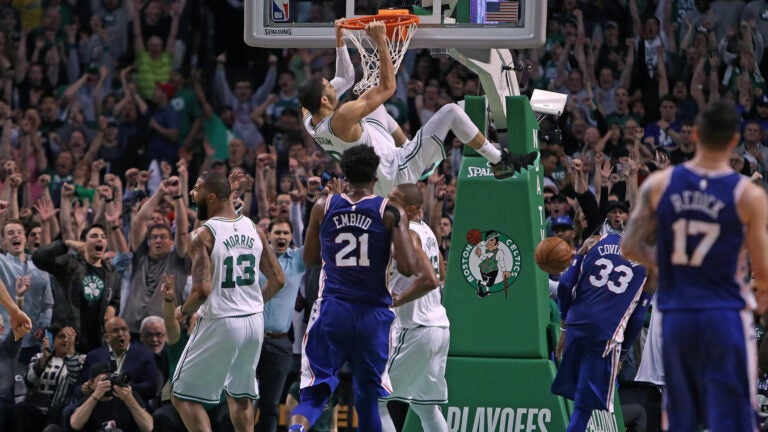 COMMENTARY
The Celtics have done it again.
Boston trailed by as many as 22 points midway through the second quarter of Game 2 against the Philadelphia 76ers Thursday night, but as this young group has proved time and time again, no lead is safe — especially at TD Garden.
"Coach was saying whoever brings the fight and whoever the tougher team is going to win," Celtics guard Terry Rozier said. "They definitely punched us in the mouth in the beginning of the game and we just had to bounce back and get things together."
The Celtics went on a 50-20 run over the course of the second and third quarters to close the gap, and eventually pull ahead. Despite Boston's eight-point lead with three minutes remaining in the third, the 76ers mounted a mini comeback of their own, which brought things down to the wire in the fourth.
"It's a long game," 76ers guard JJ Redick said. "It's a game of runs."
There were four lead changes in the fourth, but the Celtics hung on to win, 108-103, thanks to the solid defense and playmaking that have fueled them all postseason.
Here's what we learned from Game 2:
The 76ers had an interesting lineup question on their hands.
Rookie sensation Ben Simmons was limited to just one point, which he scored at the free-throw line five minutes after tip-off. In his 36 minutes on the court, Simmons also notched five rebounds, five turnovers, and seven assists.
76ers guard TJ McConnell, on the other hand, logged five assists and eight points on 4-for-4 shooting in 17 minutes off the bench. McConnell checked into the third quarter with Philadelphia down by eight and checked out over halfway through the fourth with Philly up by two. During those 10 minutes, McConnell scored two key layups, dished three assists, and grabbed an offensive rebound. He finished the game with a team-high plus-minus of +16, while Simmons had a team-low -23.
76ers coach Brett Brown said the decision to take McConnell out and put Simmons back in the fourth was "tough."
"This whole playoff experience, I want our young guys and our star players to learn from and grow," Brown said. "I'm coming back to Ben Simmons. I'm sticking with Ben. He's had a hell of a year. I think he's the Rookie of the Year. I think he going to have to learn how to play in these environments."
After starting 51 games last year, McConnell was tapped for just one start this season. Given his performance in Game 2, it's clear he's still carving out a role as a reliable option for the 76ers. Simmons will always be Philadelphia's starting point guard — whether he scores one point or no points — but after seeing how reserve center Thon Maker was able to revitalize the Bucks, the Sixers might want to consider turning to McConnell for more minutes.
Brad Stevens: "McConnell was ridiculous. He was a big reason why that game ebbed back towards them." pic.twitter.com/S62m22nxck

— Boston.com Celtics News (@BDCCeltics) May 4, 2018
Points never tell the complete story with the Celtics.
The Celtics offense featured double-digit scoring from multiple contributors. Rookie Jayson Tatum led the team with 21 points, while Rozier, Marcus Smart, Jaylen Brown, Al Horford, and Marcus Morris all eclipsed 10 points as well. Horford also had a double-double with his 12 rebounds.
"We have different guys leading us in scoring each and every night," Tatum said. "That's what makes us unique. We have different guys, even if somebody is hurt, to pick up the slack."
When asked what sparked the shift in the second quarter, Smart was ready to respond with a confident answer: "Greg Monroe." After not playing in Game 7 against Milwaukee or Game 1 against the Sixers, Monroe logged six minutes off the bench and tallied four points.
But important contributions don't always come via scoring.
"He checked in and instantly had an impact on the offensive end," Smart said of Monroe. "We were real stagnant on the offensive end, not moving the ball. He came in, got the flow of the game going for us."
Stevens noted Monroe has stayed "positive" despite his decrease in playing time.
"When his number gets called, he turns the game around for you," he said. "To be able to maintain a positive attitude and go in there and just contribute and get that game turned — with him and Al together we got some easy baskets at the rim. Huge, huge plays, and hats off to Greg. He helped us win the game and he was a big reason why we won the game."
Home-court advantage seems real.
The Garden got loud Thursday night. The Celtics — who haven't lost a home game this postseason, but also have yet to win on the road — gave fans many reasons, including four three-pointers from Smart, to cheer.
"Man, I've never seen TD Garden like it was tonight," Brown said. "I think I'll remember that game forever. The way the crowd got behind us before the half — that last five minutes, man. The energy was insane. I don't think I'll ever forget that."
Brown wasn't exaggerating. Smart said it was so loud his teammates couldn't hear the plays he was calling, even though he was "screaming at the top of [his] lungs."
Prior to tip-off, the Garden played the clip from Joel Embiid's Game 1 press conference — where he said 76ers fans are louder than Celtics fans — to rile up the crowd. Those in attendance seemingly took Embiid's comments to heart. Even when the Celtics were down double digits, the fans made it feel like a one-point contest.
Philly came equipped with celebrity superfans, comedian Kevin Hart and rapper Meek Mill, but so did Boston. Patriots owner Robert Kraft and a number of players sat courtside along with rapper Gucci Mane, who wore Brown's jersey to support a fellow Atlanta native.
As Rozier put it, all it takes to win are "our fans and us believing."
Marcus Morris: "I think Kevin Hart is a funny dude. I think it's even funnier he has to go back to Philly with that L." pic.twitter.com/57yQAvIDTt

— Nicole Yang (@nicolecyang) May 4, 2018
Jaylen Brown's hamstring is a question mark.
There were times throughout Brown's 24 minutes where he looked like he was hurting and very obviously injured — grimacing, limping, grabbing the back of the his leg — but the forward seemed to quell any doubts, in the short term, by responding with an impressive dunk or three-point shot.
Brown, who was initially listed as probable, told reporters he went against the advice of his doctors to play. He said he was powered by "adrenaline" throughout the game.
"That can be the scary part, too, because you don't feel anything," he said. "As I got going, I felt better."
The 20-year-old admitted he's "not really sure" about the risk of re-injury, but estimated it's "sizable." He said the decision to play tonight was his call, adding that he doesn't anticipate missing any games moving forward.
Stevens didn't express any grave concerns about Brown's status for the remainder of the series — despite the little indications he might not be 100 percent.
"The MRI, or whatever scan he had, showed that there was no tear," Stevens said. "There was no structural damage. It was a strain. It was probably below a grade one, we were obviously going to be very cautious in bringing him back."
"I thought he played really hard," Stevens continued. "This series kind of hit him when he first got in the game because he was — you're kind of coming back from an injury and you're kind of feeling yourself out and, oh by the way, everything's flying around you. But then he made some huge plays for us, obviously."