Celtics
'Overthinking' Ben Simmons scored 1 point in the 76ers' Game 2 defeat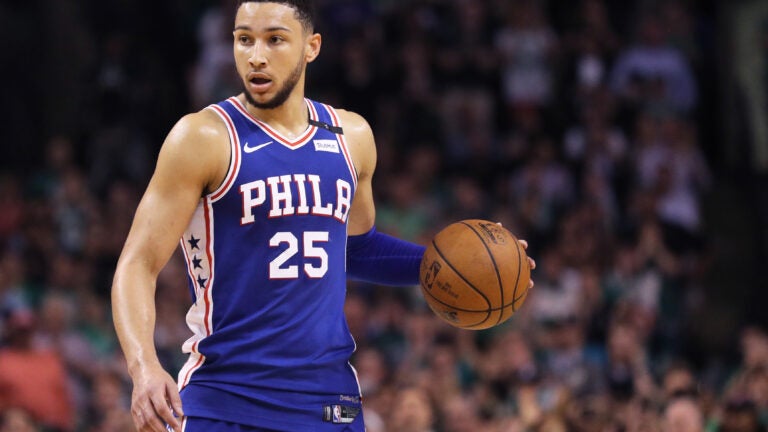 Ben Simmons hit a free throw early in the first quarter of Game 2 to give the 76ers an 11-5 lead over the Celtics. It was the Rookie of the Year favorite's first and last point of the night. Simmons finished the game as a minus-23 as the Celtics overcame a 22-point first-half deficit to beat Philadelphia 108-103 at the TD Garden.
When the 6-foot-10 point guard was asked what led to the largely nonexistent performance, Simmons said the error was self-inflicted.
"Mentally, I was thinking too much, overthinking the plays," he said. "Wasn't just out there, flowing, playing the way that I play, which is free. I think, obviously I know what their game plan is. I got to play my game."
The Celtics' game plan was to throw bodies at Simmons and hope to wear him down with physical defense. The plan, as most of Brad Stevens's blueprints tend to do, worked.
"With Ben [Simmons], I give him credit. They do a good job defending him," 76ers head coach Brett Brown said. "There's an element of physicality that I feel they have applied to all of us and tonight Ben struggled as we see. I do give Boston's defense a lot of credit and respect."
Marcus Smart, who put his stamp on the game with three first-half three-pointers, said the effort to contain Simmons "took everybody," but the Celtics were able to dictate the point guard's game for him.
The Celtics' matchup against Simmons was aided by the rookie's reluctance to shoot the ball. After averaging 18.2 points in Philadelphia's series against the Miami Heat, and adding another 18 points in Monday's Game 1, he had four field goal attempts and zero field goals in Game 2. Terry Rozier explained that the Celtics tried to make the pass-first point guard shoot the ball.
"Not saying that he can't score, but he wants to pass," Rozier said. "We take that away, we feel pretty good about it."
While the No. 1 pick in the 2016 NBA draft was setting a career-low for points, the No. 3 pick in the 2017 draft was dunking his was to 21 points in 33 minutes. The TD Garden crowd serenaded Simmons with "Not a rookie!" chants, while they reserved "He's a rookie!" for Jayson Tatum. The dispute over whether Simmons is a first-year player has spawned truther sweatshirts, but Tatum simply stated the facts when asked about the chants.
"I am a rookie," he said.
https://twitter.com/celtics/status/992227527153410048