Celtics
Jayson Tatum continues to dazzle in postseason
The rookie reached an historic milestone and guided the Celtics to a win over the 76ers in Game 3.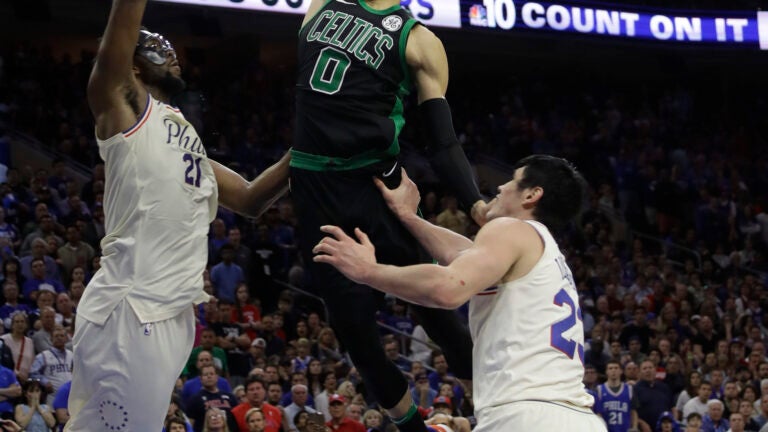 When the Celtics selected Jayson Tatum with the No. 3 overall pick last year, the consensus among those in the organization was that they had gotten a steal.
It's uncommon to dub a third pick as a bargain, yet the Celtics – who initially had the No. 1 selection, but traded it to the 76ers – were confident Tatum was the right fit.
"The draft was very even, we felt, at the top, all the way through maybe 5 or 6," Celtics president of basketball operations Danny Ainge said at the time. "It was very difficult. There was a lot of players we liked in this year's draft."
What stood out about Tatum?
"We like his size, length, rebounding, shooting, intelligence, character," Ainge continued. "There's a lot to like about Jayson. He's going to be a terrific player."
Nearly a year later, as the Celtics and 76ers clash in the Eastern Conference Semifinals, their decision to choose him over Markelle Fultz is paying immediate dividends. Fultz and Tatum both have plenty of basketball ahead of them, and time will tell how they each fare throughout their careers, but Tatum is without question winning the unofficial 1-on-1 battle at this point in time.
Coach Stevens on Jayson Tatum: "He's got guts." pic.twitter.com/vWNj0Hnefg

— Celtics on NBC Sports Boston (@NBCSCeltics) May 6, 2018
Fultz, who has been sidelined the bulk of the season due to a lingering shoulder injury, hasn't played this series. Tatum hasn't just played – he's been a driving force in helping the undermanned Celtics to a shocking 3-0 series lead.
"No moment's too big," Celtics coach Brad Stevens told reporters after the game. "He's got guts."
The sharpshooting rookie has averaged 24.3 points in the three games, shooting 50 percent or better in each contest. Saturday night, in the Celtics' 101-98 overtime win at Wells Fargo Center, Tatum poured in 24 points on 11 of 17 shooting, along with five rebounds and four assists.
GOT 'EM pic.twitter.com/PcgBU0e1uX

— Boston Celtics (@celtics) May 5, 2018
For the series, he's a plus-35, while 76ers rookie Ben Simmons is a minus-55. Celtics fans serenaded him with "He's a rookie!" chants at home, and he delivered several key buckets on the road Saturday in a hostile environment.
Tatum buried a jumper with 1:33 left in regulation to even the score, and then he hit back-to-back contested layups late in overtime to keep the Celtics within striking distance.
His success stems back to the Bucks series as well. He's now the only player 20 or younger in NBA history to score 20-plus points in five consecutive playoff games.
Jayson Tatum is the only player in NBA History to score 20+ points in five consecutive playoff games at 20 years old or younger. @EliasSports pic.twitter.com/eClVVnHuDb

— NBA.com/Stats (@nbastats) May 6, 2018
He also became the first Celtics rookie to ever score 20 or more in five straight playoff games, surpassing Larry Bird's mark of four.
Tatum, who averaged 13.9 points in the regular season, has scored 19 or more in seven of 10 playoff games.
Not bad for a rookie.