Celtics
5 takeaways from the Celtics' win — and the 76ers' meltdown — in Game 3
"Brad is a genius."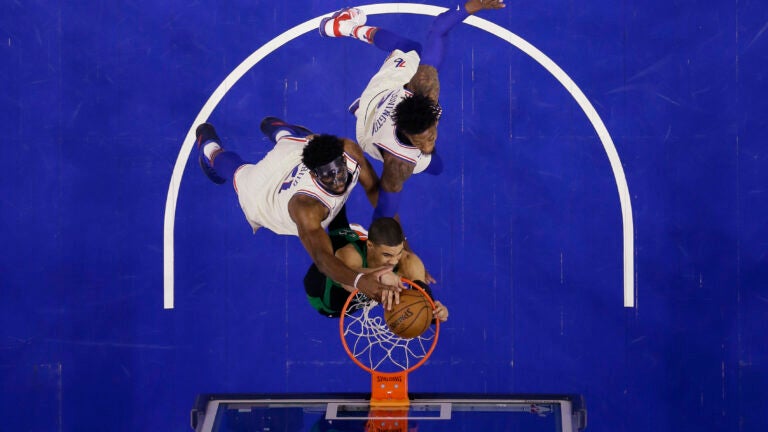 COMMENTARY
Despite what the red, white, and blue confetti scattered throughout the Well Fargo Center may suggest, the Celtics got their first road win of the postseason Saturday.
76ers guard Marco Belinelli nailed a desperation two-pointer from the corner to tie the game — and trigger confetti — at the end of regulation, but he couldn't connect on a three-point heave in the final seconds of overtime to save his team a second time. In a wild Game 3 that saw 15 lead changes — including eight ties in the fourth quarter alone — Boston prevailed for a 101-98 victory.
The Celtics now lead the series, 3-0, and have a chance to close out the Sixers in Game 4. Boston hasn't swept a playoff opponent since the New York Knicks in 2011.
"The biggest thing is focusing on Monday," coach Brad Stevens said after the game. "I don't want us to get caught up in what the score of the series is."
Here's what we learned from Game 3:
Turnovers derailed Philadelphia.
The 76ers looked sloppy in the moments of the game that mattered most.
With the score tied, and 10 seconds remaining in regulation, Philadelphia had possession and an opportunity to take the last shot of the game. But Celtics guard Terry Rozier was able to scoop up a bad pass from 76ers guard JJ Redick to give Boston a fast-break opportunity. Rozier dished the ball to forward Jaylen Brown, who made a layup that put the Celtics ahead, 89-87, with 1.7 seconds remaining.
Rozier finds Brown on the break to take the lead with 1.7 to go!!! pic.twitter.com/fXVCahEHcR

— Boston Celtics (@celtics) May 5, 2018
Belinelli bailed the Sixers out with his game-tying jump shot at the end of regulation, but another key turnover plagued Philadelphia in overtime.
After Al Horford banked in what proved to be the game-winning layup, the Celtics led by a point with 5.5 seconds remaining. Philadelphia called a timeout that advanced the ball up the court, but Ben Simmons couldn't find Joel Embiid on the inbound pass. Horford stole the ball and was sent to the free-throw line with three seconds left on the clock.
"I was just trying to press up on Joel," Horford said in his postgame interview with ESPN. "He's such a tough cover, so I just tried to press up. The pass was there, so I tipped it, got the ball."
HORFORD STOLE THE BALL pic.twitter.com/q6dAiJtaQA

— Boston Celtics (@celtics) May 6, 2018
"On two plays that really stand out, you wish you had those back," coach Brett Brown said in his postgame press conference.
While the 76ers faltered, the Celtics kept their poise. As Stevens put it, "No team is more built for having a disappointing end to regulation and then turning around and winning [than us]."
"I've never been around a group of guys — and I've been around some really special ones — that can just turn the page," he said. "They just turn the page. They play the next play the right way. It's a really unique group in that regard."
Ben Simmons scored more than one point, but he still made a questionable decision.
After a Game 2 performance he called the "worst game" of his NBA career, Simmons responded in Game 3 with 16 points on 8-for-14 shooting, eight rebounds, and eight assists. Although his stat line certainly improved, not everything was hunky-dory — even after putting aside his missed wide-open dunk in the fourth quarter, his four turnovers, and his plus-minus of -11.
Simmons had a lapse of judgement in overtime that potentially could have altered the outcome of the game. With 18 seconds to go and the 76ers up by one, Simmons grabbed an important offensive rebound off Embiid's missed fadeaway jump shot. Rather than kick the ball out to run down the clock and force the Celtics to foul, Simmons opted to go up for the put-back layup.
He missed.
Marcus Morris secured the defensive rebound, and the Celtics called a timeout to set up their game-winning ATO (after-timeout play).
Simmons stood by his decision to take the shot, calling it his "natural instinct."
"I got a shot I practice a lot right next to the rim," he said. "You never know what can happen after that. I've got a wide open shot I make a lot of the time and I missed it."
His coach, on the other hand, seemed to prefer the alternative.
"It's true he makes that all the time in practice," Brown said. "If we had it again, you probably bring it right back out and let them chase you and follow you and chew up the clock. On so many levels, this being one of them, or examples, it's the thing that I see and feel the most and sort of internally hear the loudest: That our young guys, at times, look young."
'Brad is a genius.'
Philly scored the first five points of overtime, but Stevens didn't call a timeout.
He saved them for when the Celtics would need them most. Stevens expended both of his timeouts in the final eight seconds to first draw up the game-winning play and then adjust accordingly when Morris was having trouble inbounding the ball.
"Man, Brad is a genius," Horford said on the court following the team's win. "Unbelievable. Sometimes he draws stuff up and I look at it, I'm like, [pauses], but Marcus delivered it, great pass. I missed some shots that I normally make there, but I made that one so it was good."
"I know to just trust Brad's instinct and judgement," Horford continued in the locker room. "He sees certain things. He understands them . . . He seems like he makes the right decision every time."
Morris echoed his teammate's sentiment.
"That man Brad Stevens is a guru," he said. "He might have the best out-of-bounds plays I've ever seen. He called the switch. He knew it was gonna happen. He called the over-the-top pass and it was all true."
Al for the lead!!! pic.twitter.com/qI45g4XauX

— Boston Celtics (@celtics) May 5, 2018
The game-winning overtime basket was not the only critical play call down the stretch for the Celtics. In the final minute of regulation, Stevens drew up an ATO that gave Brown a layup to tie the game at 87.
"We got two game-winning, game-tying buckets," Brown said. "We played hard. We fought. It was a tough environment, but when it came to an ATO to draw up, a big basket that we needed, we were getting layups. I tip my hat off to Brad Stevens."
Joel Embiid's conditioning might be worth monitoring.
As a rookie last year, Embiid's season was cut short due to a torn meniscus in this left knee. He played in only 31 games, averaging 25.4 minutes. Embiid's playing time has increased significantly during his second year in the league, but 63 regular-season and nine playoff games later, a basic level of fatigue is starting to show.
Embiid's time on the court this series is exceeding his season average by about six minutes. Because of the overtime period in Game 3, he played a season-high 41 minutes Saturday. Although he's undoubtedly giving 100 percent on the floor, he's also seemingly just getting winded.
In three games against Miami, Embiid averaged 12 shot attempts per game. In three games against Boston? He's averaging nearly double (23 shot attempts). The Sixers need him on the floor more against the Celtics than they did against the Heat, but Embiid's body might not be ready.
Horford and Aron Baynes aren't making things any easier for him, either. Stevens said he thought both players offered "great" defense — keeping things physical, showing their hands, and making Embiid work for every opportunity.
Almost nothing can rattle these Celtics.
Brown is still battling his hamstring strain.
Embiid posterized Baynes and Horford.
Tatum missed three consecutive free throws.
Baynes, Brown, Tatum, and Smart all were in foul trouble at various points throughout the contest. Smart fouled out with under a minute remaining in the fourth quarter. Belinelli hit a game-tying two-pointer at the end of regulation.
But nothing seems to spook this Celtics team. Their next-man-up mentality has fueled them and their resiliency proves time and time again to be boundless.
"We just stayed with it," Horford said. "We kept fighting."
Stevens said "no moment's too big" for Tatum, but that statement seemingly could be true for the rest of the team, too.