Celtics
A Celtics-Sixers photo for the ages. And the photographer behind the shot.
"I knew I had something."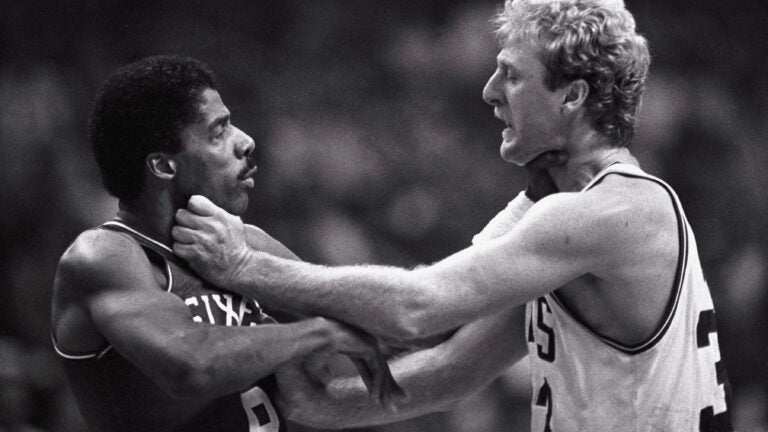 It's the photo the two Hall of Famers refuse to sign, a single image that captures a rivalry and still stirs fans a generation later. Among the barrooms near TD Garden, it hangs at The Fours and again at Sullivan's Tap, where a 16-by-20-inch print resides squarely above the center of the bar, bathed by the light of Budweiser neon.
It is Larry Bird and Julius Erving choking each other, locked in an arm's-length clench, each gouging his fingers into the other guy's neck. Over the years, it has appeared on album art for a Boston rapper and T-shirts for a punk band, caught the eye of a German street-wear designer, and adorned screen-printed torsos all over the Garden.
Though the 1984 photograph has never really receded, it pops to the foreground again whenever the Boston Celtics and Philadelphia 76ers play. And it has crackled with particular intensity this postseason, ricocheting all over the Internet, with the two teams in the conference semifinals. Not that the photographer who owns the rights has collected for all this — or even had much of an inkling. He owns no smartphone and last saw the Celtics in person at the old Garden (1928-1995), though he has been to the new place a few times to shoot or see Springsteen and the Stones.
"There are T-shirts?'' he said, eyes widening as he took a seat before a laptop in his kitchen, preparing for a guided tour of the online wares.
He is Ted Gartland, closing in on 70, retired six years, and late of the Boston Globe, where he was the last person remaining who consistently shouted across the newsroom — even when he was in a good mood, which was almost always. As an assigning editor, he answered the phone like this, Hyde PAHK accent, voice a burst of gravel: "Pick-cha desk! Gahtland. Whaddaya know?''
But he also speaks sometimes in quiet koans that are either lyrics or should be, with an arch sense of humor, recording music under the name Nick Danger. He is one part Lou Grant, one part Keith Richards, and one part The Dude from "The Big Lebowski'' — shoulder-length white hair and cut-off jeans, barefoot and playing guitar on his porch.
And he has complicated feelings about what he calls "not necessarily my favorite, but my most notorious photograph,'' taken late in the third quarter of a Celtics-Sixers game on Nov. 9, 1984: a single frame, 1/500th of a second, nine frames into a roll of 36, one of 50,000 or so rolls shot over a lifetime.
Gartland only occasionally shot sports, though two years prior he'd captured a breathtaking picture of Jim Rice helping to save the life of a little boy struck by a ball at Fenway, the bloodied child limp across the outfielder's arms. As a Herald American staff photographer, he shared a Pulitzer Prize for feature photography, for the Blizzard of '78.
Though he spent most of his career in newsrooms, he shot the Bird-Erving brawl game as an Associated Press stringer, which is why he retained the rights; as a staffer, pictures "belonged to the house.'' But he was reluctant to cash in on it, having quit the Herald on principle in the early days of Rupert Murdoch, after the newsroom got enlisted for a sweepstakes promotion.
Which is not to say Gartland isn't proud of the Bird-Erving shot. "I kicked everybody's ass that night,'' Gartland said. He shot the game as an AP freelancer among a half-dozen newspaper and wire colleagues.
Nor does he mince words about what others have done with his picture, calling it stealing. "Bob Dylan's got a line,'' he said, "if something's not right, it's wrong.''
That Friday night at the Garden, Gartland was already off the clock, having filed the requisite two shots for the AP wire at the start of the quarter, to make the wire-service deadline. Just before halftime, he had scrambled up to a cramped darkroom near the rafters to develop his first-half shots, make some quick prints, and send them to New York via drum scanner and phone line, a process that took eight minutes a picture.
Then he went back to the court anyway, appreciating that he had a seat under the basket for Celtics-Sixers, and anything might happen. Bird couldn't miss — 42 points already — but the older Erving was scuffling, a mere six points for the Doctor.
After a tangle away from the ball led to a whistle on Bird at the near end, Gartland could sense a charged moment. He had two Nikons, fixed with long and short lenses, switching between them whenever the ball crossed half-court. This time he ignored the ball, watching Bird through his long telephoto lens, focusing manually, knowing he was jawing with Erving, who was just outside the frame.
Just as Erving came into view, they squared to fight. Had they stopped an instant sooner, one or both would have been lost to the edge of the frame.
Gartland pressed the button on his motor drive ­— grabbing four frames with one push — at just the right time. In real life, the choke hold was not a long stalemate but a brief, fluid moment, before the two men started flailing, Erving began punching, and their own fight got absorbed in a sprawling brawl. Many at the Garden missed the choke in real time; so did Gartland, because the snapping shutter blacked out the viewfinder.
But his heart was racing: "I knew I had something,'' he said.
The image ran immediately in papers all over the country — and again days later, after the NBA handed out steep fines. Gartland's name was absent, in the days when AP photos ran with just the agency's tag.
At Quincy Market, former colleague Dennis Brearley — who had shared in the blizzard Pulitzer — ran a gallery specializing in newspaper photos. Now the phone was ringing over and over, people asking if they had that new Bird-Erving shot. He called Gartland, offering a commission.
Gartland, who cleared it with his AP chief in Boston, and later filed formal paperwork to buttress his copyright, briefly made a nice stipend from the photo. The New York Times even highlighted it, recognizing Gartland and the popularity of the picture. But that spring he went back to work in a newsroom, and told Brearley he was uncomfortable selling copies of the print at the same time.
For news and documentary purposes, he would license the photo for a few hundred dollars, as he did for its appearance in an HBO documentary about Bird and Magic Johnson. And every year or so, before the Internet, Gartland would hear from a friend about a gallery somewhere or an airline catalog selling his uncredited image; he would reach out to them through a lawyer, seeking a cease-and-desist or modest licensing fees and credit.
Just as galling as the piracy, many of the versions in the wild were terrible — copies of copies, printed off-center.
Occasionally, enterprising Bird or Erving fans would call around to Boston newsrooms until they found out who had taken the photo, and he made and mailed occasional prints for their walls, usually around $50 a pop. "Now this is in color, right?'' one woman asked, disappointed to learn she had seen a colorized bootleg.
Retired now, Gartland has warmed to the idea of marketing the photo, especially after a flurry of e-mails from friends tipping him off to new uses this postseason.
At his home in Belmont, where the choke hold is not displayed among his own work, his mouth opened as he scrolled the Internet for the first time through so many search returns showing his repurposed photo, available on $12 tank tops and limited-release raglans ($35), shirts with captions ("Basketbrawl,'' "Don't mess with Larry Bird''), and shirts in pastel colors.
"Geez, Che Guevara and me,'' he said, thinking of the Marxist guerrilla who appears on so many T-shirts.