Celtics
Brad Stevens didn't receive a single vote for the NBCA Coach of the Year award
Former Celtics coach Doc Rivers got one though.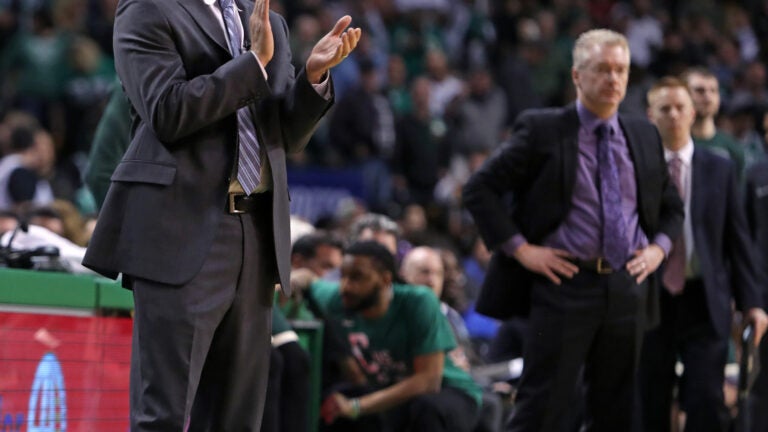 His players have dubbed him "a genius" and "a guru," but coach Brad Stevens didn't collect a single vote for the National Basketball Coaches Association's Coach of the Year award this season.
As Marc Stein of the New York Times first reported, the eight head coaches to receive votes were Philadelphia's Brett Brown, Toronto's Dwane Casey, Houston's Mike D'Antoni, Indiana's Nate McMillan, San Antonio's Gregg Popovich, Utah's Quin Snyder, Portland's Terry Stotts, and Doc Rivers of the Los Angeles Clippers.
Casey was formally announced as the winner Wednesday.
In his seventh season with the Raptors, Casey led the team to a franchise-record 59 wins and the No. 1 seed in the Eastern Conference. Given what the Celtics have accomplished without forward Gordon Hayward and guard Kyrie Irving, however, the results of the vote are still somewhat surprising. Boston finished with a 55-27 regular-season record and are still in playoff contention.
The NBCA Coach of the Year award is different from the NBA Coach of the Year award in that the league's 30 head coaches — as opposed to media members — are the individuals responsible for casting ballots. For the award's inaugural season last year, D'Antoni and Miami's Erik Spoelstra were selected as co-winners by their peers.
The winner of the NBA Coach of the Year award, which was first given out in 1963, will be announced during a live awards show on June 25 in Los Angeles.