Celtics
Ranking every player in the Celtics-Cavs series
No. 1 is obvious, but then what?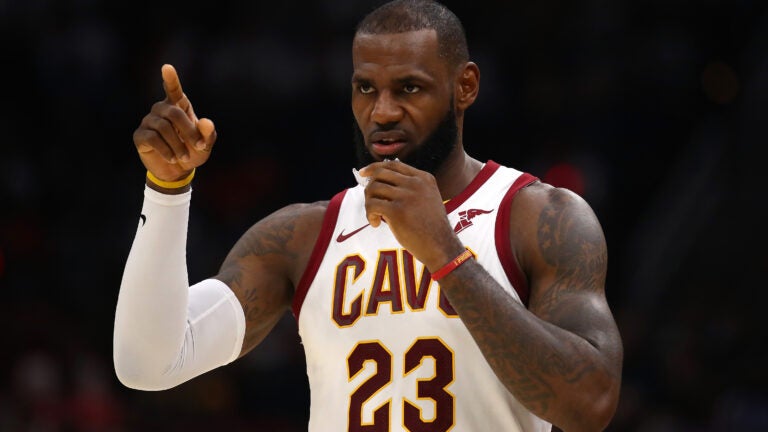 COMMENTARY
So here we are, back in the Conference Finals… and facing the Cavaliers once again.
This isn't your typical rematch. Both the Celtics and Cavs have undergone massive makeovers since they last met. The teams that met last year are barely recognizable save for the uniforms, coaches, and few familiar faces.
With so many new players on each team, it's worth taking a look at where they all rank so we can get a feel for how this series might go.
1. LeBron James
Do I need to say anything about this? Love him or hate him, you have to respect the greatness. Age and minutes don't seem to impact him in the slightest bit. He's the best player in this series, the best player in the league, and maybe the best player of all time.
2. Al Horford
He is the most indispensable Celtic. The secret of Boston's success in this injury-laden run is that they are deep at the positions where injuries have been suffered. Their immense depth at the wing and in the backcourt has allowed them to weather these storms.
Horford has been the one constant during this run. The Celtics don't have anyone that can fill his shoes because he is, quite simply, among the most unique players in the NBA. Kevin Love is a better offensive player, but even in his wildest dreams he can't defend as well as Horford. Horford has banged down low with Joel Embiid, contained penetrating monsters like Giannis Antetokounmpo and Ben Simmons, closed out on shooters… he has done it all in the playoffs.
The most glaring number, to me, in comparing Horford and Love is Big Al's assist percentages (23.6 percent regular season, 16 percent playoffs this season) versus Love's (9.8 percent regular season, 5.7 percent playoffs). Horford is a monster at getting other people involved, even when he's aggressively hunting his own shot.
3. Jayson Tatum
Tatum has surged in these playoffs. He's riding a seven-game 20+ point scoring streak right now. He's shown not only a varied, aggressive offensive game, he's also been pretty good defensively.
Tatum's 18.8 points per game in these playoffs are the second-best of all players in this series and four points better than Love so far this postseason. He has proven himself to be a smart scorer who has learned how to adjust to defenses mid-play and get himself to the comfortable places on the floor.
Defensively, he doesn't need much help. No one is coming into the series targeting him on defense. In fact, the Celtics can feel comfortable putting the 6-foot-8-inch Tatum on 6-foot-7-inch Kyle Korver without worrying about getting burned. That's a big task for the rookie if he draws that job, but he's up to it.
4. Kevin Love
Some might question putting Love behind a rookie but there will be times when Love might not be playable in this series. In fact, I wonder if he'll start at all considering Tristan Thompson's historical matchup advantage on Horford and Love's nagging hand injury.
The Cavaliers might be in a bind with Love when considering who he guards. If Thompson doesn't start the game, the Celtics will certainly target Love defensively. If he comes off the bench, he'll still end up with some unfavorable matchups.
That said, he can be a nightmare offensively if the Celtics defense overreacts to LeBron's penetration and scoring. Beyond that, he'll destroy Boston on the offensive boards if the Celtics aren't careful. He can be a difference maker if the Celtics don't focus on finishing defensive plays by rebounding.
5. Jaylen Brown
It's time for everyone to admit that Jaylen Brown is going to be a star in this league. I'm sure plenty of Celtics fans might already think this, but it's not necessarily the consensus.
He comes into this series as the third best three-point shooter (behind Aron Baynes, of course, at 47.4 percent, and Korver at 46.2 percent) and maybe the second or third-best individual defender.
Brown has become a reliable offensive player and his 16.9 points per game are more than two better than Love's 14.7 as the Cavs' second-best scorer.
If he's fully healthy, Brown has a chance to be a serious problem for Cleveland because it might force James to make a decision of who he should cover on the wing. Even if a fully engaged LeBron takes Tatum out of this series, who checks Brown?
6. Marcus Smart
Smart is the hardest guy to rank in a project like this. On statistics alone, he'd be further down this list (though his 10.6 points per game in the playoffs would still make him Cleveland's third-leading scorer). But his "winning plays" and overall impact on the team make this feel right.
Smart will defend everyone at some point in this series. He can switch onto Thompson without getting backed down in the post. He'll pick up everyone on the perimeter at some point. He'll get his turns on LeBron. He wants his turns on LeBron.
?YOU GOTTA LOVE THIS CELTICS FANS!?#Celtics G Marcus Smart is asked if he wants to guard #LeBronJames in next series vs #Cavaliers
#CavsCeltics #WBZ @smart_MS3 pic.twitter.com/etK93V34SY

— Scott Sullivan (@SullyBunz) May 10, 2018
On a team cutting a path through the playoffs behind its staunch defense, Smart stands out as one of its most important players.
7. Terry Rozier
Which remaining player on the Cavs is better than Rozier coming into this series? J.R. Smith has been mostly missing these playoffs. Korver is one dimensional. George Hill is, to me, the closest guy.
Hill's been hurt, while Rozier has been Boston's second-leading scorer, top assist man, and third leading rebounder.
Home playoff-game Rozier has been a monster. He's averaging 22 points per game on 47.2 percent shooting at home versus 12.8 PPG and 33.9 percent on the road.
Oh, and hey look! The Celtics have home-court advantage!
8. George Hill
Hill actually ties this Cavs team together offensively. He's very important to Cleveland's chances and I'd say if the Celtics can make him a non-factor in this series, it might be the reason they win.
Hill is a key component to a very successful Cavaliers postseason lineup:
"In the team's series against the Pacers and Raptors, Cleveland's most-used lineup has been George Hill, J.R. Smith, Kyle Korver, LeBron James and Kevin Love. So far this postseason, they've logged 110 minutes together. That's 110 more than they played together in the regular season. Compared to the Toronto Raptors, whose most-used lineup in the playoffs logged 801 minutes together in the regular season, Cleveland looks like it's experimenting on the fly. But it's working. Cleveland's most-used postseason lineup is outscoring opponents by 41 points, good for third-best in the playoffs."
Hill is the straw that stirs this drink. He can capably run pick and rolls to find guys in scoring situations or, if teams sag off him, make baskets. He allows LeBron to play off the ball a bit, which makes defending him a bit more difficult. He is also capable of playing decent defense.  I know how disappointing he has been in general, but a healthy Hill is better than the rest of the guys on this list.
9. Marcus Morris
This is where the rankings get really difficult. Morris was the worst Celtic on the floor by far in Game 5 against Philadelphia, but he's also the guy that carried the Celtics through a west coast swing later in the season. He's still scoring 15.4 points per game in the playoffs, which is vital to a team that needs scoring.
He might not be able to get quite as hot as Smith and Korver, but the tiebreaker here is Morris's defense. The Celtics are going to need him to take turns on LeBron. His potential for defending LeBron was one of the selling points when the Celtics traded for him. He's not a LeBron stopper, but if he can be a bit of a LeBron-slower, then he'll have done his job.
10. Jeff Green
Ah, the eternal Jeff Green struggle.
Part of me feels like he should be much higher on this list because he can still do a lot on the floor. He's not quite 32, so he still has much of his dangerous athleticism and he's capable of stringing together some monster sequences if he's allowed to get out in transition.
Then I remember he's Jeff Green and this type of thinking is what traps so many people. He's constantly teasing us with what he's capable of while never living up to the promise. His name is used as a pejorative when people want to slander underperforming athletic wings of similar build (like people tried to do with Jaylen Brown early last season). He is so infuriating, Zach Lowe congratulated the Cavs, who signed Green to a minimum deal, for finally paying him at the right level.
Green's ups and downs make him good enough to be ranked higher than people who put up better production (he's only averaging 8 points per game in the playoffs). I don't feel good about it, though. But believing a little too much in Green and then being let down is the ultimate Jeff Green experience, isn't it?
11. Kyle Korver
He's older and more specialized now, but Korver is still going to put a lot of pressure on a defense because he still moves without the ball and he's still deadly from deep if you lose him. He finished Games 3 and 4 of the semifinals by dropping 8 of 11 threes against a demoralized Raptors team.
The Celtics have better length on the wings to deal with Korver, but they can't get caught up in the gravity of LeBron James because he'll make them pay. There's no easier way to see a close game become a double-digit deficit than forgetting where Korver is on the floor.
12. Aron Baynes
Baynes is another guy who is tough to slot because he can have long stretches where the shot just isn't falling. If he's launching mid-range jumpers that don't fall, it gives the other team chances to run because Baynes is the best offensive rebounder on the Celtics.
He actually comes into this series as its best 3-point shooter, which is as weird to write as it is for you to read. I'm going to make the safe assumption that this won't continue and Baynes will go back to his bread and butter jump hooks and follow tip-ins.
Baynes's true value will be in guarding Tristan Thompson, thus alleviating the historical mismatch Horford has dealt with. Amir Johnson couldn't bail the Celtics out in this way last season, and Thompson destroyed the Celtics by crashing the glass. If Baynes can keep Thompson off the boards, the odds of Boston winning this series go way up.
13. J.R. Smith
Smith has had a rough season. His shooting has been terrible and his defense is non-existent.
But he can get hot if you let him. He torched Toronto to start and end their series, beginning with monster 20-point night in Game 1 and ending it with a perfect shooting night to close out the sweep.
You can try daring Smith to beat you. His shooting has dropped to a point where it could be sound strategy. But it's also like flicking a lighter at a gas pump. Maybe the sparks won't catch, but if they do, it's going to blow up in your face.
14. Rodney Hood
Hood came on as one of the fresh, young bodies to save the Cavs from their old, decrepit selves.
His production in Cleveland has been disappointing. He has been a non-factor in the playoffs so far (the Cavs have lost all three games in which Hood took eight or more shots) and he angered his teammates by refusing to play garbage time minutes in the sweep of Toronto.
Hood is young and talented. He shouldn't be this far down the list, but he's earned it this postseason. He's the type of player that, in the right situation, can be pretty good.
This isn't that situation.
15. Tristan Thompson
Thompson can be unplayable at times (like he was in the Indiana series) or he can come in and change games (like when he had 9 offensive rebounds in Game 1 against Toronto).
His rebounding is the reason he'll play against Boston. If Baynes can keep him off the boards, then Thompson may well end up being useless for the Cavs. If he can recapture his glass-chomping drive, then he'll single-handedly win this series for the Cavs.
There is no middle ground for Thompson. Either the Celtics handle him and render him unplayable, or Thompson becomes a 30 for 30 feature
"What if I told you the Kardashian Curse could be broken…"
16. Semi Ojeleye
I wanted to rank Ojeleye higher just because he's the series-leader in combat muscle. He can be more useful in more ways than Thompson, but he doesn't have the potential to be a difference-maker like Thompson does.
Ojeleye, though, has a shot at being very important in this series. The Celtics will throw waves of defenders at LeBron, often tasking them with doing their best to single-cover him with minimal help so as to avoid drive-and-kick 3's.
Ojeleye has quick feet and he's strong. He's also a seldom-used rookie who is still prone to mistakes and is inconsistent with his shot.
17. Greg Monroe
I had high hopes for Monroe after the Celtics signed him. He still is an excellent passer, but he's been completely unable to finish any of his post moves and he's been just horrendous defensively.
He could be called on in case of foul trouble, which is terrifying because Cleveland will just put him in pick-and-rolls and probably score at will.
However…
He might be able to give the Celtics a few minutes when LeBron is sitting and the Cavs are less able to take advantage of it. If Monroe can come in and actually score in the post without being a total liability on D, even for a few minutes, it will be a huge help for the Celtics.
18. Larry Nance Jr.
Nance saw some time against the Pacers and he can pose a problem for the Celtics with his athleticism. Nance, who was glued to the bench against Toronto, could be resurrected as a tough pick and roll matchup with LeBron James from time to time. He can fly, and the Celtics might be left scrambling for a few minutes if Ty Lue plays this card.
Or he might just be terrible and barely play. If he's not making an instant impact whenever he comes in, he won't get many more chances.
19. Jordan Clarkson
I don't see him getting much time here unless Hill goes down. The Celtics' perimeter defense will destroy him if he plays.
20. Guerschon Yabusele
Yabu might be a "break glass in case of emergency" guy. He's got nimble feet for a big man and he's been putting in a lot of time throwing weights around the Ojeleye Factory, so I can see him getting a few minutes to wear LeBron down.
Can he defend LeBron? No, not at all. But he's a big, burly man and even another big, burly man will feel it when drives to the basket essentially become sumo matches. If he can help the Celtics by wearing LeBron down to a point where he settles for jumpers late in games, then he'll be an unsung hero.
Four-way tie for 21: Abdel Nader, Jose Calderon, Cedi Osman, Ante Zizic
Life has gone very badly for you if any of these guys see any non-garbage time minutes.
Note: I did not rank Shane Larkin because of his injury. He might be back in this series but I took "the foreseeable future" as "probably out for a few weeks." If he does return, I think I'd have him somewhere around the 10-12 range. His energy raises the entire team for stretches and he's not afraid of taking big shots. His size makes him a mismatch that the Cavs would try to hunt, which would mean Larkin would have to play non-LeBron minutes.
Looking back over this, the Celtics have a lot of role players who are better than Cleveland's. What Cleveland does have is the best player on the planet and he can raise everyone's games if the Celtics let him.
The Celtics are hurting but they still have a shot at beating the Cavs if they can somehow tire LeBron out rope-a-dope style. They have the beef on the bench to throw at him and enough good players to take advantage of a bad Cavs defense. As wild as it sounds, the Celtics have a real chance at winning this series.