Celtics
Morning sports update: The Celtics reportedly wanted Joel Embiid to 'man up' and shake hands after Game 5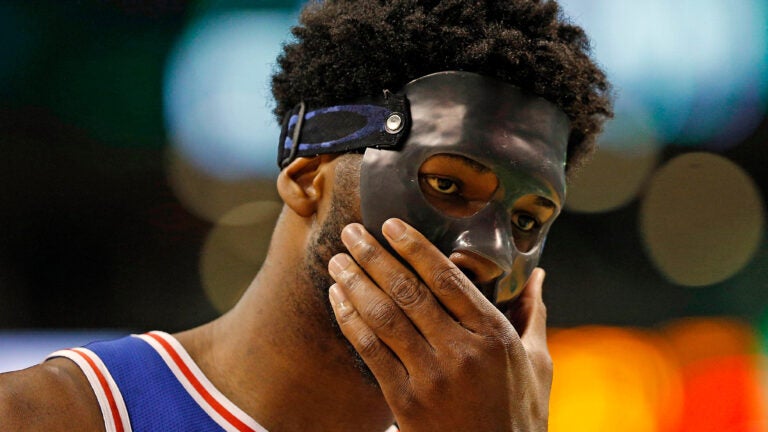 J.D. Martinez hit a tiebreaking home run in the eighth inning as the Red Sox beat New York, 5-4, handing the Yankees only their second loss in 19 games. The Red Sox moved back into a tie with the Yankees for first place in the AL East and best record in the major leagues.
The Celtics reportedly wanted Joel Embiid to 'man up' and shake hands after Game 5
After Marcus Smart leaped above the Garden parquet, grabbed the 76ers' last-gasp heave, and fired it back into the air, Joel Embiid pulled off his facemask and walked straight off the court. He did not stop to shake hands with the Celtics on his way to the locker room.
According to Yahoo! Sports' Ben Rohrbach, that did not sit well with the Celtics. He reported that several Boston players sounded annoyed by Embiid's sportsmanship in the locker room after their Game 5 series-clinching victory, "especially after he talked so much trash."
"At least man up," one Celtics player said.
Joel Embiid very frustrated left the court right away and headed to lockeroom#Sixers pic.twitter.com/0UpJIs3gaj

— John Clark (@JClarkNBCS) May 10, 2018
In the final seconds of the game, Embiid missed a shot, then had a second-chance opportunity stripped from his hands by Terry Rozier. The 76ers center averaged 23 points and 14 rebounds against the Celtics, and despite walking off the court without shaking hands, he was magnanimous at the post-game podium.
"Gotta give them a lot of respect," Embiid said. "They play well together. They made some tough shots throughout the series…It sucks, but you gotta learn from it and come back next year even better."
Celtics co-owner Steve Pagliuca shares the 'inside story' behind hiring Brad Stevens: Brad Stevens might not be on the list of NBA coaches deemed worthy of the coach of the year award by his peers, but he was on the Celtics' short list when they set out to replace Doc Rivers. Celtics co-owner Steve Pagliuca told Boston.com about the hiring process, and how Stevens let the organization know he wanted no part of tanking. (Boston.com)
How Tuukka Rask compares to other elite NHL goaltenders: Is Tuukka elite? A look at how the Bruins goaltender compares to the Vezina Trophy candidates this year and how his 2018 numbers stack up against his own performance during Boston's run to the Stanley Cup Finals in 2013. (Boston.com)
Cavaliers can wait; let the Celtics savor what they have accomplished: Al Horford and the Celtics have so well-earned and much-needed time to rest after advancing to the Eastern Conference finals.
"They don't just deserve a break after adding the variable of defeat to the favored Sixers' process," Chad Finn writes. "They actually have one, with three days off until Game 1 Sunday." (Boston.com)
Daily highlight:
https://twitter.com/RedSox/status/994781437198028800