Celtics
What the Celtics have said about each other during the playoffs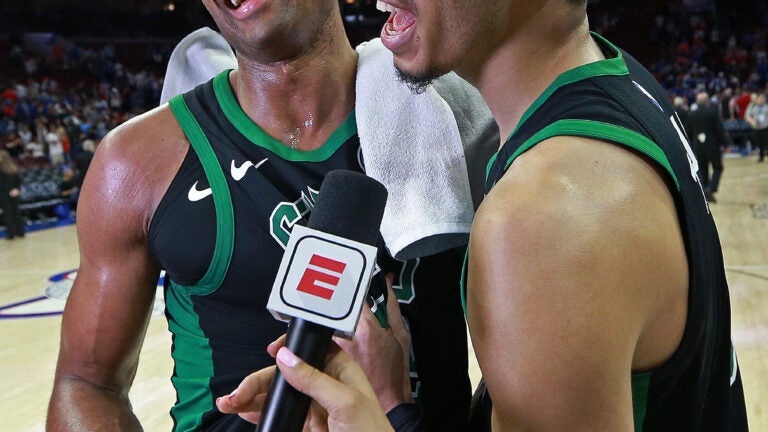 The Celtics have each other, and they don't need anybody else.
Once again, Boston finds themselves as the underdogs in the Eastern Conference Finals, but that label is nothing new.
"We knew from the beginning we've got each other," Terry Rozier told MassLive. "We weren't gonna lay down for nobody no matter who was counting us out. We weren't going to just let the teams come in and punk us. We were the No. 2 seed for a reason. With injuries, without, we were the No. 2 seed, so obviously we were doing something great all season. We'd rather y'all count us out. We don't want anybody on our side now. We're doing good and we play better when our back is against the wall."
Although much of the focus during Boston's playoff run has been on what the players have said about their favored opponents—or retired Patriots quarterbacks—the Celtics have had plenty to say about their own teammates, too.
Ahead of Sunday's Game 1 versus the Cleveland Cavaliers, here's what Brad Stevens and his players have said about each other through the first two rounds of the postseason:
Jayson Tatum on Al Horford
Playoff Al, baby! Playoff Al!
Al Horford on Brad Stevens
Brad is a genius, man.
Brad Stevens on Marcus Smart
He's made for this. Like, he's made for these moments, and that's the thing that we just keep talking about. Like, we can go through a stat line all you want, but, when it's – when your seasons are on the line and when you're in the playoffs and when you've got to do really hard things, he can do really hard things.

It's why you can't – like you can look at stat sheets all you want; with Marcus it just doesn't tell the story. It's – it's his energy, it's his emotion, it's little plays that turn out to be game-changing plays like diving on the floor and flipping it to Al. The blocks, you know coming over when Shabazz Muhammad was really rolling and going up vertically and challenging his shot, making him miss. Like, those are huge plays. And we have other guys that are making them when he hasn't been here, but he makes them every night. He makes them every night that he plays.
Al Horford on Marcus Smart
Smart's one of those guys that things can be going a certain way, but you need a play to happen, you need a loose ball, you need anything and he's going to come through.

I think I said it early in the year that he (Marcus) was kind of like the soul of our team. Everything that he brings, his toughness, unselfishness, hard nose player and we fed off his energy tonight.
Jaylen Brown on Marcus Smart
That's Marcus Smart's secrets. That just describes him so well. Tries to miss a free throw, makes it, and the first guy that gets back and gets the steal and put his body on the line. He didn't care if he ran into somebody or if he hurt himself, he was coming up with that ball. I've said it before and Brad [Stevens] has said it that if it came down to anybody coming up with it, everybody got their money on Smart.
Al Horford on Aron Baynes
Amazing! Aron in the way he prepares, the challenges he's taken because he's really had to change his game all year. He's extended his range, he's shooting three's now, he's taken the challenge defensively being our rim protector every night.
Al Horford on Jaylen Brown
Jaylen is one of those guys that last year I probably felt like he should've played more, but we just had a lot of guys and just his poise and his maturity to embrace certain roles that were given to him last year I felt like he learned a lot, he grew. This year just seeing him not shy away from the moment and being one of those guys that's a two way player. He defends, but he also on offense is efficient. He just keeps improving whether it's his shooting, whether it's his passing, his feel for the game and I've been just very impressed with his progress. I feel like he just keeps getting better slowly and slowly and that's great to see on a young player.
Jaylen Brown on Al Horford
Everybody knows Al does everything the right way. At times where, even if it doesn't go his way, he always carries himself with a great demeanor and just being on the outside looking in and watching that you learn a lot, not even about basketball but about life. Al on the basketball floor does tremendous things for us, opens everybody up and he puts his hardhat on every day.
Brad Stevens on Jayson Tatum
Just call the play and get out of his way. I don't know what else to say. He knows what to do and he has the mentality to do it.
Marcus Morris on Semi Ojeleye
Ojeleye did what he was supposed to do, but for Semi to come in and not ever starting and getting to start during the playoffs and defending one of the best players in the league…That's big time.
Brad Stevens on Terry Rozier
Terry's a stud. Terry is a hard-nosed guy, he's a competitive guy. He's got great ability.
Danny Ainge on Terry Rozier
I knew that Terry had a great upside. He's an explosive athlete that can make shots. He's an elite competitor and a driven kid. To Terry's credit, not to anybody else's credit, he is living up to his potential.