Celtics
3 takeaways from the Celtics' Game 1 shellacking of the Cavaliers
"I mean, it's the Eastern Conference Finals. What are we going to wait for?"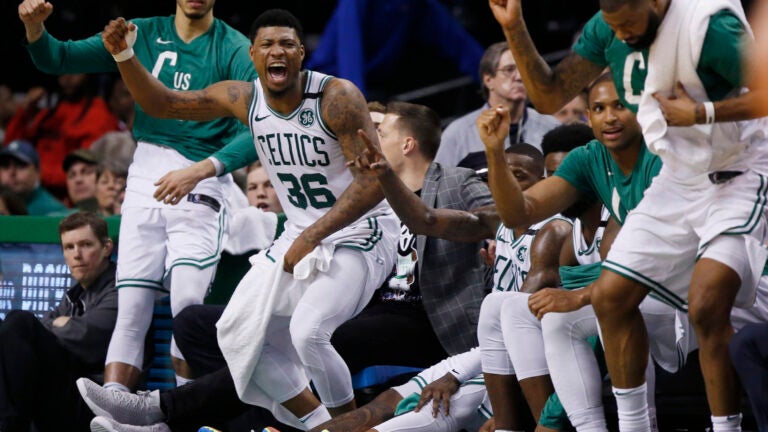 COMMENTARY
The Celtics took Game 1 of the Eastern Conference Finals by storm.
"It kind of just started from the beginning," Cavaliers forward LeBron James said.
Boston looked like the better team from the jump Sunday afternoon. Thanks to a 25-2 run in the first quarter, the Celtics jumped out to an early double-digit lead and maintained their advantage throughout the remainder of the contest. Cleveland was unable to mount any sort of comeback, as coach Tyronn Lue waved the white flag and pulled James with seven minutes remaining in the fourth quarter.
"We didn't play well," Lue said. "We understand that. We know we have to be better."
With the emphatic 108-83 win, the Celtics stay undefeated on their home parquet this postseason and take a 1-0 series lead.
"It's the playoffs," forward Jaylen Brown said. "You get up 20 points in the playoffs, you got to hang on and win that game. That was our whole mindset. Just keep making the right plays."
Here's what we learned from Game 1:
'That was a well-orchestrated game defensively'
Marcus Morris walked the walk Sunday.
After confidently declaring himself "probably the best guy" — outside of Spurs forward Kawhi Leonard — capable of defending James, Morris proved his effectiveness in Game 1. James was limited to 15 points on 5-for-16 shooting and missed all five of his three-point attempts.
"It's a team effort, man," Morris said. "It's not just me. Everybody played their part in guarding him. He's obviously the best player in the game, and you need multiple guys and a team to guard him an entire game. I just think we did a great job of that."
James finished with a team-low plus-minus of minus-32 — his worst outing of the postseason. He also had a playoff-high seven turnovers.
Here's the breakdown of LeBron James' matchups vs the @celtics
Marcus Morris held him to 3-for-10 shooting. Rest of team held him to 2-for-6. pic.twitter.com/ncJDcLLjCm

— Sean Deveney (@SeanDeveney) May 14, 2018
"Everybody has things and adjustments in figuring out how they should guard LeBron," Brown said. "He's going to come out and he's going to be LeBron James. Our job is to continue to do what we do and make it tough on those other guys."
As they did when guarding other prolific opponents, like Giannis Antetokounmpo and Joel Embiid, the Celtics operated under the assumption that James is going to get his shots — only he didn't Sunday. Regardless of whether James makes or misses, the Celtics reiterated their job is to ensure he earns every basket.
"LeBron is LeBron," guard Terry Rozier said. "He's going to make some crazy plays. He's going to do what he do. He's going to score. We just try to make it as tough for him as we can."
Starting with the two tipped passes in the opening minutes of the first quarter, Boston stayed aggressive defensively throughout the game. When the Cavaliers had the ball, the Celtics were looking to impose a double team, effective defensive switches, and physical on-the-ball coverage.
Even with the team's success, however, Stevens is never one to rest on his laurels.
"According to Brad, we can get a lot better," Rozier said with a smile.
The Cavaliers couldn't string together much of anything, but a potential personnel change could help change that in Game 2.
Cleveland's offense was nowhere to be found Sunday.
Forward Jeff Green hit an ominous fadeaway jumper at the buzzer to trim Boston's lead to 14 at the end of third quarter, but the Cavs' attempt at a comeback never really took off. The Celtics quickly stifled any hope of a resurgence by opening the fourth with a 7-0 run. The game was over.
"We couldn't really make shots," Lue said.
The Cavaliers struggled to present any sort of formidable threat. The team shot 36 percent from the field and 15.4 percent from behind the arc. Despite averaging 12 three-pointers a game in the regular season, Cleveland made just four out of 26 attempts Sunday. Their first make didn't come until the third quarter.
"Three-point shots is a part of our DNA," James said. "It's what makes us the best team that we can be . . . We're going to take those same looks going into Game 2 if the opportunity presents itself."
The lone offensive bright spot for the Cavaliers came from center Tristan Thompson. Thompson — who pounded the boards against the Celtics in the conference finals last season — added eight points and grabbed four offensive rebounds in 20 minutes off the bench. He shot a team-best 67 percent from the field and finished with 11 rebounds.
Adding Thompson to the starting frontcourt could potentially be the adjustment the Cavaliers need to switch up the matchups. Both Bucks coach Joe Prunty and 76ers coach Brett Brown found success in tinkering with their lineups against the Celtics, so perhaps Lue will follow suit.
The Celtics are awaiting a battle for Game 2.
Boston's confidence is high, and deservedly so, but the Celtics are keeping things very much in check after their 25-point victory.
"I think we're very alert to the fact that we'll get a heavyweight punch on Tuesday night," Stevens said. "It's another great challenge, another great opportunity to experience something for this team."
Brown told reporters he's anticipating the same type of response: "a punch."
"We got to weather that storm and find a way to get another W on this home court," he said. "Cleveland is going to go back and make adjustments. They're going to come back and play a lot harder and a lot more controlled in the next game."
After an incredibly lackluster performance Sunday, how the Cavaliers respond in Game 2 could set the tone for the remainder of the series. Cleveland's hunger will be put to the test. Both James and Smith expressed confidence in their team's ability to bounce back, but they Celtics will be ready to thwart their efforts.
"We understand they're going to come out with a lot more intensity next game," Tatum said. "We have to be able to match that."