Celtics
Meet Joe Sparkes, originator of those sweet tunes you've heard outside TD Garden
Saxophonist Joe Sparkes discussed his routine, musical background, and the strangest gifts he's received.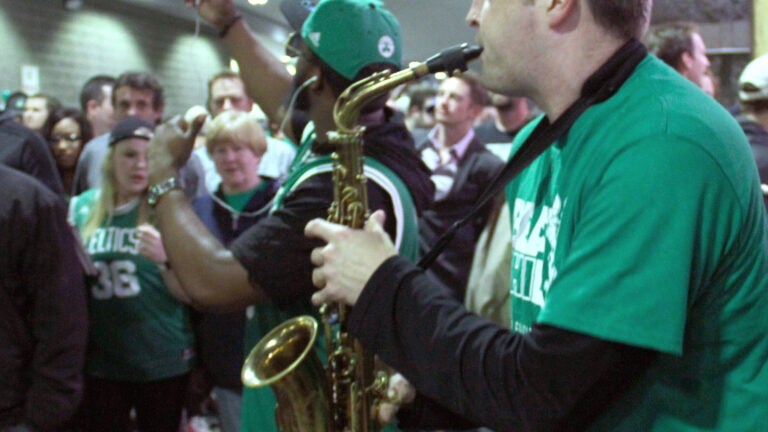 Before and after events at TD Garden, a familiar melodic sound greets the crowd on Legends Way. Cutting through the din of conversation from scores of fans is the saxophone of Joe Sparkes.
Playing an array of recognizable songs, Sparkes never fails to elicit excited reaction from passersby. After finishing his day job as a program analyst, he turns into a one-man jukebox outside the Garden, helping to hype the crowd before and after concerts, as well as Bruins and Celtics games.
He's there rain or shine, through heatwaves and freezing weather. (Sparkes explained the challenges of the cold: "Moisture in the horn turns to ice, and as you can imagine, that's very difficult to manage.")
Sparkes recently spoke to Boston.com about his experience and journey as a local street performer.
This interview has been lightly edited and condensed for length and clarity.
How long have you been playing outside the Garden?
Joe Sparkes: I've been playing there for over a year now. I started in the spring of 2017.
What's been the craziest fan experience you've had playing there?
JS: After the Demi Lovato concert, I was playing some of her tunes and it turned into an all-out dance party with at least 100 people singing and dancing to the music.
How does one become a busker outside the Garden? Is there a formal process?
JS: No, there's no formal process at all. I was in Boston about a year and a half ago and saw somebody street performing, and I'd been kind of thinking about getting back into music a little bit. It'd been a while. I saw that and thought I could totally do that. It seemed like something I would love doing. So I started just playing around a little bit near the Garden. There was a little bit of an adjustment period to figure out where was going to work for me, where there are other people doing things, and it's just evolved over time.
The spot you have is right when people walk out of the construction tunnel near the Garden entrance. The sound really reverberates in there. Is that why you chose it?
JS: There's a really cool energy. People coming into the stadium and people coming out, by now they've been to multiple events and are used to seeing me. I mean it's quite humbling for me. They'll almost come to expect it. It seems like it's become kind of part of their experience, and being able to add to that is completely humbling. I'm fortunate to have that kind of opportunity. Just being able to add something that makes other people happy, as well as myself, is really rewarding.
What's your musical background?
JS: I play alto saxophone, and I actually didn't pick that up until the very end of high school. I played oboe through school, and was classically trained. I enjoyed that, but there's a lot more in my blood than classical music and I had to branch out. So in college I played sax with a kind of Dave Matthews-y band called Traveling Matt. And then I put it down for almost 15 years. More recently, just last year, I picked it back up and wanted to see where I could take it.
Do you play anywhere else?
JS: For right now, it's mostly that one spot. Occasionally, don't be surprised on a Sunday in the summer if you see me over in that plaza in front of the aquarium. That's a real fun spot to play as well. But other than that, I've got my word out there, and people contact me about playing events. And that's another part of what I do that's really fun and exciting.
Have any notable Garden people – athletes, coaches, personalities – ever stopped by as they were walking through?
JS: Oh my goodness, all the time! I'm really part of the Garden family now it feels like. I see on a daily basis Celtics and Bruins staff, employees, media, even event security I've gotten friendly with. There's a lot of people I've gotten friendly with. Cedric Maxwell and Brian Scalabrine I see a lot and fist bump. Rene Rancourt, he's funny, he's stopped a few times on his drive out to say hey, which is great. He's a really nice guy. And the Celtics dancers too, they pass by usually as the crowd is dying down.
https://www.instagram.com/p/BiVJzgpBiae/?taken-by=joesaxboston
Has there been a favorite moment from your time playing at the Garden?
JS: I've had several time where people stop me and tell me that they haven't had the best day and that me playing has kind of snapped them out of whatever zone they were in or given them a boost in their day. And to be honest, making that difference, it kind of sounds cheesy, but it really is a wonderful experience when you can see how you're able to change the people around you for the better.
But certainly my favorite busking moment was earlier this spring when my 6 year-old daughter Asha was able to come watch me play for the first time. She sat behind me and watched as excited fans left the stadium after a big Bruins win, occasionally getting up to dance and sing along with the music.
Do you have a favorite genre of music to play?
JS: It evolves. It depends on the crowd and the time. I really enjoy playing a kind of more chill groove with a good beat, but then once things get a little bit more energetic before a game, I like finding music that really gets people amped up with a positive energy, and so you're really tempted to start dancing as you go by.
Since you're a street performer, you're out there among the people. What are some of the ridiculous things that you've encountered playing there?
JS: Oh boy, there have been many, and they happen all the time. An example is the absolutely crazy assortment of non-monetary tips that I get from people. I've gotten everything from alcohol, shirts, towels, Russell Stover Easter Bunnies, fidget spinners. You name it, there have been so many weird things that I never thought I would find in my bucket.