Celtics
Guess who's missing Kyrie Irving the most?
It's not the Celtics.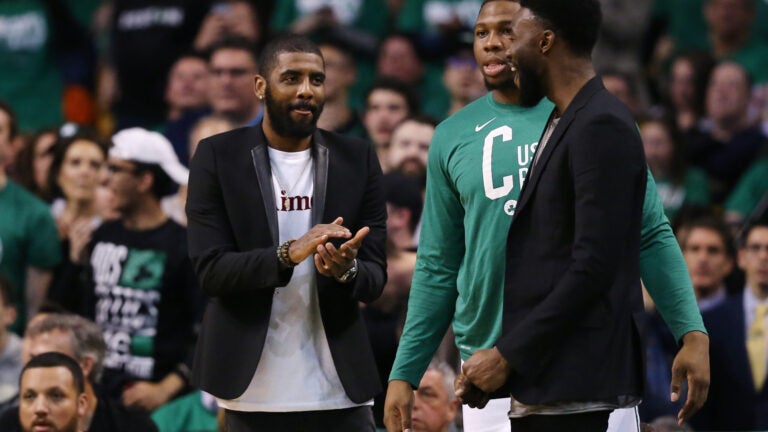 Last season's Eastern Conference finals between the Celtics and Cavaliers is perceived as lopsided because, well, for most of the series it was.
The Cavaliers power-dribbled the Celtics to elimination in five games, winning Game 2 by 44 points and the clinching fifth game by 33 points.. Those Cavs weren't much into providing suspense.
That version of the Celtics was outmanned and out of its league against those Cavaliers. That made it easy to forget in the aftermath — and even now, as the teams meet again under the same circumstances but strikingly different rosters — that for a moment the Celtics had a flicker of hope that looked like it might become a flame.
Abbreviated recap: The Cavs won the first two games at TD Garden (remember, the Celtics were the top seed), but the Celtics went to Cleveland and stole the third game on Avery Bradley's rattled-in buzzer-beater.
In Game 4, the Celtics appeared poised to tie the series, taking a 16-point lead (49-33) with 5:30 to play before halftime.
Turned out that would be their last good feeling of the season.
A Cavaliers superstar took over. And that flicker was soon extinguished.
Did LeBron James exert his will and shatter the Celtics? He was a co-conspirator for sure, finishing with 34 points, 6 assists, and 5 rebounds in what would become a 112-99 win for the Cavs. But it was not LeBron who seized command of that game. It was Kyrie Irving, who for 2½ quarters was as unstoppable as unstoppable can be.
Irving scored a dozen of the Cavs' final 14 points in that first half, including 10 in a row, almost single-handedly cutting the Celtics lead from that high of 16 with 5½ minutes left to 10 at the break (57-47).
It was a tour-de-force half-quarter of basketball for Irving, who seemed to be able to overcome any degree of difficulty thrown at him in his creative quest to get to the hoop.
But as it turned out, he was just warming up.
Irving torched the Celtics for 21 points in the third quarter, including 10 after rolling his ankle on a made shot with 1: 50 left in the quarter and the Cavs leading, 77-72.
On one basket he appeared to levitate at the front of the rim until any Celtic futilely attempting to protect it lost the battle with gravity.
On another, just before the buzzer, he crossed over Terry Rozier (who wasn't yet scary) just for the sport of it, then knocked down a 3-point from 26 feet, slapping an exclamation point on the end of the Cavs' 87-80 lead.
[fragment number=0]
It was the closest thing we've ever seen to Isiah Thomas's 25-point third quarter while playing on a bum ankle against the Lakers in Game 6 of the 1988 NBA Finals. I won't argue with anyone who thinks Irving's was flashier.
I'd apologize to Celtics fans for bringing all of this up now, with the Celtics possessing much more than a flicker of hope after their blazing 25-point victory in Game 1 of their rematch. But I think most Celtics fans, a year and a certain shift in allegiances later, understand what I'm getting at.
The Cavaliers miss Kyrie Irving more than the Celtics do.
That is not meant to detract from anything he achieved during his dazzling first 60 games as a Celtic, before a knee injury sidelined him for the season in March. When healthy, Irving was probably a top-five NBA Most Valuable Player candidate, a delight to watch on a given night, a primary reason Comcast SportsNet New England's ratings on Celtics broadcasts were up 44 percent over last year.
He was traded to the Celtics in package including Isaiah Thomas, but he's the closest thing to the original Isiah Thomas I've ever seen. There would be an extra level of suspense and anticipation in this series were Irving healthy and squaring off with LeBron rather than riding in his sidecar.
LeBron has been to the Finals eight times in his career, including the last seven years. That first year, in 2006-07, he carried a Cavaliers team whose second-highest scorer was Larry Hughes to the Finals, where they were swept by the superior Spurs. (Hughes, of course, is destined to be known as Jayson Tatum's godfather from here on out.) Just getting that Cavs team there was a feat in itself.
[fragment number=1]
As often as LeBron refers to his team like it's his possession — it's usually "my'' not "we'' with him — he's needed stars to win his three championships. He had Dwyane Wade — about the closest thing he's had to a genuine peer — for the pair of titles in Miami. And he had Irving when Cleveland beat the 73-win Warriors two years ago.
It should be permanently noted that it was Irving — not James — who buried the winning shot, on the road, in Steph Curry's face, in Game 7, to bring down the winningest regular-season team of all-time.
As transcendent as LeBron is, Batman has had an extraordinary pair of Robins in his most satisfying seasons.
The Cavaliers have no one like this now. Al Horford is the process of neutralizing, if not outright embarrassing, Kevin Love. The Cavs still have a real shot at winning this series, especially if LeBron goes into locomotive mode. But they need role players to make shots, and it's hard to imagine LeBron knows who to rely upon. At this point last year, it was obvious.
It's fascinating how it played out. Irving, understandably, got tired of being the sidekick, given that he's talented and accomplished enough to demand his own sidekicks. He came to the Celtics, along with free agent Gordon Hayward, to form a new alliance of stars in Boston.
First, a devastating thing happened. They both got hurt.
Then, a fascinating thing: The sidekicks, especially Jayson Tatum and Jaylen Brown, started playing like stars themselves.
As callous as it may seem on the surface, there's a blessing in the injuries for the Celtics, and it may not be a small one.
Next year, the Celtics could have a starting five of Horford, Hayward, Tatum, Brown, and Irving. The Cavs? There's no sidekick in sight. And they may not even have LeBron.
The Cavs finished off the Celtics last year largely due to Irving. Irving is now a Celtic, and even though his current role is as a well-dressed cheerleader on the bench, his new team sure looks capable of ending this era of the Cavs without him.
Some might call this irony. I bet Irving would call it justice.