Celtics
The truth about the Celtics and NBA playoffs? Paul Pierce is happy to tell you
Here's what Pierce had to say about his former team's incredible postseason run.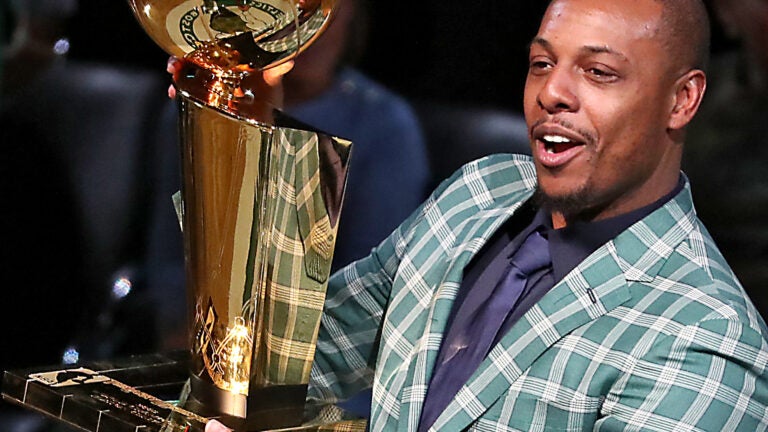 Celtics fans require no reminder that Paul Pierce had one of the more fitting — and just plain cool — nicknames in the modern NBA:
The Truth.
As in, the truth hurts. The truth prevails. The truth, meaning he's the real deal.
The nickname was bestowed up on him by Shaquille O'Neal in an especially colorful (and unprintable) way in March 2001, after Pierce, in his third season and still building his reputation, dropped 42 points on the defending champion Lakers.
The nickname stuck, and Pierce proved to be worthy of it time and again during his superb 19-season career, which concluded with his retirement last July after signing a ceremonial one-day contract with the Celtics.
Pierce, now 40 years old, is still in his first full year of being a former player, and already it's become apparent that the nickname fits him well in his second career, too.
Hired by ESPN as a full-time NBA studio analyst in September after filling the role in a couple of guest stints in recent years, he's quickly proven to be the rare retired athlete who is immediately comfortable discussing his former peers with candor.
Whether he's suggesting, as he has done recently, that the Celtics/Warriors would be a much better Finals matchup than anything involving the Cavs, opining that the Wizards need to break up their John Wall/Bradley Beal backcourt, or merely needling colleagues Jalen Rose and Chauncey Billups on the "NBA Countdown'' set in what has the vibe of a casual behind-the-scenes conversation among teammates, Pierce has immediately taken to the role of analyst-slash-informed-opinion-maker.
"Doing TV like this is a lot of fun, man. It's a really good time,'' said Pierce. "Me knowing Chauncey for a lot of years, and me knowing Jalen personally for a long time too, it's so much fun. It's perfect.''
The only thing about this that is new to him, Pierce said, is having the formal television setting. He's talked passionately about the game for as long as he can remember.
"I love the game, love to talk about the game,'' he said. "This is something I always did. We used to sit in the locker room for hours after practice and talk about last night's game, who we like, who we don't like.
"Me and KG [Kevin Garnett] did it all the time. A lot of people don't know, or didn't until he had his show [Area 21, on TNT's NBA broadcasts], that KG is a storyteller. That's the KG I know. We would always talk hoops, all the time, on the plane, wherever. This is the same thing except you guys get to see it now. I'm really comfortable with it.''
[fragment number=0]
Naturally, Pierce has many thoughts on the Celtics, for whom he played 15 seasons and was named the 2008 NBA Finals Most Valuable Player after leading the franchise to its 17th championship.
Here are a couple of his thoughts on some current players, including one, Jayson Tatum, who has drawn stylistic comparisons to Pierce during his outstanding rookie season.
■ It would be understandable if an ex-Celtic with his number already in the rafters and basketball immortality in Springfield in his future would blanch at a 20-year-old kid being compared to him. But Pierce appreciates Tatum's game as much as anyone, and sees the similarities in the comparisons others have made.
"I see a lot of things Jayson does, how he creates space, gets to the hole deceptively, the way he knocks down shots — he's a real shotmaker, he can get his shot off on anybody,'' said Pierce. "He's smart. He uses his body well, the way he pushes off with his shoulder to get an open shot. He has a lot of craftiness to his game, and that probably reminds a lot of people of me.
"I see it, I definitely do. I wasn't the most athletic guy. Tatum is a lot more athletic than I was. He can use either hand. Once he gets a little stronger in the near future, look out. I mean, he's obviously smart beyond his years.
"When I came out, I was a 21-year-old,'' Pierce continued. "He was 19 for most of this season. I know that doesn't sound like a lot, but a year and a half, two years, that's a lot of developmental time. I had three years of college [at Kansas] to develop. He had one year [at Duke], and he's already doing this. He's a superstar in the making. You can compare a kid like that to me anytime you want.''
[fragment number=1]
■ When it comes to another ascending young player on the Celtics roster, second-year swingman Jaylen Brown, Pierce is happy to make a heady comparison of his own.
"Jaylen can be your prototype swingman, a guy who can defend, shoot 3s, everything you need. He sort of reminds me of Kawhi Leonard, man. Like, seriously. Strong, very athletic in the open court, an improving handle, and now he's knocking down 3s with confidence. He is way ahead of the curve.''
■ As much as Pierce appreciates the Celtics' young standouts, it's a contemporary whose work he's admiring now.
They might feel like they come from slightly different generations, but Pierce and Al Horford played against each other for nearly a decade, even colliding in the playoffs when the Hawks took the Celtics to seven games in the first round during Horford's rookie season in 2007-08.
"Well, his game is not sexy at all. He looks so young out there that I can't even tell he's been in the NBA that long,'' said Pierce with a laugh. "He's someone you really learn to appreciate if you see him on a daily basis, but sometimes he doesn't get the credit he deserves right away, because his game is not sexy at all.
"He's not out there high-flying and making fancy passes. He just does so many things well. He's a hard-hat player. He doesn't care about the highlights or the headlines. He just a perfect high-end glue guy, you know?
"The younger guys seem to have taken on his mindset in a lot of ways, and I think what they've learned from him is one of the reasons we're going to be talking about this team for years.''