Celtics
Celtics assistant coach describes working with Jayson Tatum
Micah Shrewsberry said Tatum is "an ultra-competitive guy."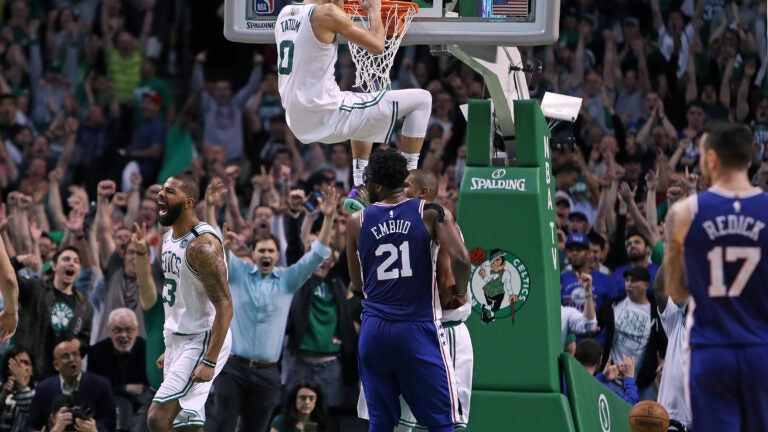 "Be the ultimate Jayson Tatum and make other people want to be you."
That's what Celtics assistant coach Micah Shrewsberry tells rookie Jayson Tatum.
Tatum, whose first season in the NBA has been downright impressive, is averaging 18.1 points per game this postseason. He's tallied 253 total points through 14 playoff games, which slots him fourth on the all-time playoff scoring list for players 20 years old or younger. Only Kobe Bryant (328), Tony Parker (325), and Magic Johnson (293) logged more postseason points when they were Tatum's age.
Tatum, as Paul Pierce said, is "a superstar in the making." While fans and analysts ooh and aah at his potential, the Celtics are keeping things fluid when projecting what type of player their budding All-Star could be within the next five seasons.
"We don't want to put a ceiling on him because he's so good," Shrewsberry told Boston.com. "We just want him to continue to get as good as he can be. As good as he wants to be is as good as he's going to be. We don't want to limit him, and we don't want him to limit himself. You be whomever you want to be."
Shrewberry, who regularly works with the 20-year-old in pregame warmups and film sessions, said Tatum's agreeable demeanor and unrelenting approach make the staff "want to coach him" and "want to see him have success."
"He's really mature in how he approaches things on and off the court," Shrewsberry said. "He's very laid back. He's very down to earth. He's observant of what's going on. He's a worker. He really loves to play the game. He's always watching. He's always studying. That's something you don't get with everybody."
"The way he goes about his work is like Al [Horford] — like a true professional."
Although Tatum has noticeably elevated his game since point guard Kyrie Irving was ruled out for the remainder of the season, Shrewsberry said his coachability has been a constant. From his interview ahead of the 2017 NBA Draft to Summer League to the regular season to the playoffs, "there's been no difference."
"There's been no 'Hey, I'm the man now,'" Shrewsberry said. "He is who he is."
Shrewsberry — who previously worked as an assistant with Brad Stevens at Butler before coming to the Celtics in 2013 — noted there are small parts of Tatum's game he's going to want to improve. Tatum has been spending more time with the team's strength and conditioning staff to gain more weight, which will help him play through the physicality. But even with things as they stand now, Shrewsberry is impressed.
"He's an ultra-competitive guy, so he takes on challenges," he said. "For him to be a rookie and to be counted on like this and still produce at a high level, it's not surprising because of how good of a player he is, but to see it up close and personal from a guy that just turned 20 years old, it's very impressive."