Celtics
4 takeaways from the Celtics' obliterating loss to the Cavaliers in Game 3
"We needed to get our butts whipped."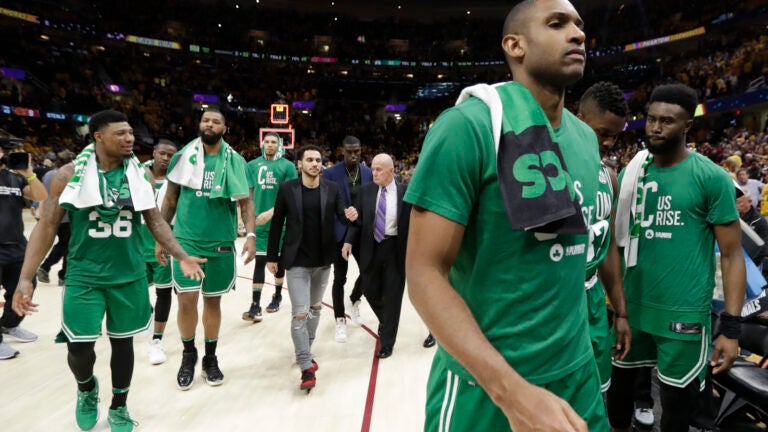 COMMENTARY
The Cavaliers never trailed in their blowout win over the Celtics Saturday night.
Cleveland jumped out to a 20-4 lead in the first quarter, maintained a double-digit lead throughout the remainder of the contest, and went on to annihilate Boston by 30 points. With their 116-86 victory, the Cavaliers avoid a 3-0 series deficit and have the opportunity to tie things up at Quicken Loans Arena Monday.
"When you don't bring it as a team, and you don't play the way you're supposed to play, these kind of things can happen," Celtics center Al Horford said. "At the same time, you got to give Cleveland credit. They played better."
Here's what we learned from Game 3:
The Cavaliers emulated the Celtics.
Following Cleveland's loss in Game 2, forward Kevin Love said the Cavs could "definitely learn" from the Celtics.
"They had all their starters in double figures, and that comes a lot, I think, with not only Stevens putting them in the right position but their level of activity," Love said Tuesday. "They move the ball, and they continue to cut."
But the Cavaliers flipped the script Saturday.
After two games where Love and LeBron James were the only Cavaliers offering meaningful offensive contributions, nearly the entire roster got involved Saturday. All five players in Cleveland's starting lineup reached double-digit scoring for just the second time this postseason.
"If you look at any box score throughout the postseason and regular season, if you're able to get four or five or six guys in double figures, that team is going to win," said James, who scored a team-high 27 points. "Obviously every game doesn't work out that way . . . But everybody was in a good rhythm."
Coach Tyronn Lue didn't make any adjustments to Cleveland's starting backcourt, which ended up not biting him in the end. Guards George Hill and J.R. Smith finally showed up, scoring a combined 23 points and shooting 6 for 13 from behind the arc. The pair had scored just 12 combined points in the first two games.
"It's very important for our guards to be aggressive," James said. "Their aggression settled us in and allowed as to play free as well. No matter if they're making shots or not, we want them to be aggressive."
Cleveland's bench also came alive, as Kyle Korver (14 points on 5-for-5 shooting) and Larry Nance Jr. (8 points on 4-for-4 shooting) were both perfect from the field. Four of Korver's buckets were three-pointers.
"It's one thing to say, 'Just be aggressive,'" Korver said. "That's the mindset we have to have, but you need room to be aggressive. You need opportunities to be aggressive. I think tonight, we did that and we were able to take better shots."
The Celtics, on the other hand, did not look like themselves.
The Celtics struggled to string together anything offensively Saturday. The team shot 39.2 percent from the field and made only six of 22 three-point attempts. Boston also recorded a series-low 16 assists and a series-low 34 points in the paint.
"We were clearly not the harder-playing, more connected team tonight," coach Brad Stevens said. "Cleveland was, and they deserve all the credit for that."
For a team that has relied on ball movement to generate offense, the Celtics settled for too many pull-up jump shots. Boston logged 263 passes in Game 3, which is a significant dip from their postseason average of 302.5 passes per game. The Cavs, on the other hand, logged 280 passes — up from their postseason average of 249.4.
"I just think that we need to run our offense just with more pace," Horford said. "I think tonight a lot of the times we got caught up in just being in a lot of isolation positions. We need to do a better job moving the ball. I think if we move the ball better, we will all benefit from that and it will be better."
"I think, just early in the game, we didn't get the ball moving side to side," Jayson Tatum added. "We just didn't play like ourselves."
Tatum, who led the team with 18 points on 6-for-10 shooting, was the lone bright spot for Boston. He has stepped up as the team's leading scorer this postseason.
For the Celtics to win, Al Horford cannot be limited to four field-goal attempts.
Part of Boston's offensive woes could be attributed to the fact that Cleveland actually played some defense in Game 3. The Cavaliers contested 76 percent of the Celtics' shots — up from 58 percent in Games 1 and 2.
But much of the Celtics' disorganization and troubles were due to Horford's lack of involvement. Horford did not have a shot attempt in three of the four quarters. Although he sat on the bench for the entirety of the fourth quarter because of the lopsided score, the stat is still concerning.
Horford connected on a fadeaway jumper and a three-pointer in the second quarter — and that was it. He finished with four assists, seven points, and seven rebounds.
"There's no way Al Horford, our Porsche, don't get a shot in the first quarter," guard Terry Rozier said. "We were all over the place. We need to get it together."
Game 3 was the first time Horford didn't score in double digits this postseason. Points never tell the whole story, but Horford — whom Stevens refers to as the team's "rock" — needs to be more involved for the Celtics to win. When the offense runs through him, things generally turn out pretty well.
"Al Horford's a perennial All-Star," Lue said. "They run a lot of sets through him, so he's usually hounding the ball at the top of the key, making the dribble hand-offs or pick-and-pop, or shooting the three."
To mitigate Horford's impact, Lue inserted Tristan Thompson into the lineup for Game 2 and stuck with that decision for Game 3.
"Tristan's the kind of guy who's agile enough to get back on his shot when he pops, to put ball pressure on him at the top of the key, just trying to make him uncomfortable," Lue said. "Al's a good player, so he's going to be able to score. We just want to make it tough."
The Celtics continue to be underwhelming on the road.
With the loss in Game 3, Boston is now 1-5 when playing away from the TD Garden — a stark contrast to their undefeated record at home.
The lack of success is somewhat surprising, given the team's performances earlier this year. The Celtics had the third-best road record during the regular season.
Through 15 playoff games, however, the team has averaged 93.1 points on the road and 110.1 points at home. Stats decline — some steeper than others — on the individual level for four of the five starters. While players are attempting a comparable number of shots, fewer are falling.
It's not necessarily surprising if role players play better at home, but the starting lineup should be putting up roughly equivalent numbers if the Celtics want a chance to win. But Stevens doesn't plan on addressing the differential.
"In my 11 years as a head coach, I probably [have] talked about road and home five times with our team," he said. "It's about how you play between the lines. Because I think if you start talking like that, you start to find excuses in both places. We can't play like we played tonight no matter where we play."
Despite Game 3's blowout, the Celtics are confident ahead of Game 4 in Cleveland.
"We needed to get our butts whipped," Rozier said.