Celtics
Tyronn Lue's brief tenure with Celtics fondly remembered
"Everything I do coaching-wise is Doc Rivers-driven."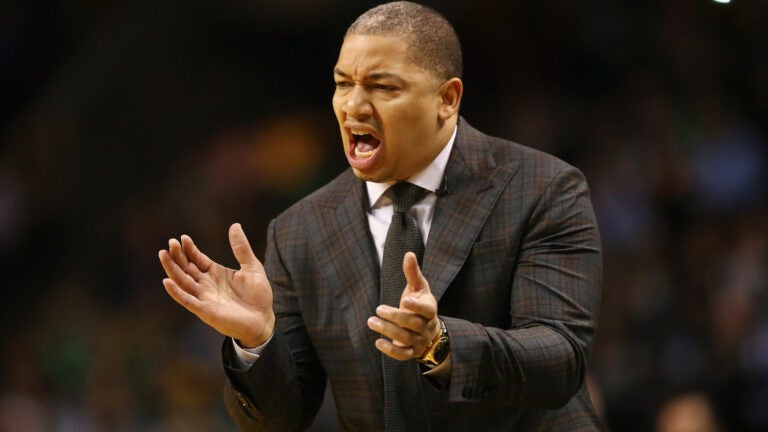 CLEVELAND — In that particular moment, Tyronn Lue could have been excused if he'd have had disdain for anything Celtic.
The Cavaliers coach had just wrapped up his postgame press conference following a 108-83 throttling by the Celtics in Game 1 of the Eastern Conference last Sunday at TD Garden.
His NBA-mandated obligation fulfilled after a couple of minutes and a few brief answers, Lue bounded from the podium in the Garden press area, turning as if he were headed behind the black curtain that serves as backdrop.
But before he could escape the scene and put Game 1 behind him, Lue stopped in his tracks. Spotting Jeff Twiss, the Celtics' vice president of media services, and Heather Walker, the senior director of public relations, standing to the side of the podium, Lue greeted them with a hello, hug, and a handshake before departing.
The warm greetings in the cold aftermath of a tough loss were a reminder Lue has a history in Boston. It's where his coaching roots were planted, as an assistant/apprentice on Doc Rivers's staff from 2011 to 2013.
Even though he and his Cavaliers are trying to end the Celtics' season now, he has a great appreciation for his time in Boston.
The Celtics are his enemy now. But Lue can't muster prolonged disdain for the place where he got his coaching start.
"The opportunity [Doc] gave me, along with Danny Ainge, basically making up a role for me to come to Boston and get my feet wet and become a coach, I owe a lot to that organization for giving me that opportunity,'' Lue said Sunday.
When Lue joined the Celtics staff in 2011, he wasn't fully committed to coaching, having still harbored hopes of continuing his 11-year-playing career. Lue, who was close with Kevin Garnett in particular, acknowledges that during his first year under Rivers he still conducted himself more like a player.
But Rivers, who coached Lue briefly with the Orlando Magic, saw enough to give him more responsibility in his second season, including preparing scouting reports.
In the summer of 2012, Lue coached the Celtics' summer league team, which included Jared Sullinger, E'Twaun Moore, and current Celtic Jonathan Gibson, to a 6-4 overall record.
That's when he was certain coaching was the path he wanted to take. Even now, he credits Rivers for bringing it out of him.
"Everything I do coaching-wise is Doc Rivers-driven,'' Lue said. "To work under Doc, one of the top coaches in the NBA, was a blessing.''
His biggest takeaway from working with Rivers?
"A lot of things, but how he handled coaching Paul Pierce, K.G., Ray Allen, [Rajon] Rondo, just seeing how he did it with a lot of different personalities with different abilities,'' Lue said.
When Rivers left to join the Clippers in June 2013, Lue was hopeful of interviewing for the opening in Boston. But the Celtics already had a successor in mind: Butler coach Brad Stevens.
When Stevens accepted the job, Lue left to join Rivers in Los Angeles. He spent a season there before joining the Cavs as an associate head coach for the 2014-15 season.
A year later his rapid ascent was complete, as he got the Cavs' head coaching job when Dave Blatt was fired at midseason. The Cavs won the NBA championship that June, taking down a 73-win Warriors team.
Rivers's lessons about coaching different personalities no doubt have come in handy in working with James, who is dominant on the court and demanding of his teammates.
The perception that James is the Cavs' chief decision-maker can make it difficult for Lue to get much credit. Though he probably should have started Tristan Thompson before Game 2, Lue's acumen for adjustments has been evident in this series, especially in Game 3.
The most notable adjustment was emphasizing locking down the Celtics' Jaylen Brown early in Game 3, with James taking on the defensive responsibility. Brown had 46 points total in the first two games, but he appeared frequently flustered in Game 3 and finished with just 10.
Lue also implored point guard George Hill to play at a quicker pace. Hill looked like a revived player in Game 3, scoring 11 of his 13 points in the tone-setting first quarter, when the Cavs leaped to a 20-4 lead and never looked back. Hill also eased some of the ballhandling responsibilities on James.
The Cavs also shot much better at home, making 17 of 34 3-point attempts in Game 3. Rivers often said the NBA is a make-or-miss league, meaning that good shooting is imperative under any circumstances. His one-time understudy's team provided proof of that, and much more, Saturday night.