Celtics
Jae Crowder on Brad Stevens: 'He's a wizard'
Crowder shared his thoughts on Stevens and a few of his former teammates.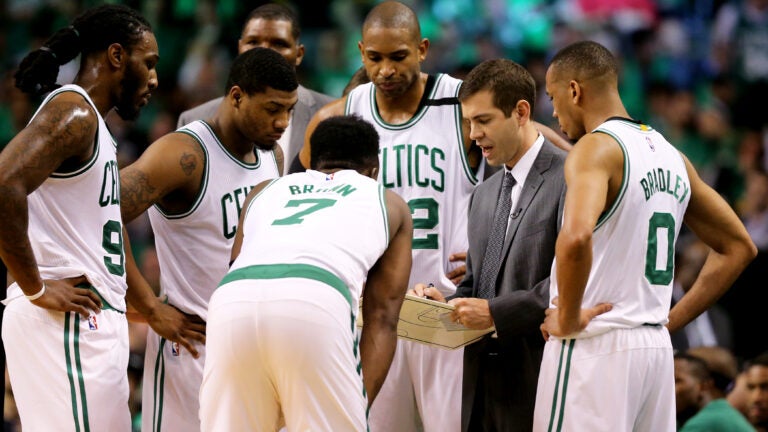 Add Jazz forward Jae Crowder to the growing list of players who have spoken highly of coach Brad Stevens.
Crowder, who played three seasons in Boston before getting traded to Cleveland and then again to Utah, called Stevens both a "wizard" and a "magician" in an interview with NBA TV's "GameTime" Friday.
"He puts guys in position where they can be successful on the basketball court," Crowder said of his former coach. "He knows players down to a T and he does a great job of putting everybody on the court in a position to succeed. That's what makes it much easier to play with him."
"I think that's been the factor with this team, just the next man-up mentality," he continued. "He's putting those guys who are next up in position to help the team. I think they've done a great job of doing so."
Crowder also shared some observations about a few of his former teammates, whom he has been watching compete from afar in the Eastern Conference finals.
"Boston has done a great job of protecting home court. I can only imagine they're eager to get some wins on the road."@CJC9BOSS joins the #GameTime crew to talk Eastern Conference Finals and more! #NBAPlayoffs pic.twitter.com/XQTmTt8XO2

— NBA TV (@NBATV) May 19, 2018
On Jaylen Brown's maturation: "He puts his hard hat on each and every day, and you can respect that as a teammate. He's a guy you can go to war with each and every night. He works when no one else is around. There's no coincidence he came into the player he is and is still becoming a better player than he is now. He puts the work in, and the sky's the limit for him as a basketball player and as a leader."
On Marcus Smart's value: "Marcus Smart is another guy out there that doesn't get credit for what he does for the team. He makes winning plays night in and night out. He instills toughness around the whole locker room."
On the challenges of playing off LeBron James: "It's a bit of an adjustment for anybody. The best thing you can do is have time with him and play with him. I think if you play alongside him for quite a while, you seem to get better with time. It's a bumpy road there — in a stretch where you just have to be patient and trust the process. He's a great leader. He tells you exactly what he sees on certain plays. It is a process with guys getting more comfortable with how he plays and how the system is over there."