Celtics
Jalen Rose has a take about Kyrie Irving's feelings toward the Celtics' postseason success
"If somebody says Kyrie Irving wants the Boston Celtics to win the championship without him, they're flat-out lying."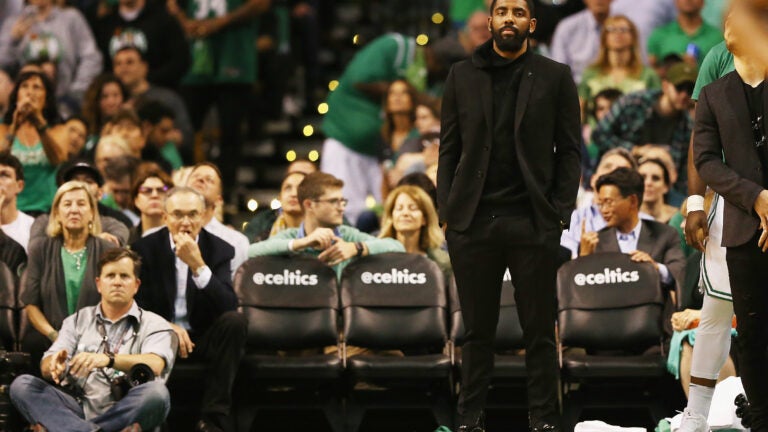 How does Kyrie Irving feel about Boston's postseason success?
Not too great, according to retired NBA forward Jalen Rose.
"If somebody says Kyrie Irving wants the Boston Celtics to win the championship without him, they're flat-out lying to you," Rose said on ESPN's "NBA Countdown" before Game 3 between the Celtics and Cavaliers Monday. "You think he wants to see the Boston Celtics win the East and upset the Golden State Warriors?"
After undergoing a second procedure on his left knee in April, Irving was ruled out for the remainder of the season and the entirety of the playoffs. The Celtics said in a statement they expect him to make a "full recovery." Irving has kept a low profile since the surgery, but told ESPN's Scott Van Pelt earlier in May he's "in a great place."
"We have a bunch of young guys on our team, but the way they are playing right now, they're playing like experienced veterans," Irving said on "SportsCenter." "Throughout the season, we've done a great job of helping one another, and now they've taken the team full-force, doing what they're doing. I'm just nothing but proud of them, as well as Brad Stevens and the coaching staff."
But Rose expressed some concern regarding Irving's future with the team, should the Celtics go on to win the championship.
"This is salary-cap driven sport," Rose said. "If [the Celtics] win the championship without Kyrie Irving, he's going to be one of the first people they're going to consider trading in order to re-sign [Terry] Rozier, [Marcus] Smart, [Jayson] Tatum, and [Jaylen] Brown. That's just how the economics of the sport work."
Celtics president of basketball operations Danny Ainge and the team's front office have given no reason to believe Irving will be dealt this offseason. Boston's list of free agents in 2018 include Smart, Aron Baynes, Shane Larkin, and Greg Monroe. Even if the team stays intact, Rose said the recent success of other players will force Irving to make some adjustments when he returns.
"The most important thing that's going to happen to Kyrie moving forward is the other 14 guys look at you differently now," Rose said. "When you're the best player, it's one thing to let you cook, take up the usage, you know, be the leading scorer. But now when he comes back, shot attempts have to come down, points per game has to come down, usage has to come down."
Rose's fellow analysts on "NBA Countdown" disagreed with his assessment. Retired Celtics forward Paul Pierce and retired Detroit Pistons guard Chauncey Billups both called the situation bittersweet.
"When you're the superstar and the team starts playing well without [you] . . . it's just like you feel a certain type of way," Pierce said, referencing a similar scenario with the Washington Wizards, who played without point guard John Wall for part of the regular season. "You want to be there, you want to help, but if you see the success and you're not out there, you start feeling like maybe you're the problem. [Irving's] got mixed emotions, I think, but ultimately he wants them to win."
Regardless of Irving's feelings, however, Pierce emphasized the Celtics are not better without their All-Star point guard. Although the team has mitigated Irving's absence well, Boston has struggled immensely on the road. Without Irving, the Celtics are 7-11 away from the TD Garden. With Irving, they were 22-8.
"Please believe it: They need Kyrie Irving," Pierce said. "It hasn't really shown a lot yet. It's going to show when it gets to maybe a Game 7 or that close game down the stretch where you need that go-to guy, somebody you can put the ball in their hands and, say, win us the game . . . We all know when it comes down to crunch time, you need a guy like Kyrie."
Pierce and Billups said the re-integration of Irving into the Celtics' lineup should be a positive move. His addition will not only increase the team's offensive production, but it should also elevate the level of play from those around him.
"Of course [Irving] wants to be a part of [the playoff run]," Pierce said. "But he can look at this like the start of a dynasty because, say, the Boston Celtics do win it. Now they get better. They get better with Kyrie and Gordon [Hayward]."