Celtics
Jeff Green on his Game 7 performance: 'It means a lot'
"It's the cherry on top because the game was taken away from him."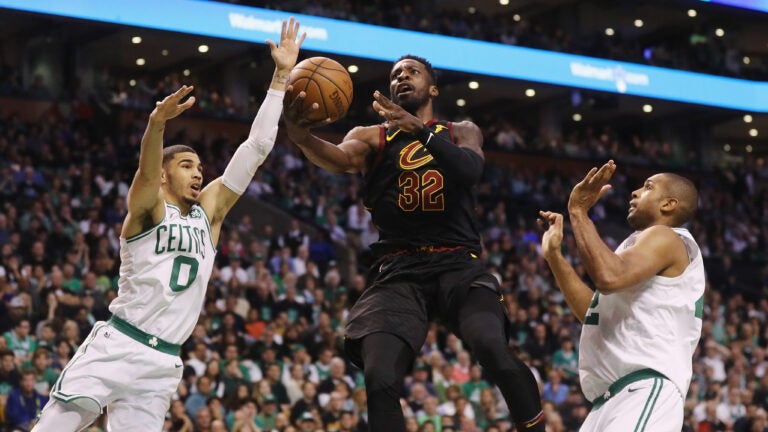 Cavaliers forward Jeff Green stepped up to the challenge Sunday night.
With All-Star Kevin Love ruled out with concussion-like symptoms, coach Tyronn Lue gave Green — who played three and a half seasons in Boston — the starting nod for Game 7 of the conference finals against his former team.
Green, who had a relatively quiet series leading up to Cleveland's two elimination games, scored 19 points on 7-of-14 shooting and grabbed eight rebounds to help lift the Cavs to an 87-79 victory over the Celtics Sunday. Green had logged just 22 combined points and 13 combined boards in the first five games of the series.
"It means a lot because it helped my team get to The Finals," Green said of his Game 7 performance. "Coming in, I just told myself, play hard, stay in the zone, have fun with it, and enjoy the moment. Man, you work hard to get to this point."
With the win, Green advances to his first-ever NBA Finals after playing in more than 800 regular-season and playoff games throughout his 10-year career.
"It's hard to put into words because you always dreamed of going to The Finals, and now that dream of mine is there," he said.
But the emotions for Green go beyond a Finals berth. The 31-year-old's life changed forever when he underwent open-heart surgery six years ago and missed the entirety of the 2011-2012 season. After such a taxing recovery process, Green's showing in Game 7 was a catharsis.
"I've battled," he told reporters. "I've worked my ass off each day since January 9, 2012, to get back on this court and now compete for a championship. I almost lost it all, and now to sit here in front of you guys, to talk about the NBA Finals and playing in it, I've been truly blessed to be able to step foot on this court, to play this game. Each day I give it my all, whether good or bad. I live with the results. I am enjoying it, every single moment of this. I don't take nothing for granted. Nothing."
As LeBron James put it, "what [Green] does on the basketball floor is extra credit."
"The game was basically taken away from him, and they said it's possible you'll never play the game of basketball again," James said. "The fact that he can put on a uniform every day and do the things that he does out on the floor — I don't care if he makes a shot. To make big plays like he made tonight — for him personally, it's the cherry on top because the game was taken away from him."
Green, who held back tears as he spoke to the media, said he normally doesn't speak during the team's timeouts, but felt like Sunday was "one of those days where [his] voice needed to be heard."
"I wanted it bad," he said. "I don't just talk to talk."
His teammates picked up on the change.
"I've never seen him so fired up in huddles," shooting guard Kyle Korver said. "Jeff's usually a pretty quiet guy, kinda likes being more laid back, but he was all in today."
Although Green is finishing his first season in Cleveland, he and Lue overlapped during their respective tenures in Boston. To see Green shine on one of the league's biggest stages was a proud moment for Lue, too.
"I'm so happy for him, after not really getting a great opportunity in all the places he's been," Lue said. "Starting in a Game 7 of the Eastern Conference Finals and playing 42 minutes, having 19 points, eight rebounds is just huge. I'm so happy for Jeff. I had him here when I coached in Boston, and he's just an all-around great guy."