Celtics
4 outcomes for Marcus Smart in free agency
Will Smart stay in Boston?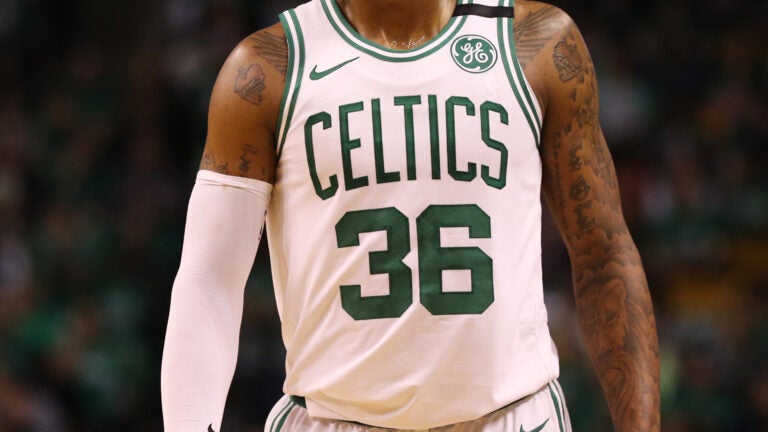 COMMENTARY
Not every player in the NBA is paid what he's worth. For many, the timing of their free agency plays as much of a role as how well they dribble, pass, or shoot.
Two summers ago, middling NBA players cashed in when the league — flush with new TV money — went on a drunken spending spree. Guys like Evan Turner (four years, $70 million in Portland), Bismack Biyombo (four years, $72 million in Orlando), and Timofey Mozgov (four years, $64 million from the Lakers) were just a few beneficiaries when general managers made it rain.
Today, many of those teams are left with little more than buyer's remorse. There are no more cap spikes to bail them out, and few of those deals are trade-able without tying them to valuable assets. For example, if the Charlotte Hornets want to get out of the nearly $80 million they still owe Nicolas Batum over the next three years, they're probably going to have to attach him to Kemba Walker in a deal — and even that might not be enough.
It's not pretty.
It's especially onerous if you're, say, a restricted free agent with an obvious flaw in your game, but a ton of hard-to-quantify intangibles hoping for a big payday.
Marcus Smart is fresh off a season where his importance to the Celtics is plainly obvious. He also just finished a series against Cleveland where that one flaw, the inability to shoot, was a key element to his team's demise.
Still, he wants, as he should, to make as much money as possible to do what he does. That's not a surprise. We all want a lot of money to do what we do. Smart recently told ESPN, "To be honest, I'm worth more than $12-14 million," which isn't too far off what the consensus would think he's worth in a perfect world.
This free agency is far from perfect for Smart, though. He still has a few options, but he's at a decided disadvantage. Here are a few ways this can go for him:
1. Sign a below-market, long-term deal in Boston.
Smart and his agent could sit and have a heart-to-heart talk, consider his injury history, and opt for the security of long-term money. Smart's style of play certainly puts him at a higher risk for getting hurt. Whether he's diving for a loose ball, taking a charge, or barrelling to the hoop to keep an offensive rebound alive, Smart is putting his body at risk.
The Celtics, meanwhile, are staring down the barrel of a luxury tax bill that will certainly add up over time. The owners have said they're willing to pay, but even that willingness to spend has its limits. A very punitive "repeater tax" will eventually jack up that bill threefold or more. They certainly would prefer to stay under the tax next season to push that off another year.
Depending on some other moves, the Celtics can safely afford to pay Smart something in the neighborhood of $10 million or so next season. That's less than what Smart says he's worth, but it could be more than what other teams are willing to pay him. Even if other teams come up with a similar offer, Smart could get an extra year from Boston to give him the security of a long-term deal.
Celtics president of basketball operations Danny Ainge is always chasing those below-market deals, and championship teams are often built with at least one guy out-performing his contract. At that price, Smart's contract also becomes very trade-able. He could be a key piece to a deal down the road to bolster a bench.
If the Celtics and Smart, who says he wants to stay, could come to a number they can both stomach, they can avoid the uncomfortable pitfalls that naturally come with restricted free agency.
2. Hit the market and fish for a big offer.
This is where relationships really can get strained because once a player decides he's going to shop for offers, he opens himself up to things that can be hard to handle.
Again, the money isn't really there for every free agent to get paid, and the big dogs get to eat first. There are other big names out there who'll be chased before Smart. The LeBron James pursuit will trump all, even Paul George, so there's a lot of business to sort out first.
Once the big names get paid, whatever money is left for the middle-of-the-pack guys will go quickly, and Smart certainly could get a desperation offer from someone willing to overpay in order to lure him away from Boston.
There is one significant problem with this path, though. Because Smart is a restricted free agent, Boston has an opportunity to match any offer he gets. Once he signs an offer sheet, Boston has two days to match, and a hold for Smart's contract offer is placed on the signing team's payroll. Basically, for however long it takes Boston to decide, the league considers Smart "signed" by the other team, who can't commit that money to anyone else.
That makes teams hesitant to sign restricted free agents when they have an opportunity to compete for other options at the same position. With a lot of available point guard options in the league, teams might not feel great about tying up any portion of their books if they feel Boston will take its time and eventually match an offer.
This is why restricted free agent contracts can get weird with "poison pill" years (a massive raise in the third year of the deal). They're built to scare teams like the Celtics off. Boston could lose this game of chicken if a team with cap space feels like they need a guy who makes Smart-like "winning plays" at all costs.
This is also why restricted free agents can go weeks before being re-signed by their own teams. Just letting teams know they'd match most offers for Smart would essential cause the interest in him to fade. If the market for Smart dwindles, the Celtics can play hardball and maybe get him for a little less than he'd hoped.
These are all risky plays. Both sides risk some bad blood if the gamesmanship gets out of hand. However, it's often the player with the most to lose. Star players in this situation have leverage. Marcus Smart doesn't.
3. Sign the qualifying offer.
In order to kick this whole process off, the Celtics have to make what's known as a "qualifying offer" to Smart, which is a different amount for different players depending on where they were drafted. Once the team does that, they trigger the right of first refusal — which refers to the "restricted" part of Smart's restricted free agency.
From there, a player will usually choose to negotiate with his team or go field offers like I've laid out. Sometimes, though, a player will place a bet on himself and actually sign that qualifying offer, which would mean he plays for one year under that deal, and then becomes an unrestricted free agent next summer.
For Smart, that would mean playing for $6 million this upcoming season and then marching into the summer of 2019 without the tether of Boston potentially matching anything. The bet would be that he could make up that difference with a much bigger deal than what he could get under the current circumstances.
There are some in the national media, ESPN's Zach Lowe most notably, who feel this is a real possibility. It's not without risk, though, because Smart could (a) get hurt and lose out on a lot of money, (b) completely misjudge how next summer's free agency will go, or (c) not really improve and basically get the same kind of contract next year that he could have gotten this summer, thus wasting a year of his career playing for half what he could actually be making.
It's a gamble, and any player making that bet is putting a lot of pressure on himself. Look no further than Nerlens Noel, who misplayed his hand in Dallas, turned down a $70 million dollar deal, and signed his qualifying offer instead.
This is a huge risk.
4. Split the difference and sign a short-term deal.
If Smart wants to give unrestricted free agency a shot without sacrificing any money, he can tell the Celtics he only wants to do a two-year deal at or close to market value to stay in Boston. They can settle on something in the $20-24 million range for those two years to pay Smart about what he's worth while he waits out the poor decision-making of a couple of years ago.
The four-year deals doled out in the summer of '16 will expire after the 2019-20 season. Those capped-out teams will see big contracts come off the books, and they'll have money to spend again (provided that they don't make any other bad decisions). That creates a market for players that doesn't exist this summer. Smart will just be entering his athletic prime, so he'll be ready to make a big impact.
The Celtics would benefit because they'll get two more years out of an important player at salary they can afford. They would also still have Smart at a very trade-able salary, which could facilitate an in-season deal moving forward.
This seems, to me, to be the most win-win scenario for both sides. It's certainly possible one of the few teams with cap space could decide to use it on Smart. It only takes one good offer to throw this all off for Ainge.
While that's possible, it doesn't feel probable for Smart. The guard position is deep, and though Smart is a unique guard, teams may feel they can get away with other point guard options. One added wrinkle that could derail Smart's pursuit of a big contract is the uncertainty in Toronto, Washington, and Portland.
All those teams had disappointing ends to their playoff runs, and all could be considering some big shakeups in their backcourts. It's not out of the question to think at least one of those teams will move one of their high-powered guards to a team that might have been a Smart suitor.
However that all plays out, there's a good chance it all takes a lot of time to unfold — which is doom for a restricted free agent. The timing is simply terrible for Smart. Two years ago he might have been in line for Evan Turner-type money. In 2018, though, he might get half that, no matter what he thinks he's worth.