Celtics
Bill Belichick says 'phenomenal' Brad Stevens 'is a model for all coaches'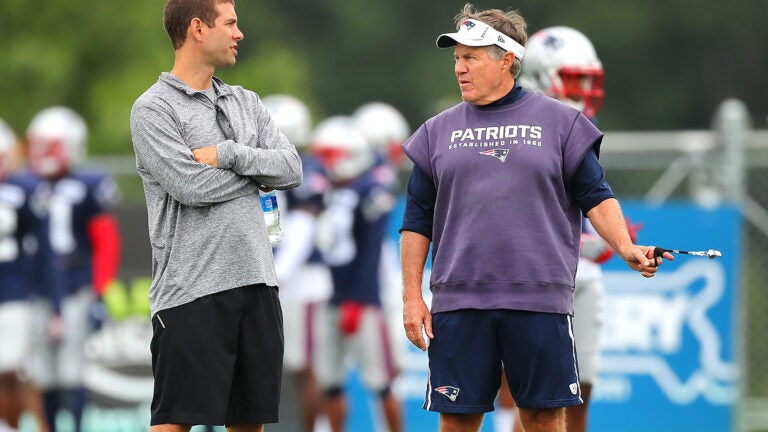 Bill Belichick and Brad Stevens are back to trading compliments.
In March, Stevens told the NFL Network that spending time in Foxborough makes "you feel inadequate as a coach."
"Their culture, the way they move from drill to drill, how they pull together, how connected they are, it's special and it does not happen everywhere," the Celtics coach said of the Patriots.
It may not happen everywhere, but that rare winning culture did appear to develop within the Celtics' locker room during Boston's run to the Eastern Conference finals. Now, Belichick is returning the praise. He gushed to the Boston Sports Journal's Greg Bedard about his counterpart, who's visited training camp and practice at Gillette Stadium.
"Coach Stevens is incredible," Belichick said. "He always points out that the players are the ones who, regardless of the situation, have made this a special team, defying all expectations and adversity game after game after game. But he clearly is a driving force behind it. Coach Stevens is a phenomenal person, leader, teacher and strategist, and the job he does is a model for all coaches."
Last year, the Patriots head coach expressed his admiration for the job Stevens did in turning a group of young players into a contender. Stevens said at the time that he was particularly interested in watching Belichick manage a roster with so many more players than basketball. He's also talked about the similarities between the sports in terms of individual player development and creating misdirections within each play.
"It's interesting, because every single play is a draw-up against the defense," Stevens said. "So, football is kind of fun in that regard."
If the Celtics coach had the opportunity to draw up one of his famed ATO plays on every possession, perhaps his team would be headed to Golden State for a chance at a championship.