Celtics
6 stories about the 2008 Celtics unearthed by NBCSB's new documentary
"Anything is Possible: The Story of the 2008 Celtics" covers everything you needed to know about Boston's championship run — and more.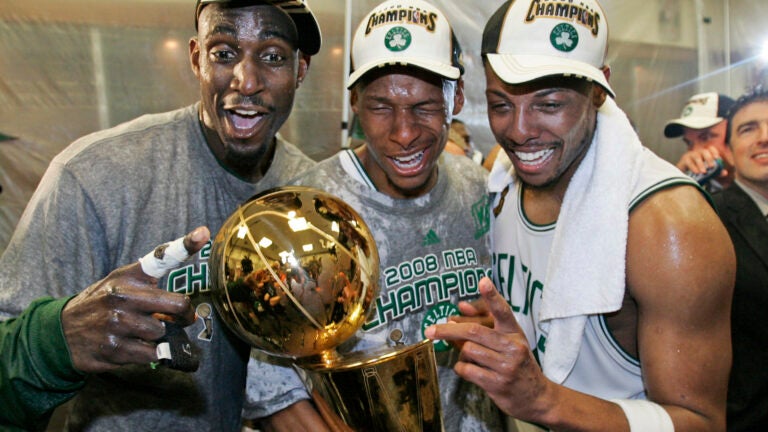 Three little-known tales from the 2008 Celtics, unveiled by the two-hour documentary that debuted on NBC Sports Boston Tuesday night . . .
1. Ahead of the 2006 NBA Draft, Celtics president of basketball operations Danny Ainge was extremely interested in pursuing point guard Rajon Rondo out of Kentucky. Rondo said the first time Ainge saw him play was a game in Barcelona, where he — as a high schooler — scored 55 points and dished 17 assists.
"Danny was on Rondo before everybody," former Celtics coach Doc Rivers said. "Like long before everybody."
Rivers, however, was initially hesitant.
"I watched him four or five times and I went into Danny and said, 'He sucks. He's not that good. I don't see it,'" Rivers recalled. "[Danny] said, 'Just keep watching him. I'm telling you, just keep watching him.'"
Per Ainge's insistence, Rivers kept watching and eventually began to like Rondo more and more. The Celtics hosted him for two workouts ahead of the draft.
"It was pretty impossible not to see the spectacular talent that he had," Ainge said. "I felt like I had a little bit a connection with him in those two workouts as well."
But Rondo brought more to the table that just his talent. Rivers said Rondo's intelligence stood out to him as early as their pre-draft interview. Rivers called him, "still to this day, the smartest guy [he's] ever coached."
2. Paul Pierce said Kevin Garnett once proclaimed, despite his "skinny frame," he was the strongest player on the team. When Pierce contended Garnett couldn't beat their teammate Leon Powe in an arm-wrestling match, things escalated.
"I don't know why he told KG that," Kendrick Perkins said.
Perkins said Garnett, sweating, started "going crazy," while the team bet money on who they thought would win. Powe said he didn't think Garnett would beat him.
"We thought he wasn't strong at all," Powe said. "We were making fun of him."
Sure enough, however, Garnett was victorious. As Pierce put it, "his will would not let him go down." Garnett then took on Glen "Big Baby" Davis in another match his teammates thought he was going to lose. He won — again.
"He literally beat him with his will," Rivers said. "I would have bet every dime I've ever made in my life that Baby would win that."
3. Pierce threw up on the duck boat during the team's victory parade.
"I remember lighting up a cigar and was like, 'This is for Red,'" Pierce said. "The next thing I know I was throwing up on the duck boat . . . I probably smoked maybe one cigar ever up until then. I guess I didn't know how to hit a cigar."
Pierce said he was snuck away for four or five minutes to take care of his business and drank some water upon his return.
"'Alright, no more cigar,'" he said.
***
Plus, three additional nuggets courtesy of Powe and Brian Scalabrine after the documentary's premiere showing at AMC Loews in Boston . . .
4. The Celtics held part of their training camp in Rome prior to the start of the 2007-08 season. Former Celtics forward and current NBCSB television analyst Brian Scalabrine said Garnett called up an Italian designer to have each player measured for a custom suit upon arrival. Garnett extended the offer to all involved with the team — coaches, the production crew, interns — according to Scalabrine.
"New suits for everybody," Scalabrine said. "Like we just got to Rome. We've been together for three days. That's just how he is. "
5. Powe said the Celtics' practices were much like their games.
"We used to just go at it with each other," he recalled. "We'd come into practice looking forward to it."
Powe, who typically guarded Garnett during practice, said there was one moment from a one-on-one battle he would never forget.
"I'm like, 'OK, he ain't going to get nothing today, he ain't going to get nothing today,'" Powe said. "He's posting me up and I was stopping him for like a cool little minute, a hot minute. He has the ball, he turned around, and he looked at me, and he looked at me again. While I'm guarding him, he said, 'Ah, you too little. You 6'5″.' He shot over me and he made it. That really stuck with me."
For the record, Powe's listed height is 6'8″.
"If I wear the right shoes, I'm about 6'8″ and a half," he said.
6. After retirement, Scalabrine became an assistant for the Golden State Warriors. When he returned to the TD Garden for a regular-season game, Scalabrine said head coach Mark Jackson shouted out a call, "42 cross," for his team. But the play was a bluff. The Warriors didn't have a "42 cross" in their playbook — and Rondo knew.
Per Scalabrine:
"Rondo looked at Mark, and then he looked in the air and said, '42 cross, 42 cross,' and then he looked back at Mark and said, 'You don't have a 42 cross.' I was like, 'How the hell did he just know that?' Somehow, some way, he knew that. And they're not a rival. It wasn't a playoff series. It was an insignificant game during the middle of the week. He was the smartest player I've ever played with and it's not even close."