Celtics
Here's why Kyrie Irving most likely won't be signing an extension this year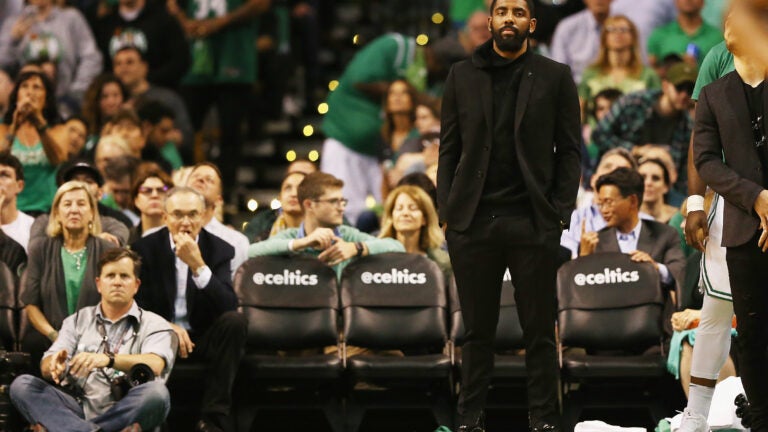 Kyrie Irving is under contract to play for the Boston Celtics next season. After that, he has the option to opt out of his deal and test free agency waters for the first time in his career. The hope for Danny Ainge, Brad Stevens, and Irving's teammates, is that the star point guard will elect to return to the Celtics' shore at that time.
There's reason to trust that hope. In February, Irving was asked about the possibility of Gordon Hayward returning to the court before the end of the season. He replied that he wouldn't want his fellow All-Star rushing back, because "we need him for years to come."
That long-term view played beautifully on the ears of Celtics fans and echoed comments he made to ESPN's Jackie MacMullan in January. He insisted then that he was happy in Boston, although MacMullan concluded her profile of the point guard by cautioning, "If you are always searching for the next thing, they say, how can you ever find what you're looking for?"
If Irving has found those answers in Boston, on a team that looks poised to ascend to the top of the NBA if LeBron James ever ages and the Golden State Warriors feel the effects of the repeater luxury tax, then why doesn't he sign a contract extension or a new deal this summer?
Because doing so would leave nearly $87 million on the table.
In 2014, Irving signed an extension to his rookie contract that paid him $90 million over five years and was intended to keep him in a wine-and-gold uniform until 2020. Of course, it didn't work out like that. Cleveland sent him to Boston in exchange for Isaiah Thomas, Jae Crowder, Ante Zizic and the Brooklyn Nets' 2018 first-round pick.
To make that deal happen, Irving waived a trade kicker — 15 percent of the total money remaining on his Cleveland deal. But there's a difference between turning down a one-time payment of $5.8 million to escape LeBron's shadow and locking yourself into a team-friendly deal offering less money and years. (Cleveland announced the 2014 extension the very moment they were allowed to. The Celtics would be equally eager to do so, provided they could convince Irving to re-up this year.)
The Celtics' star will make just over $20 million next season on his current deal. If he doesn't opt out after that, he will make just over $21 million in 2019-20. However, the way contracts in the NBA are structured — as well as the influx of television cash into the league since he signed that extension — means he can make millions more by ditching that deal.
Say, for example, Irving wanted to sign an extension with the Celtics this offseason. If he did so in July, he could ink a four-year deal worth just over $101 million. But if he waited till after next season, he's negotiating against a cap projected to rise to $108 million that year.
Take his talents elsewhere, and Irving will be eligible to sign a max deal worth $139 million over four years.
Stay in Boston — plying his trade beside Jayson and Jaylen and whichever incredible Jay Danny Ainge scoops up with next year's Sacramento pick — and Irving can sign a five-year deal worth $188 million. (The team retained his Bird rights during the trade.)
The signing would almost certainly edge the Celtics towards the luxury tax, especially when Tatum and Brown reach the end of their rookie deals, but Boston's owners have signaled a willingness to reach into their pockets when the time comes.
In April, MacMullan appeared on WEEI, where she was asked whether she had heard anything that would suggest Irving re-signing with the Celtics was in danger.
"No. Quite the opposite, honestly," MacMullan responded.
Irving did not play during the Celtics' thrilling run to the Eastern Conference finals. And he probably won't sign a long-term extension this summer. But all signs point to the All-Star point guard inking a deal next offseason that will keep him in green-and-white for years, and postseasons, to come.