Celtics
Morning sports update: Kevin Durant explains why Tom Brady's Celtics pitch didn't work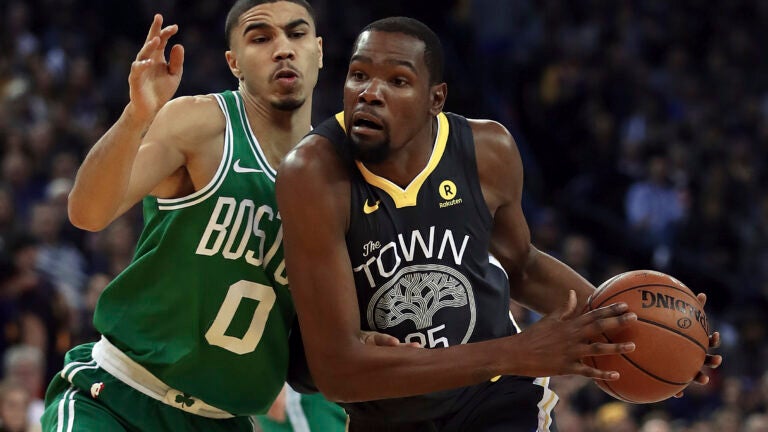 Mitch Moreland hit a two-run homer to center in the first inning and Andrew Benintendi added a solo homer in the fifth, as the Red Sox beat the Astros, 9-3, Sunday night. Rick Porcello allowed two earned runs on five hits in 6 1/3 innings.
Kevin Durant explains why Tom Brady's Celtics pitch didn't work
In July 2016, Kevin Durant rented an estate one block from the Atlantic Ocean and invited five NBA teams for meetings in the Hamptons — where suitors tried to lure the free agent away from Oklahoma City. The Golden State Warriors showed up with Klay Thompson, Stephen Curry, Draymond Green, and Andre Iguodala. A few days later, Durant agreed to join a loaded lineup that became known as "The Hamptons Five."
Although Golden State blew the competition away with the teammates they were able to offer the free agent, Durant also enjoyed the contingent the Celtics sent to Long Island. Boston arrived with coach Brad Stevens, president of basketball operations Danny Ainge, and a handful of players — plus Patriots quarterback Tom Brady.
The five-time Super Bowl champion was on hand to detail to Durant how the city of Boston embraces its sports teams. Durant said recently he appreciated the extracurriculars, but he ultimately was "just all about the basketball."
"I mean, I love Tom Brady, but I don't know if he can help me if he was on the court with me right now," Durant told The Athletic's Tim Kawakami. "I love that people wanted me on their team, but at the same time, I just wanted to hear from the coaches and the players about what they needed or why they wanted me on their team and what I needed to do as a player."
Durant said his primary concern was playing basketball the right way and building a bond that would last forever with some "good dudes." He said he felt like Golden State was the perfect place for it — even if some disapproved of the decision to join a team that had just won 73 games.
At the time, however, Durant was still highly impressed by the Celtics' pitch.
"I was ready to just say, 'All right, let's go. I'm ready to go,' seeing Tom Brady there," Durant said in 2016. "Seeing someone so successful at his craft, and just a great ambassador for the game of football and the city of Boston, it was great to be in the presence of greatness."
The free agent said he liked Brad Stevens and the team's style of play, but those attributes weren't enough to land his talents — even if a move to Boston would mean joining Brady atop the city's totem pole.
"I knew I couldn't let that distract me," Durant said. "[But] he was great. It was great to see him."
7 things we learned from the latest round of Patriots OTAs: In Foxborough, Julian Edelman's recovery from a torn ACL is progressing nicely, Devin McCourty believes the NFL's new anthem policy is "dumb," and Braxton Berrios is among the young players trying to carve out a role. (Boston.com)
Rob Gronkowski is a full go for Patriots mandatory minicamp: Gronkowski skipped the Patriots voluntary workouts, but the tight end and his freshly shaved head will be in attendance at minicamp this week.
"I'll be there this week," he confirmed. "I'll be full go. I'm looking forward to it." (Boston.com)
Here's why Kyrie Irving most likely won't be signing an extension this year: If Irving plans on staying with the Celtics long-term, and all signs point to that being the case, why doesn't he sign an extension this summer? Because doing so would leave nearly $87 million on the table. (Boston.com)
Daily highlight:
https://twitter.com/RedSox/status/1003445396453122048