Celtics
What Duke's Grayson Allen had to say after his pre-draft workout with the Celtics
"I have to address the lows just as much as I have to address the highs."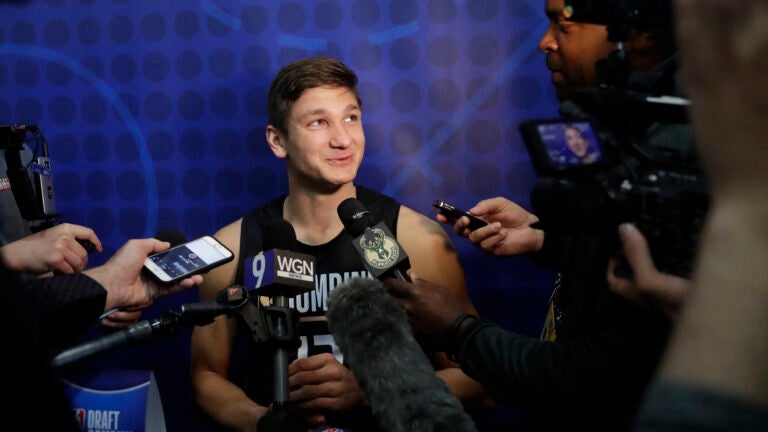 WALTHAM — Another Blue Devil could be joining the Celtics next season.
Duke shooting guard Grayson Allen was one of six prospects to visit the Celtics' practice facility for a pre-draft workout Friday. Allen, who played four seasons under coach Mike Krzyzewski, said the session went well.
"I'm in shape to do this," he told reporters. "I just come out and compete, try to play D, try to talk, and try to bring some life to the workout."
"I don't put a lot of pressure on myself coming in," he continued. "I played for four years, got a lot of tape. If I have a bad day, they have a lot to look at. If I have an incredible day — and I look like Kobe Bryant out there — they got a lot of tape to look at, so really either way, there's no pressure on myself."
Allen averaged 14.1 points, 3.3 rebounds, and 3.2 assists over the course of his college career, including a breakthrough sophomore season in which he started 35 games and averaged 21.6 points. He earned both first-team ACC and second-team All-American honors that year. During Allen's tenure, Duke posted a 117-32 record.
Celtics director of player personnel Austin Ainge called Allen a "great shooter" who "scored a lot of big baskets." He said the team is not worried about the concerns surrounding his character. Ainge said he spoke with Celtics forwards Jayson Tatum and Semi Ojeleye — who both overlapped with Allen — and the players had nothing but positive remarks. Ainge also spoke with former Duke basketball guard Nick Pagliuca (son of Celtics co-owner Steve Pagliuca).
"Nick Pagliuca gave us the thumbs up on Grayson, so that's all I needed," Ainge said. "We're good on him. All the character stuff, Nick gives us two thumbs up."
Allen became a controversial figure as a result of repeated tripping incidents in college. After the third documented occurrence, Krzyzewski stripped him of his captaincy and levied an indefinite suspension his junior season. Allen said Friday he treats his pre-draft conversations as job interviews and fully expects to field questions about — and receive judgement for — the past.
"I have to address the lows just as much as I have to address the highs," he said. "I've answered the questions about my mistakes for the past two or three years now. Teams know that. Teams just want to find out who I am, what my personality is, if I'm going to be a professional for them on and off the court, how I'm going to be with teammates in the locker room and on the court — all that kind of stuff they don't get to see from watching film."
According to Allen, many, if not all, of the teams he's met with thus far have attributed his mistakes to "competitiveness." He said he's explained what he is doing to better manage his emotions on the court, but emphasized he does not plan to curb his passion for the game.
"At the end of the day, I'm not getting rid of that because teams want a competitive and emotional guy out there," he said. "You just have to control it, but they want a guy who brings fire."
As for how interested the Celtics are in drafting Allen?
Ainge said the team has narrowed down their list of leading candidates to 10 prospects — if they stand pat with the 27th pick. He said the team has worked out 50-60 players but did not say whether the team is leaning toward keeping the pick — or whether Allen is part of the softly finalized group.
"We have to find players that can play and help us," he said. "Having guys on rookie contracts and lower contracts that can contribute is invaluable because we have some high-money guys on our team now and we have free agents coming up every year — this year, next year, the year after. You never know how that's going to go, so we have to continually have new talent in the pipeline."
Allen — who could have declared for the draft after his successful sophomore year — said having four seasons of high-level college basketball only benefits him. He credited much of his growth and development to Krzyzewski.
"I got to learn from coach for four years," he said. "I got to think through the game in so many different roles. My basketball IQ improved so much just by playing for him. I learned how to prepare like a pro, how to recover like a pro, how to live like a pro."
"I also think I'm at a better spot to land and stick in the league," he continued. "If I were to have come out after my freshman or sophomore year, like I would have been in a good spot, but I would have had to get lucky in a good situation. Right now, I think I'm in a place I can handle a good situation, a bad situation, grinding through the G League, anything. I can handle all that and have a long-term career."