Celtics
7 questions affecting the Celtics that will be answered this offseason
Will Marcus Smart be playing for the Celtics next season?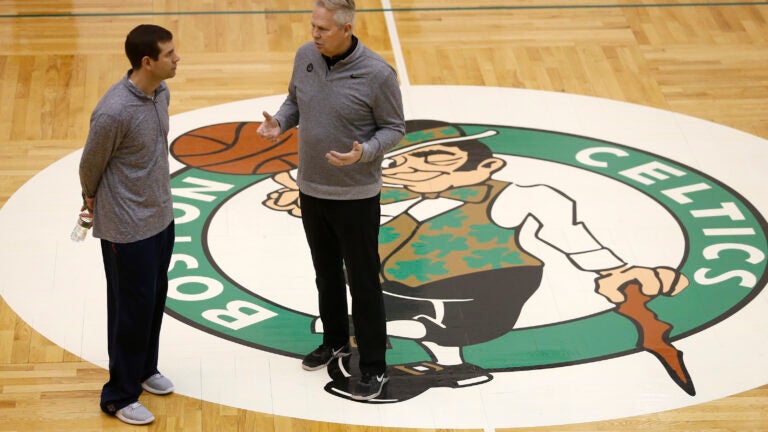 COMMENTARY
The Celtics are primed to make a run at the 2019 NBA championship.
"This team is going to be the Golden State of the East," NBA Hall of Famer Tracy McGrady recently said on ESPN's "The Jump." "They're so deep. Even if they lose Marcus Smart, like, I'm trying to figure out their lineup for next year because either [Jayson] Tatum or [Jaylen] Brown is going to go to the bench."
McGrady's assessment isn't necessarily true. The Celtics could stick with the starting lineup from their regular-season opener against the Cleveland Cavaliers: Brown, Tatum, Gordon Hayward, Kyrie Irving, and Al Horford.
The highly anticipated returns of both Hayward and Irving — coupled with (potentially) fruitful summers of improvement for Brown and Tatum — should solidify Boston's offense. If all goes according to plan, the Celtics should be the team to beat in the Eastern Conference.
But several looming personnel decisions could impact Boston's future title run.
Here's a look at what's to come:
Where will LeBron James be playing next season?
Cavaliers forward LeBron James is the biggest name set to hit free agency this offseason. He is expected to have several suitors from both conferences.
Should James join the Los Angeles Lakers, the Houston Rockets, the San Antonio Spurs, or another Western Conference team, the East would open up as Boston's conference for the taking. The past eight teams to represent the Eastern Conference in the NBA Finals have been led by James.
Should James join the Philadelphia 76ers, however, the Celtics' level of competition would heat up. The Sixers own six picks in the 2018 NBA Draft and already have two of the league's biggest superstars, center Joel Embiid and point guard Ben Simmons, on their roster. Adding James to that mix would make Philadelphia quite the formidable threat. Although Boston — without Hayward and Irving — bested Philly in five games this postseason, that outcome is by no means a lock next year.
There, of course, are also rumblings that James could be coming to none other than Boston — a scenario that would present several questions, namely what would the Celtics have to give up to acquire him? And how would Irving feel about playing with James again? It seems unlikely the Celtics will uproot all that they've built to pursue an aging superstar, but, then again, it's LeBron James.
Per multiple sources, there is a slim chance #LeBron will sign with either the #Celtics or #Warriors. The thought process is that chasing Kyrie or KD will not be particularly appealing at this point in his career.

— Jordan Schultz (@Schultz_Report) June 10, 2018
Wherever James ends up playing — even if he stays in Cleveland — the team will be a championship contender. As his former teammate Dwyane Wade recently said on Fox Sports Radio, "he's shown this year that he can get to the Finals, you know, no matter what the circumstances are."
Who will be the new 76ers GM?
The Sixers are also in the market for a new general manager.
Bryan Colangelo resigned Thursday, after an investigation determined that his wife was responsible for establishing and operating five secret Twitter accounts that bashed players and revealed sensitive information.
According to The Ringer's Kevin O'Connor, Celtics assistant general manager Mike Zarren is one of the top candidates to replace Colangelo. Zarren was previously considered for the job when the Sixers were hiring in 2013 and reportedly was given an offer that he ultimately turned down. If he stays in Boston, Zarren — who started with the Celtics as an intern — will be entering his 15th season with the team. His current level of interest in Philly's opening is unknown.
O'Connor also named former Cavaliers GM David Griffin as a top candidate. Hiring Griffin would presumably boost the 76ers' chances of landing James, given the pair's positive working relationship. James reportedly was not happy when Cavs owner Dan Gilbert failed to reach a new contract agreement with Griffin in 2017.
Other options to replace Colangelo include two internal possibilities: Marc Eversley, vice president of player personnel, and Ned Cohen, associate vice president and chief of staff. A promotion would obviously have minimal impact on the Celtics.
Will the Celtics move up in the NBA Draft?
The Celtics currently hold the 27th pick in the 2018 NBA Draft.
If the Celtics stand pat with No. 27, director of player personnel Austin Ainge said the team has narrowed down their list of leading candidates to 10 prospects. He said the team has worked out 50-60 players but did not name any players in the softly finalized group — or mention whether the team is leaning toward keeping the pick.
The decision to move up could come as late as Draft Day (June 21). There are several athletic big men projected to be lottery picks — Duke's Wendell Carter Jr., Michigan State's Jaren Jackson Jr., and Missouri's Michael Porter Jr. — who could address one of the growing areas of need for the Celtics.
As for what they would need to give up to move up? A combination of guard Terry Rozier and draft assets (the No. 27 pick and 2019 Kings pick and/or 2019 Grizzlies pick) seems like the most viable package that could land them in the top 10.
If not, what will they do with the 27th pick?
Ainge said the 10 guys the Celtics like at No. 27 play varied positions.
In addition to an athletic big man, the Celtics could also be looking for a versatile guard to replace either Rozier or Marcus Smart — depending on how the offseason shakes out. Some names that could be available at No. 27 include Villanova's Jalen Brunson, Villanova's Donte DiVincenzo, Michigan's Moritz Wagner, Duke's Grayson Allen, Maryland's Kevin Huerter, and Western Kentucky's Mitchell Robinson.
"We have to find players that can play and help us," Ainge said. "Having guys on rookie contracts and lower contracts that can contribute is invaluable because we have some high-money guys on our team now and we have free agents coming up every year — this year, next year, the year after. You never know how that's going to go, so we have to continually have new talent in the pipeline."
Will Marcus Smart be playing for the Celtics next season?
Smart is expected to become a restricted free agent this summer, meaning he can field interest from other teams but the Celtics will have an opportunity to match any offer he gets. While Smart has made it explicitly clear he wants to stay in Boston, he also is hoping to get paid. The 24-year-old recently told ESPN's Jackie MacMullan that he thinks he's worth "more than $12-14 million" per year.
"My heart's here," Smart said during his exit interview. "I want to be here. I love this city. I love this team. I love the atmosphere it gives off. I've been here for four years. My heart's here, but there's definitely going to be some factors that go into it."
According to Smart, Stevens and Celtics president of basketball operations Danny Ainge are "already planning" to bring him back. While Ainge did not confirm whether that is the case, he said ownership is prepared to spend responsibly.
"They've been very willing to pay for teams that have a chance," Ainge said. "I think the way that our team played this year, the hope that there is; I think that will make it easier for them to step forward and realize the potential of this team and be willing to pay the money we need to to be as good as we can."
Will the Celtics bring back any of their other free agents?
The Celtics also have three unrestricted free agents: center Aron Baynes, center Greg Monroe, and point guard Shane Larkin.
Baynes is the player most likely to return, for his strong defensive presence (and newfound three-point shot?). Baynes was able to stay active on the offensive glass and help contain the likes of James and Embiid during the Celtics' playoff run.
"We really liked Aron's contributions this year," Danny Ainge said. "He's a great teammate, takes a lot of pressure off of Al [Horford], plays all the tough guys, brings consistent energy — day in and day out — to the practice and the games."
Baynes has expressed a desire in returning to Boston, but the Celtics' interest could be contingent upon the outcome of this year's draft — as well as the market for other available free agents. Pelicans center Anthony Davis has been on the Celtics' radar for quite some time, but it appears he plans to stay in New Orleans.
Other teams also could best Boston's offer for Baynes.
"Money comes into it," Baynes said. "That's the business side of things, but I don't think it's the only side of things either. So I think I showed that when I came here at the start of the season as well. I'm looking forward to it, but at the end of the day my agent is going to be doing most of the work and it's not on me."
Will the Celtics offer eligible players any extensions?
Although Irving and Rozier are both eligible for extensions, neither are likely to happen — for different reasons.
Irving will probably be offered an extension, but then turn it down. With rumors swirling regarding Irving's long-term future with the Celtics, a contract extension could offer Boston peace of mind that the All-Star won't be leaving at the end of next season. In accepting it, however, Irving would be leaving a lot of money on the table. It's not necessarily a red flag if Irving declines the extension.
He, like most players, probably just wants to get paid.
Rozier, on the other hand, is unlikely to be offered his rookie extension. The Celtics could offer the 24-year-old a new contract so he doesn't hit restricted free agency next season, but will probably want to keep him available as an trade piece.