Celtics
3 options for Terry Rozier in a crowded Celtics backcourt
How do the Celtics handle Rozier, fresh off a playoffs where he convinced a lot of people he deserves to get those minutes he needs?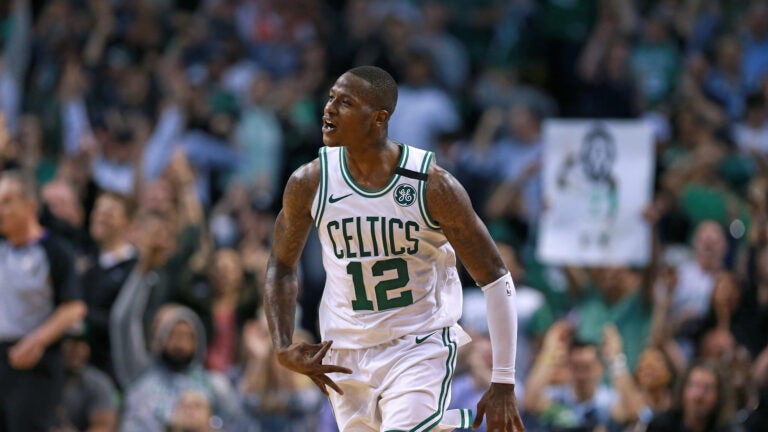 COMMENTARY
Terry Rozier needs to play.
Some players can come off the bench ready to contribute immediately. Vinnie Johnson earned himself one of the best nicknames in NBA history, "The Microwave," because he could come in and heat up quickly.
Rozier, though, needs time to get into the flow of the game. For Rozier to be most effective, he needs to play a lot of minutes.
This past season, Rozier's best numbers came when he played 30-39 minutes. Here's how it broke down for him:
| | | | | | |
| --- | --- | --- | --- | --- | --- |
| Minutes | FG% | TS% | Points | Assists | Rebounds |
| 30-39 | 40.9% | 54.9% | 16.9 | 4.5 | 6.2 |
| 20-29 | 39.8% | 51.6% | 10.1 | 2.5 | 4.7 |
| 10-19 | 35.0% | 47.4% | 7.2 | 1.9 | 2.6 |
Obviously players can score more points when they play more minutes, but you can see the jump in scoring is much bigger when comparing numbers from the 20-29 minute range to the 30-39 minute range rather than the 10-19 minute range to the 20-29 minute range. 
There was a similar pattern in the playoffs. Rozier got plenty of minutes, but he had a tendency to get better as the game wore on.
| | | | |
| --- | --- | --- | --- |
| Quarter | FG% | 3PT% | Points |
| 1 | 38.5% | 28.1% | 3.4 |
| 2 | 39.7% | 39.5% | 3.9 |
| 3 | 38.4% | 28.9% | 4.5 |
| 4 | 47.4% | 39.5% | 4.8 |
These numbers don't tell the whole story on Rozier, but they do illustrate how streaky he can be. Getting his shot going is a little like starting an old lawnmower. You need to prime the line and give it a couple of good pulls before it gets going.
Rozier's streakiness results in some low overall shooting percentages but, as the minutes march on, he can find his stroke and get going. The problem for him is the minutes will be hard to find with a fully healthy Celtics team.
Using coach Brad Stevens's favorite categorizations, there are 48 minutes per game for bigs, 48 minutes for ball-handers, and 144 minutes for wings.
Last season, Kyrie Irving averaged 32 minutes per game. That leaves 16 minutes for the rest of the ball-handlers. Even if they dip into some of those wing minutes, where do Rozier's minutes come from?
How do the Celtics handle Rozier, fresh off a playoffs where he convinced a lot of people he deserves to get those minutes he needs?
Option 1: Sell high
President of basketball operations Danny Ainge and the Celtics have shown an innate ability to understand when they've gotten the most out of a player. They could look at this moment as an opportunity to maximize the return on Rozier, who played his best basketball for the Celtics when they needed it most (Game 7 notwithstanding).
While it's true Rozier's value has never been higher, we shouldn't assume Rozier alone would get the Celtics very much. The most likely scenario in which Rozier would get dealt would be to move up in this year's draft, or trade out of this year's draft for a first-round selection next season.
Again, Rozier and Boston's 27th pick isn't going to suddenly vault Boston into the lottery. It might be good enough to get to Milwaukee or San Antonio at 17 or 18. Milwaukee is starting Eric "Drew" Bledsoe at point and may see value in Rozier as either a future starter after Bledsoe's contract expires or if he's traded. The Spurs seem set with Dejounte Murray but could find value in Rozier as a backup since Tony Parker's career is almost over.
Another option for Boston would be to trade out of this draft altogether, using Rozier and the 27th pick to acquire a 2019 first-rounder. Doing so could save the Celtics about $4.5 million dollars next season, allowing them to either pay Marcus Smart more money or use their full mid-level exception without worrying about becoming a taxpayer.
No matter what, trading Rozier means the Celtics are committed to Smart as a long-term backup to Irving. Even if they put it off until the trade deadline, any inclination to trade Rozier signals the Celtics' belief that Irving and Smart are their long-term backcourt and Rozier is better off getting starter minutes somewhere else.
Option 2: Bring everyone back and hope for the best
A full roster gives the Celtics a lot of options on offense. Gordon Hayward will bring the ball up sometimes, which was the plan going into last season, and Smart will get a lot of time to run the offense, which he does pretty well. The Celtics can throw some weird lineups on the court of similarly sized guys with similar abilities to bring the ball up.
Stevens loves to experiment, especially early in the season. Chances are most of those experiments would involve the wing players and not Rozier.
Which means he'll go back to his days of playing somewhere around 20 minutes per game on most nights. Some nights it might not be that much. Some nights it might be more.
That's not going to be nearly enough time for Rozier to be his most effective self unless he changes what his most effective self is. The Celtics will have to hope Rozier spends this summer becoming a more efficient scorer so he can be more productive in his shorter stints.
This is a pretty crucial summer for Rozier no matter how things work out, but in this particular scenario, there is no time for him to find an in-game flow. He's going to have to come into camp demonstrating better judgment and better shot-making ability. Nearly 41 percent of his offense came off pull-up jumpers, even though he shot four points better in catch-and-shoot opportunities.
Rozier is only 24 years old, so there is a lot of room for improvement in his game. He'll need to make some of those improvements quickly to keep giving Boston effective minutes off the bench if Smart is re-signed to back up Irving.
In a best-case scenario, Rozier bumps up his shooting percentages and learns how to maximize his opportunities to be a productive player in his 20 or so minutes every night.
In a worse-case scenario, he never quite readjusts to the role and struggles for most of the season, leading to a potentially disruptive situation where he wants out in an effort to cash in on his impending restricted free agency.
Option 3: Smart leaves and Rozier is the backup
Smart is the lynchpin to all of this, and if some team comes swooping in with a "Godfather" offer, the Celtics might have to turn to Rozier to take his place.
The Celtics would save money in this instance because Rozier would be making just over $3 million as opposed to whatever Smart would get. Boston could use its full mid-level exception (somewhere around $9 million) without worrying about the cap and tax implications, which could go a long way in a crowded market where few teams have money to spend.
Rozier would have to improve his play-making in this role. He was routinely late on passes because his priority was finding a path to score rather than to pass. He'll have to take this summer to learn to simply read the defense and make the right play versus making a play for himself.
Rozier will be sharing the floor with much more potent scorers. He's got a ton of confidence in his own shot, but he'll have to understand he's not a top scoring option on a fully healthy Celtics team. If he continues to miss passing opportunities, he'll be a detriment to what should be a free-flowing offense.
What the Celtics do with Smart is the key to Rozier's future in Boston. Signing Smart to a long-term deal probably signals the end of Rozier's Celtics days. Boston can find a Shane Larkin-type emergency guard to step in for less money in that case.
A shorter-term deal for Smart could lead to the second scenario, especially because that shorter deal would be very trade-able for Boston. Let's not forget the possibility of Ainge going after a big fish at the trade deadline (maybe one of those fish with a unibrow). Having Smart signed for something like two-years, $20-24 million makes the construction of a blockbuster deal much easier. Rozier could spend a lot of time on the bench to start the season, only to see time suddenly explode after a monster deadline-deal.
Of course, there's the chance some team out there has fallen in love with Smart's intangibles and is willing to make him a ridiculous offer that Boston just can't match without hurting their future. In that case, Rozier will get the playing time he needs and has earned.
Rozier has the ability to improve all of the areas necessary for him to be a successful, long-term NBA player. Again, he's only 24, which gives him plenty of time to get better. What happens next for him in Boston is a bit up in the air, but he'll eventually find his way onto the court for meaningful minutes — somewhere.