Celtics
What Kyrie Irving had to say about the most recent Celtics season — and what's to come
"The challenge is now we have championship pedigree."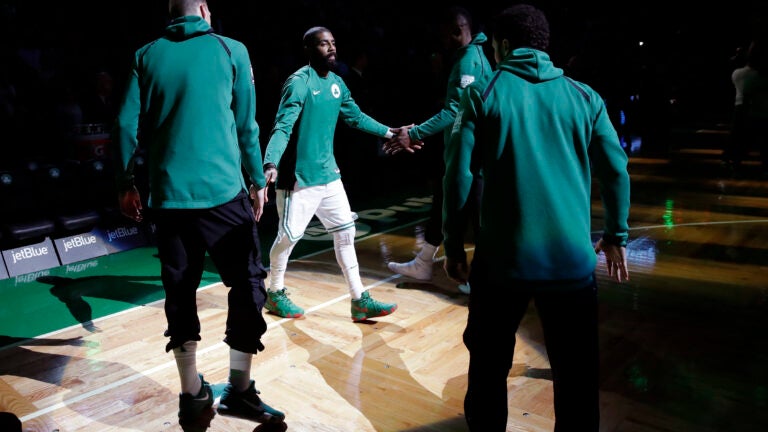 Kyrie Irving has a one-track mind.
He doesn't want to talk about his contract extension — which he said would not make sense "contractually" or "financially" — he doesn't want to talk about his long-term plans with the Celtics, and he doesn't want to talk about the possibility of his former teammate LeBron James coming to Boston.
He just wants to talk about winning a championship in 2019.
"My attitude is really just redemption next year, really integrating myself with our team again and really focusing on winning a championship," Irving told reporters Tuesday. "That's really the only thing I'm worried about."
Irving, who missed the end of the regular season and the entirety of the Celtics' playoff run due to injury, said he's "feeling good." The 26-year-old is recovering from two knee surgeries and a nasal procedure that repaired a deviated septum.
"It was going to be a process coming back," he said. "Just making sure I'm healthy enough for September, just trying not to push it too hard, [and] just taking my time with the rehab and feeling good."
After weeks of being "an outsider looking in," Irving said he's planning on dedicating this offseason to his craft and is taking everything one day at a time to ensure he will be ready for the start of training camp. He said he's not running on a treadmill yet, but mentioned he is participating in "running activities" on the basketball court.
Once he is able to return, Irving, like many of his teammates, is expecting — and excited for — intense, competitive practices. When the team is at full strength, he said no opponent will be able to push them harder than they push themselves.
"We're all competitors," he said. "We all have come from being the best player, or one of them, at a certain time and place, and we want to showcase that."
Although he was disappointed he wasn't able to contribute during the playoffs, Irving said the team playing well without him was "only beneficial." He gave a shoutout to several teammates, including guard Marcus Smart for immediately diving on the floor for a loose ball the game he returned from his thumb injury.
"That's the type of attitude and effort you love to be a part of," he said.
Smart's future with the Celtics is uncertain, as he's set to become an unrestricted free agent, but Irving isn't focused on the rumor mill of who's staying and who's going. He said he is grateful for the opportunity to have an "open dialogue" with management and the coaching staff about the direction the team is going and fully trusts their decisions are best for the team's future.
"You don't really try to control that narrative," he said. "You try to focus on what's important and what we need going into next year, being aware of who we have now and what we're capable of, and things we need to fix or get done and go from there."
As for his own future in Boston?
Irving said that's a discussion to be had after the upcoming season. While he confirmed he likely is not signing an extension this offseason, he said any conversations about a new contract will have to wait.
"Management and I will have a talk, but that talk won't happen now," he said.
In the meantime, Irving is looking forward to his return to the court — as well as the return of "my man Gordon [Hayward]" — with hopes that the team will accomplish something bigger than themselves.
"The challenge is now we have championship pedigree," he said. "Our young guys [have experience] that sometimes other young guys in the league aren't necessarily afforded. They gained a lot of experience, and now it can only help us going forward."