Celtics
Brad Stevens spent his Monday motivating a different group of Celtics
"I thought it was going to be like a simple 10-minute conversation."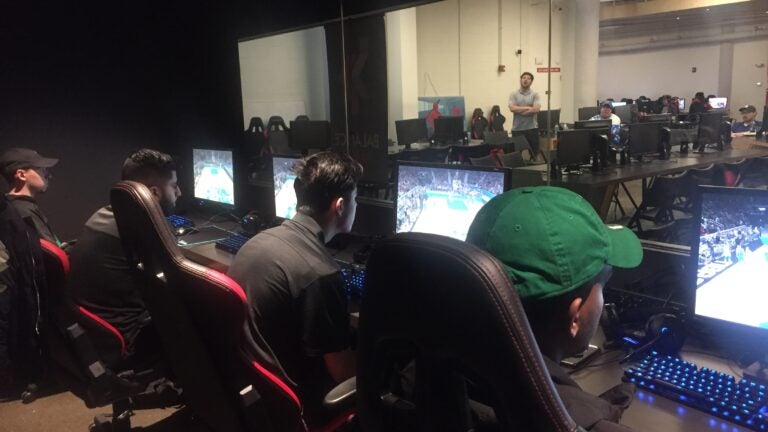 There were some new faces at the Celtics' practice facility in Waltham Monday.
Members of the CLTX Gaming team — Busha Koffa, Alex Snowden, Devon Peek, Thomas Genaj, Ahmed Kasana, and Albano Thomallari — spent their morning speaking with Boston's head coach Brad Stevens.
"I thought it was going to be like a simple 10-minute conversation, and he'd tell us, 'Keep on working hard, do this, do that,' but he stayed for an hour and answered all my questions," Thomallari told Boston.com. "I was just so shocked by how cool and calm he was. He is just a normal guy. He was making jokes. He just kept on making us laugh. He has a charm to him and knows how to talk to people."
Meeting with the greatest coach in the NBA today ! I'm so excited and can't wait to learn as much as I can from this man !

— oFAB ☘️2nd Pick☘️ (@_oFAB) June 11, 2018
Thomallari, better known by his gamer tag oFAB, is one of six players representing the Celtics in the NBA 2K League. Their team, CLTX Gaming, is one of 17 franchises competing in the inaugural season, which began early May. Thomallari said the group's conversation with Stevens taught him how to be a better teammate, how to elevate his game, and how to maximize his time.
A few of the highlighted lessons . . .
The importance of allowing players to be themselves: Thomallari said Stevens encouraged them to let each player maintain his own personality, using Celtics guard Marcus Smart as an example. As Thomallari put it, "Brad always lets Marcus be Marcus. He doesn't try to change him. He doesn't suppress anybody. He just tries to make them all better."
The value of unplugging: As someone who thinks about NBA 2K 24 hours a day/7 days a week, Thomallari said he asked Stevens how he prioritizes basketball while still finding time to de-stress. He said Stevens told him to give 120 percent during practice, so he can be afforded the opportunity to relax later. Working more doesn't necessarily mean he is working harder.
The benefit of tying performance to the individual: While chemistry and teamwork are obviously two vital components of success in their respective leagues, Thomallari said Stevens stressed the ability to succeed regardless of the surrounding environment. He said Stevens makes sure to offer players the tools to prosper "on their own," even if they are not on the Celtics.
Thomallari said the discussion with Stevens, in which he asked 10 or so questions, gave the team more confidence moving forward. CLTX Gaming still has eight games and a second mid-season tournament on their schedule before playoffs begin mid-August. They recently bounced back from a three-game losing streak to earn a runner-up finish in the first mid-season tournament.
Though Stevens will undoubtedly be busy this offseason, it turns out he has already managed to catch a few of their contests, which are streamed on Twitch.
"He really seemed interested in us and what we do," Thomallari said. "He brought up the score of one of our games, and I was like, 'Oh, you watch it?' and he was like, 'I do a little.' I was just like, 'Wow.'"
Other players echoed Thomallari's admiration and appreciation for Stevens.
Was awesome meeting and talking to Celtics Coach Brad Stevens today, gave us a lot of good advice going forward.

— Speedbrook ✪ (@Speedbrook_) June 11, 2018
BRAD STEVENS IS AMAZING!!! The stuff I learned today was so valuable I'll never forget this moment In my life. Learned so many great basketball & life lessons. By far the most down to earth person you'll ever meet, also he has a great sense of humor. #Celticsway☘️ #WeDifferent

— Ahmed Kasana ☘️ (@MelEast2k) June 11, 2018
I really just sat in a room and had a meeting with Brad Stevens its still processing through my head lol

— Fusion ❄️ (@ProfusionTV) June 11, 2018
"One big thing I took away was that winning is obviously very important, but what's more important is preparing for the win — preparing, practicing, making sure we're working hard and always getting better," Snowden said. "You shouldn't get results without preparing, so he emphasized always taking practice seriously, showing up on time, and demonstrating commitment. Hard work is going to pay off."
Snowden, who goes by his gamer tag ProFusion, grew up in Washington watching former Celtics shooting guard Ray Allen on the Seattle SuperSonics. He said he has enjoyed the opportunity to learn more about the franchise.
"Brad was pretty much just explaining to us how to be a Celtic and how to embrace the Celtic culture," Snowden said. "I got to learn a lot about the history, a lot about the past, and just how to be embrace that life . . . Just being a part of this organization in some way is honestly so surreal to me. It's very important and keeps me to the highest standard possible, so I try to perform as best as I can."