Celtics
5 things we learned from Kyrie Irving's appearance on 'The Bill Simmons Podcast'
He only plays with the Celtics in NBA 2K.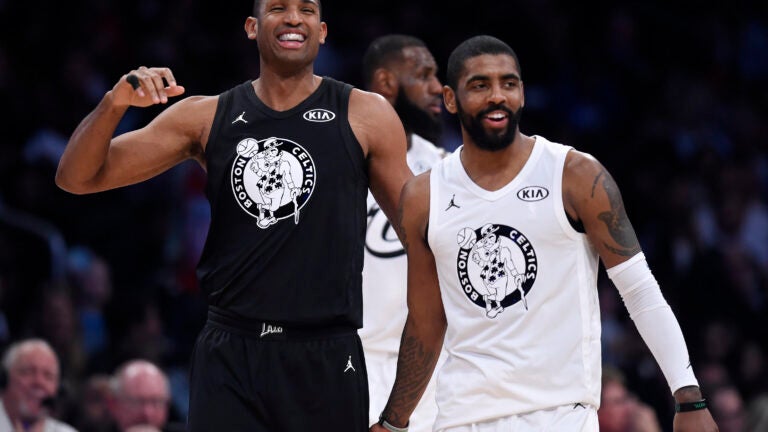 Celtics point guard Kyrie Irving was a guest on "The Bill Simmons Podcast" Friday. Irving and host Bill Simmons discussed a number of topics, including the most recent Celtics season, Irving's injury recovery, and his hopes for the future.
Here's what we learned:
He is 'still sick' about Gordon Hayward's injury.
Irving took partial responsibility for Gordon Hayward's season-ending injury during the Celtics' season opener against the Cleveland Cavaliers in October.
"I'm the one that threw the pass for the alley-oop, and I was just like holding on to that for a while," Irving told Simmons. "I'll take part of the responsibility because he wasn't really open — I saw D-Wade (Dwyane Wade) over there . . . He just came down wrong, and I was like, 'Ah, f.'"
After attempting to field Irving's pass, Hayward landed awkwardly on his left ankle and was taken off the court in a stretcher. He suffered a fracture dislocation — a severe injury in which a fracture and dislocation occur simultaneously — and was eventually ruled out for the remainder of the regular season as well as the entirety of the postseason. He had played just five minutes in a Celtics uniform.
"I just was pissed," Irving said. "I was pissed for our team and, more or less, for Gordon. He was just now getting to start a rhythm in preseason. It was just tough."
"I'm still sick about it," he continued. "Because we had a really good training camp, like a really good training camp."
Irving said he could tell the group was going to be successful as early as the first day of practice in September — even before their undefeated preseason. Once Hayward went down, however, he said his focus turned toward helping the younger players develop a "you gotta be a killer" attitude.
As he put it, "the opportunity shifted to those guys."
He loves CNBC.
While he was injured and unable to play basketball, Irving said he enjoyed developing new interests and diving into his other passions, such as his "appreciation for art." He said he also gained a fondness for a particular television channel.
"I fell in love with watching CNBC," he said. "I think that is one of the most hilarious channels. It really is funny to watch them go crazy over, like, companies and what the market is doing. It's like funny . . . 'Power Lunch' is one of my favorites."
The 26-year-old said he would turn CNBC on in the morning and leave it on all day while he was home.
He only plays with the Celtics in NBA 2K.
Irving expects Boston to be a challenge for opponents next season.
"Our matchups, they're scary for teams — really, really scary," he said. "Not only in terms of our defense, but offensively, we have guys that can create off the dribble, other than me, Terry [Rozier], and Marcus [Smart]. Our wings are just incredible."
The flexibility and depth of the Celtics' roster presents a number of questions regarding the starting lineup and division of playing time, but Irving seems to have a few ideas in mind. After all, he exclusively uses the Celtics when playing the popular basketball simulation video game, NBA 2K.
"I don't pick anybody else," he said. "Starting five is me, JB (Jaylen Brown), Gordon, JT (Jayson Tatum), Al [Horford]. Second five: Marcus, Terry, I'll leave JB or JT in there, I'll leave Gordon in there, and then I'll throw [Aron] Baynes."
Irving said he likes to utilize an eight- or nine-man rotation and expects the Celtics to add a "pretty solid guy" with the 27th overall pick in the 2018 NBA Draft.
But he does have a couple of gripes with 2K:
1. His avatar: "My hair, man . . . I was like, 'Bro, I'm not losing my hair.'"
2. His initial player rating: "Completely disrespected me in terms of giving me a 90." (He noted he is now "humbly" rated 93.)
He thinks his game management has improved.
"As I've evolved as a player, I think the management of the game has become a bit better," Irving told Simmons.
Even when he recognizes he can take full advantage of the defender he's going against, Irving said he knows getting his teammates into a rhythm is a priority.
"Because you're going to need your teammates at the end of the game," he said. "I could shoot this shot right here every single time down, but I have to make it easier for other guys as well . . . That's what I've learned as being one of the players on the team, especially with Boston."
Irving said he encourages his teammates to ease into the game and advises against trying to do everything at once. He tries to remind them there's no need to rush.
"It's a 48-minute game," he said. "That's an eternity, man. The first six minutes, if it's a big-time, high-level game, I know I have to put my mark on the game right away — just to set the tone — and then for the rest of the game, you just manage it."
He doesn't feel like he's reached his peak yet.
"What's the best stretch of your career you've had?" Simmons asked Irving. "Last three games of the '16 Finals?"
During the 2016 NBA Finals, the Cavaliers became the first team to rally from a 3-1 series deficit and win the championship. Irving scored 41 points in Game 5 and also knocked down a crucial three-pointer with under a minute remaining in Game 7.
"Best stretch?" he clarified to Simmons.
"Yeah, where you just felt like you were at the peak of your powers."
"I have yet to feel that," Irving said.