Celtics
Marcus Smart isn't too concerned about his free agency
"There are more important things than basketball."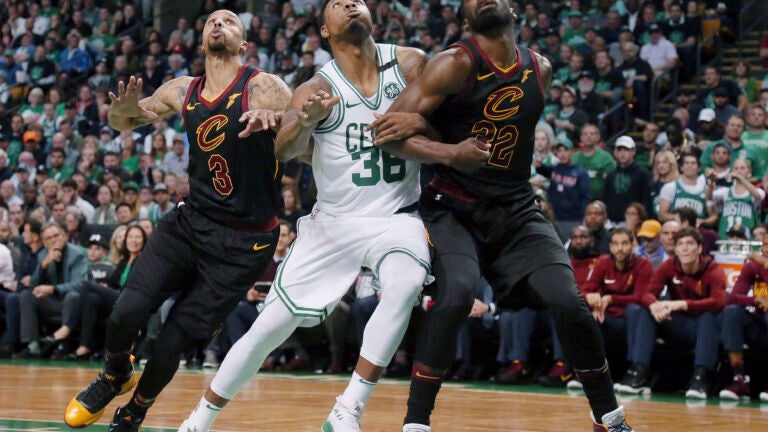 WALTHAM — Does Marcus Smart think he will be a Celtic next season?
"Honestly, I do," Smart told reporters at Brandeis University Wednesday.
Smart — who was in town hosting his annual basketball camp — previously expressed confidence about his return during his exit interview after the team's playoff run. He said both president of basketball operations Danny Ainge and coach Brad Stevens had given him the impression they planned on re-upping his contract.
The Boston Globe's Gary Washburn also reported earlier in June the Celtics were interested in bringing back Smart and guard Terry Rozier. As a restricted free agent, however, Smart cannot officially sign an offer sheet until July 1. Smart said Wednesday he actually hasn't thought too much about his status.
"My No. 1 focus is on my family right now," he told reporters. "I got a lot of stuff going on with my mom. Right now she needs all the positive thinking . .  That's where my mental focus is right now, so I haven't really thought about free agency. That's the last of my concerns right now. There are more important things than basketball."
In April, Smart revealed his 63-year-old mother, Camellia, had been diagnosed with cancer. Smart said she is "doing good" and "hanging in there," but there have been some recent complications.
"The time we spend working, we kind of forget what it feels like to be home with the ones that have been there from the start and that love us," he said. "When I'm at home and I'm able to see my family, it puts me in a good place."
Although he said being away from his mom can be hard, Smart insisted proximity to home (Texas) is not a factor in his decision-making process as a free agent. Wherever he goes, he said his mom will always be a static, supportive figure.
If he does receive an offer from another team, Smart said he has "no clue" if Ainge and the Celtics would try and match the deal. Because Smart is not an unrestricted free agent, Boston has two days to make a move if/when he signs an offer sheet with a different team. Smart reiterated he hasn't put much thought into the situation.
"You have to ask Danny," he said. "Those are those guys' jobs. I really haven't thought about any of that. It hasn't even crossed my mind. Like I said, it's all on Danny and those guys."
In the meantime, Smart said he's going to work on becoming "the best player [he] can become" and step his game up another notch. He said he's not going to get bogged down in the rumors surrounding his position.
Although he called Boston "a second home," the self-proclaimed "junkyard dog" also seemed to be at peace with the possibility of leaving.
"You just can't worry about those things," he said. "I'm 24 years old. I was the first one in my family to graduate from a college, and we're sitting here talking about possible teams that are going to pay me. It's a good thing to have. Even though it's out of your hands, either way, whatever happens, I'm going to be in good hands."
https://twitter.com/nicolecyang/status/1009483902652702720