Celtics
The Celtics select Robert Williams with 27th pick in 2018 NBA Draft
"He's a really talented guy."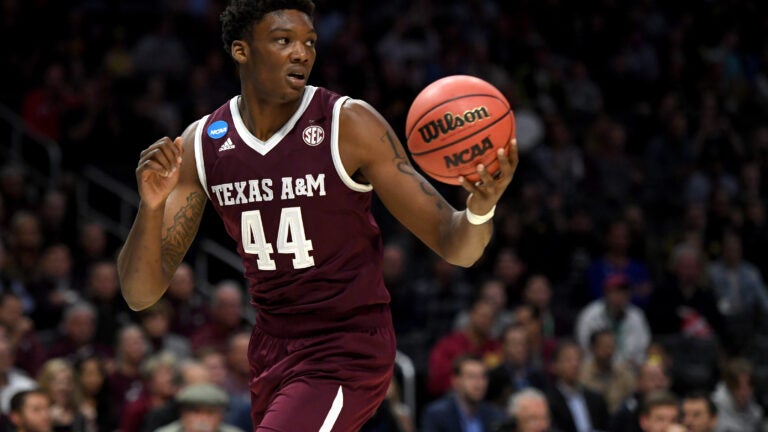 BRIGHTON — With the 27th overall pick in the 2018 NBA Draft, the Celtics selected Robert Williams of Texas A&M.
"He's a really talented guy," coach Brad Stevens told reporters following the team's selection Thursday. "We felt very fortunate to get him tonight."
Williams played two seasons at Texas A&M, where he averaged 11.1 points, 8.7 rebounds, 2.5 blocks, and 1.4 assists per game. Stevens gave a shoutout to his "ability to block shots" and "ability to alter shots."
ESPN's Adrian Wojnarowski said the Celtics have been "looking for a big man" to back up power forward Al Horford. Williams, who measures in at 6-foot-9 with a 7-foot-6 wingspan, should be able to fill that void with his strong defensive presence. Wojnarowski noted Williams has "lottery-level talent," but questions about his attitude and work ethic may have dropped his draft stock.
"If he can show a commitment to playing hard, [he] could be a steal of the first-round," Wojnarowski said.
Some of Williams's strengths include catching lob passes, getting up and down the court in transition, protecting the rim, and switching on the perimeter. His weaknesses include free-throw shooting (he shot 47.1 percent from the line his sophomore season) and lack of overall range. Much of his performance will likely be contingent upon his motivation as well.
"If you can have four shooters on the floor and a guy like that rolling to the rim, you can just throw it up in the air and he can go get it and finish it," Stevens said. "I think there's a lot of things he brings to the table."
The Celtics did not bring Williams in for a workout before the draft. The 20-year-old will be in Boston June 29 for his introductory press conference.