Celtics
Who might the Celtics have picked at No. 8, and other draft thoughts
There were rumors Boston was considering trading up from the 27th pick.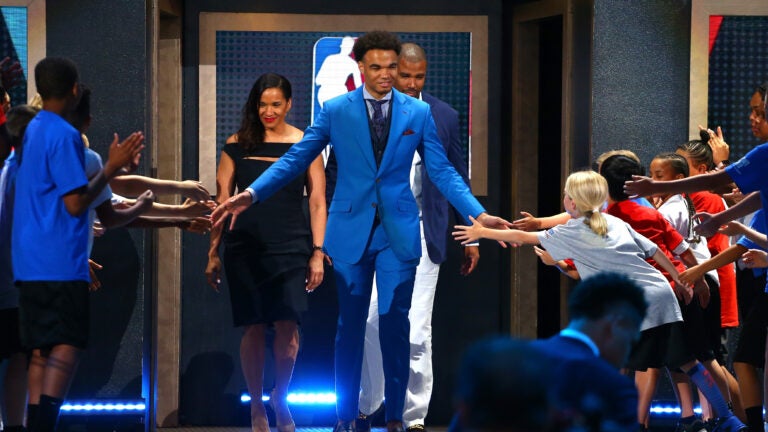 Some thoughts on Thursday's NBA developments …
■ The verdict was issued a long time ago on who won the deal, but the case was officially closed on the infamous 2014 Celtics-Nets trade Thursday night when the Cavaliers selected Collin Sexton with the final first-round pick acquired in that deal. The Cavs picked up that pick in the Kyrie Irving swap last August, a deal that right now also looks like a blowout win for the Celtics.
I do have a little curiosity about whom Ainge would have taken in the No. 8 spot had the pick remained Celtics property.
■ Boston College's Jerome Robinson, chosen 13th by the Clippers, was the highest-drafted Eagle since the Cavaliers chose John Bagley in the same slot in 1982. It's always a good draft when John Bagley is mentioned. In case you were wondering, Bagley was sandwiched between Fat Lever and Sleepy Floyd in that '82 draft. That's a run of fun basketball characters right there.
■ Tell me your three favorite picks in the draft. Here are mine.
1. Williams to the Celtics at No. 27. Best-case scenario? He's the next DeAndre Jordan, a talented, athletic big who arrives with at least some known baggage and it all works out. (He was suspended for three games last season at Texas A&M for undisclosed reasons.) Worst-case scenario? You mean absolute worst-case? Well, BC's Sean Williams was the 17th overall pick 11 years ago, and Boston College fans know how that went. I'm just glad he's not the next J.R. Giddens.
Williams does feel like a steal based on his ability alone, and he does give the Celtics one of the few things they don't have – a young, athletic big man with a condor's wing span. Because the Celtics aren't counting on him like a lottery team would, there's time to let him acclimate to the NBA on a roster full of total pros.
2. Luka Doncic to the Mavs via a trade with the Hawks, who took him third: If you're a skeptic, watch some video of him on YouTube and get back to me when you're inevitably converted. Who better to learn from than Dirk?
3. Michael Porter Jr. to Denver at No. 14. That's not a bad spot to take a supreme talent who comes with health risks. Maybe he's a guy Ainge would have taken at No. 8
■ You know you're getting old when you still think of new draftees' dads as young players. I feel like Jared Jackson Sr. was at Georgetown no more than a decade ago. And it couldn't have been 23 years ago that Gary Trent Sr. – aka The Shaq of the MAAC – was the No. 11 overall pick by the Bucks?
■ Bill Laimbeer is 61 years and eternally unlikeable on account of him still being Bill Laimbeer, and let me tell you this. I'd rather he come out of retirement, demand to wear No. 33, and play 48 minutes a game for the Celtics next year to the option of having clueless ninny Dwight Howard in green next year.
Ainge had better do something that Howard can't: pass.