Celtics
Newest Celtic Robert Williams sounds ready to dive into the NBA
He called being selected by the Celtics "a blessing."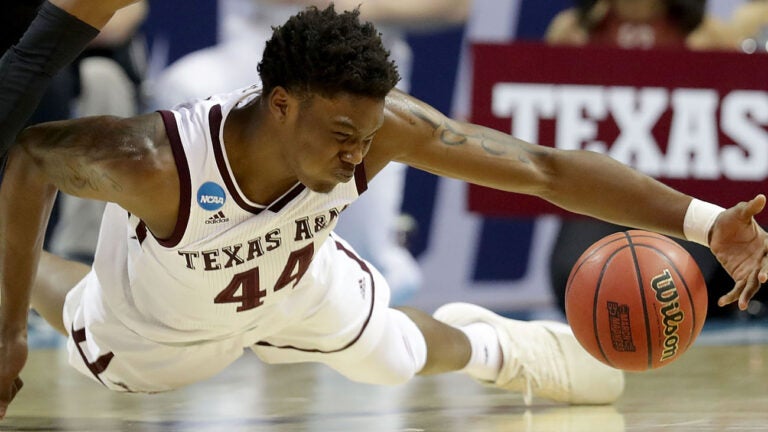 Robert Williams, who was selected by the Celtics with the 27th overall pick in Thursday's NBA draft, took part in a brief conference call with reporters Friday afternoon. There were considerable technical difficulties with the call, but here are a few of the decipherable highlights from the former Texas A&M forward's opening chat.
■  Williams averaged 2.6 blocks per game last season and was a two-time Southeastern Conference Player of the Year. He said he is eager to join a Celtics team that had the NBA's top-ranked defense last season.
"I feel like I love defense,'' he said. "I feel like most of all, I thrive off of defense. Defensive stopper, and I feel like the energy . . . the Celtics thrive off of defense, just the excitement from simple hustle plays as far as diving on the floor.
"I feel like I can definitely bring a lot of energy in that respect.''
■  The Celtics fell just one win short of reaching the NBA Finals this past season, and that was not lost on Williams.
"They were a great contender this year, have a great team,'' he said. "So I'm just going in with an open mind, focused, soak up all the good advice you can get from the vets.''
He said he was particularly looking forward to learning from Al Horford.
■  Williams probably could have been a higher pick if he'd entered the draft after his freshman season. But he said he made the right choice by returning to school for his sophomore year.
"Definitely no regrets,'' he said. "I definitely feel like everything happens for a reason. As far as my decision to go back, it was a decision between me, my mom, my dad.
"I felt like I wasn't mature enough on the court.''
■  Williams was still viewed by most draft experts as a top-20 pick this year, with some even slotting him just outside the top 10. So it was a bit of a surprise that he fell to the Celtics at No. 27. But Williams said he prayed before the draft and had faith he would land in a good spot.
He called being selected by the Celtics "a blessing.''
"I just always pretty much know nothing is guaranteed,'' he said, "so I just prepared to be ready to hear my name called whenever.''
■  Williams said he once played an AAU game against Celtics forward Jayson Tatum, and he is eager to team up with the 20-year-old Tatum and 21-year-old forward Jaylen Brown.
"I feel like Jayson and Jaylen, they bring energy every day,'' he said.
■  Williams initially had a call scheduled for 11 a.m. but it was postponed an hour. Williams, who celebrated Thursday night with his family in Louisiana, explained that he'd overslept at his aunt's house, and that his sister woke him up and reminded him that he'd had a call.