Celtics
Morning sports update: Danny Ainge 'had no idea' he was live when he revealed the Celtics' pick to Terry Rozier
"I thought he was FaceTiming me."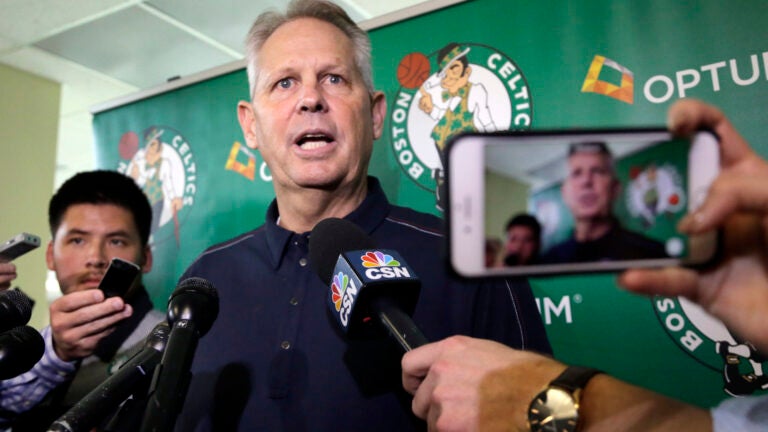 Rick Porcello allowed one hit in seven innings, Boston had a season-high 16 hits, and the Red Sox beat the Twins 9-2 Thursday to avoid a series sweep. The Celtics selected Texas A&M forward Robert Williams with the 27th overall pick of the 2018 NBA Draft.
Danny Ainge 'had no idea' he was live on air when he revealed the Celtics' pick to Terry Rozier
Minutes before the Celtics pick in the 2018 NBA Draft, Terry Rozier was asked to predict which player Boston would select. Rozier decided he'd like to make a very educated guess, so he FaceTimed the man about to make the pick. Danny Ainge answered.
The Celtics president of basketball operations wasn't aware Rozier was calling from the set of Bleacher Report's live online draft show. When the point guard asked Ainge who he planned on taking 27th overall, Ainge told him Boston was looking for another ball-handler.
"I got to draft a point guard," he said.
Rozier laughed, then pressed him for the truth. Ainge gave it to him.
"I think it's going to be Bob Williams, but we're looking at all the medical stuff," he replied.
The pair exchanged goodbyes, then Rozier put down the phone.
"Bob Williams, I'm gonna go with Bob Williams," he told the hosts.
His "guess" was proven correct moments later when the Celtics chose the Texas A&M forward. After the draft finished, Ainge said he thought the conversation was private, but he didn't seem to upset to learn he'd tipped his hand before NBA commissioner Adam Silver read the draft card.
"I was obviously joking with Terry about the guard position," Ainge said, per ESPN. "I had no idea I was on live, whatever it was. I thought he was FaceTiming me. I had no idea. But, anyway, that is sort of funny. We're excited about Robert, and we felt like he was the best player available, and we think he's a great fit for our team."
.@T_Rozzay3 really FaceTimed Danny Ainge to get the Celtics pick on the B/R draft show ? pic.twitter.com/KMvkIS1WG6

— Bleacher Report (@BleacherReport) June 22, 2018
5 things to know about new Celtics forward Robert Williams: The 6-foot-9 forward should make for an excellent rim protector and alley-oop target next season, but there are doubts about his motivation. Williams shares Kyrie Irving's reservations about whether planet earth is indeed round. (Boston.com)
A mom's fairytale draft was spoiled by her employer, the 76ers: Tyneeha Rivers works for the Philadelphia 76ers, so when the team selected her son, Mikal Bridges, she said she was "so excited he's coming home to be part of our Sixers family." Unfortunately, the fairytale soon ended when the 76ers promptly traded Bridges to the Suns. (Boston.com)
Brad Stevens gave an update on Gordon Hayward and Kyrie Irving: Speaking before the draft, the Celtics coach said the team was looking to add versatility and shooting, but noted it's more important for the team to come back healthy. On that note, he said Irving and Hayward are "well on their way to being cleared." (Boston.com)
Daily highlight:
https://twitter.com/RedSox/status/1009872336366030849