Celtics
5 things to know about new Celtics forward Robert Williams
He is known for his defensive ability, but the Celtics see potential for more.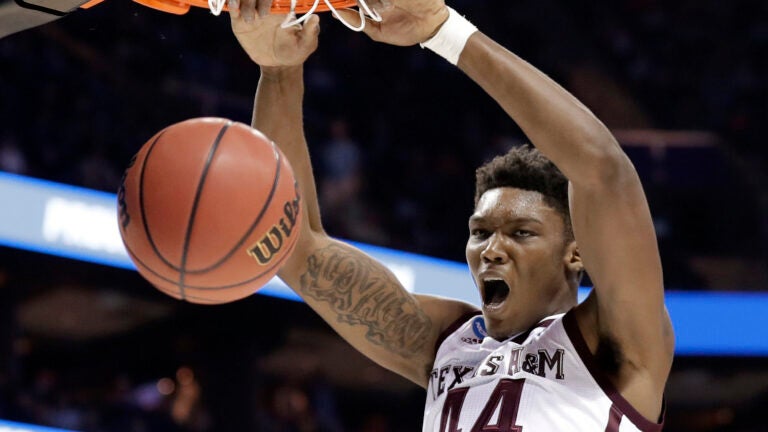 A closer look at Robert Williams, the 6-foot-9 forward the Celtics selected with the 27th overall pick in the 2018 NBA Draft . . .
He could have declared for the draft after his freshman season. 
Williams played two seasons with Texas A&M, averaging 11.1 points, 8.7 rebounds, 2.5 blocks, and 1.4 assists per game as an Aggie.
Although he could have left for the NBA after a successful first season of college basketball, Williams said he wanted to come back to help his teammates.
"If we make it far in the tournament, maybe some people can leave who wouldn't have had the chance to leave," he told Yahoo! Sports in March. "It was about everybody around me, making everyone around me better, honestly."
A&M center Tonny Trocha-Morelos said he didn't expect Williams to return.
"I personally asked him why," said Trocha-Morelos, who roomed with Williams. "He told me, 'I want to leave this program in a good position. I know I can go to the NBA and make a lot of money, but when people ask me where I went to school and I say Texas A&M, I don't want them to say I didn't win anything.'"
With Williams on the roster for a second season, the Aggies ended up advancing to the Sweet Sixteen of the 2018 NCAA tournament. His individual performance improved slightly in a few statistical categories, including field-goal percentage and defensive rebounds. He was also leading rebounder in the SEC his sophomore year.
He is known for his defensive ability, but the Celtics see potential for more.
Some of Williams's strengths include his ability to get up and down the court in transition, protect the rim, and switch on the perimeter. Speaking to reporters at the Auerbach Center following Boston's selection, coach Brad Stevens highlighted Williams's athleticism, footwork, "ability to block shots," and "ability to alter shots."
Celtics president of basketball operations Ainge also said Williams will "for sure" provide rim protection and rebounding. His length, combined with his speed, have the potential to be a lethal combination for opponents.
"He doesn't have to do too much out of the gate," Ainge said. "He can do what he does well while his game evolves into something more."
Both Stevens and Ainge expressed an interest in developing Williams's shot as well as his ball-handling skills. While Williams shot 66.8 percent from two-point range last season, he did not convert on any of his 12 three-point attempts. He also shot 47.1 percent from the foul line and lacked overall range.
"I think he'll improve his shot," Stevens said. "We'll get right to work on that . . . We [also] put a lot of time into ball-handling with our bigs from day one once they get here — and obviously into the dribble handoffs and the passing. He won't have any better role models than the guys in front of him."
There are doubts about his motivation.
ESPN's Adrian Wojnarowski said Williams has "lottery-level talent," but noted questions about his attitude and work ethic may have dropped his draft stock. Williams was suspended two games for a violation of school policy last season.
"If he can show a commitment to playing hard, [he] could be a steal of the first-round," Wojnarowski tweeted Thursday.
Speaking to reporters Thursday night, Ainge expressed no concerns regarding Williams's character. He said the team spoke with his coaches, teammates, trainers, and several other individuals who are "familiar" with the 20-year-old.
"We do our own background checks," Ainge said. "We don't really read what everybody else says. When you say people are projected, that was before he went through the draft process, so I never really believe that anyway."
"You never know everything about everybody, obviously, but we're comfortable with who he is," he continued. "Everybody likes Robert. I know he's not perfect, but most players aren't. We think he's got a great upside. We're very excited to have him."
He's a pro at fielding lob passes.
Guard Marcus Smart is going to have another alley-oop target next season.
Thanks to his body control and vertical, Williams has connected on countless lob passes for an easy basket. As Stevens put it, "if you can have four shooters on the floor and a guy like that rolling to the rim, you can just throw it up in the air and he can go get it and finish it."
Even if Williams is not the one scoring, Stevens said the threat of him around the rim is enough to generate a good look for a teammate behind the arc.
"When you can get a step with size, and just throw it up in the air, no matter how consistent the help is at being over, you're going to draw something," he said. "You're going to be either able to get lobs or you're going to be able to skip it to the corners because they have to over-help because that threat is just so big."
He and Kyrie Irving will probably have an interesting discussion.
https://twitter.com/rob_williamsIII/status/982437743325102080