Will Robert Williams develop into a Clint Capela clone for the Celtics?
Assuming Brad Stevens and the veteran Celtics players can take this kid and mold him into a responsible pro, there is a lot to be excited about.
COMMENTARY
There was some surprise when Texas A&M big man Robert Williams slid all the way to the Boston Celtics in the 2018 NBA Draft. Most mock drafts had Williams off the board in the late lottery or middle of the first round, so he was immediately labeled the potential "steal of the draft" when the Celtics got him with the 27th overall pick.
We now know questions about his medical history and overall effort are partly what caused him to drop, but there is also a strong feeling that being part of an organization like the Celtics could be just what Williams needs.
Multiple teams were concerned and calling around last night about potential knee injury. Williams was also, according to multiple sources, not in great shape. One source close to Williams: "He just needs structure. Boston might have been the best place for him to end up." https://t.co/3D8Gfonrw0

— Jeff Goodman (@GoodmanHoops) June 22, 2018
Assuming coach Brad Stevens and the veteran players can take this kid and mold him into a responsible pro, there is a lot to be excited about with Williams. Eventually, he can fill a valuable role for the Celtics — the same way another valuable role-playing big does for an NBA contender.
Center Clint Capela may not be the first name that comes to mind when you think about the Houston Rockets, but he's been a hugely important player for them. There's a reason everyone is comparing Williams to him. Not only do they play similar games, Williams might be a Capela clone.
They are both about 6-foot-10 and 240 pounds. They both have big hands, 7-foot-4 wingspans, and a standing reach of about nine feet and five inches. One of the few differences on the court is Williams has a slightly better vertical leap.
Looking like a player, though, and playing like that player are two different things. Williams showed us a Capela-like game in college, but can he do it in the pros?
Here's a look at what Capela does for the Rockets — and what Williams could do for the Celtics:
Lob city
Williams's athleticism and jumping ability allow him to do things like this:
This is an important element to the Capela comparison because James Harden threw Capela a ton of alley-oops that didn't look like alley-oops until the last minute. Being able to catch a lob from a near standstill is important.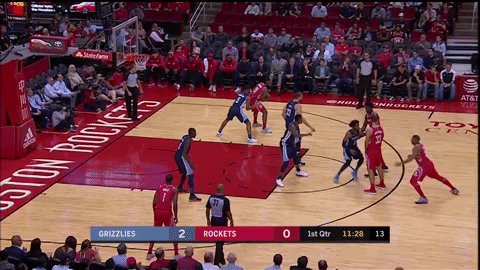 Watch Harden drive the lane, draw multiple defenders, and even go up with his left as if he's going to lay the ball in. Instead, he lofts a little lob to Capela who takes advantage of all the turned heads to get himself an easy bucket.
This kind of Harden-to-Capela lob happened nearly every game, and often more than once. The beauty of it is how deep Harden drives the ball while still managing to get a perfect lob pass off.
Williams's quick leaping ability will allow the Celtics to pull off similar plays.
The Rockets also had Ryan Anderson, Trevor Ariza, and Eric Gordon — all three-point threats — on the floor with Harden and Capela. Defenders had to stay occupied with the shooters, which allowed for a driving lane to the left — even for the left-handed Harden. All Capela had to do is set a couple of picks, roll to the basket, and stay engaged throughout the duration of the play.
The last part is important because some players, especially rookies, would get fooled — just like the defenders were — into thinking Harden was taking the layup. Capela staying engaged and understanding the pass could come at the last possible instant is what makes these plays possible. Giving up on the possibility of a lob could lead to a tougher shot or a turnover.
Williams could make an immediate impact sharing the floor with Kyrie Irving, Jayson Tatum, Gordon Hayward, and either Al Horford or Jaylen Brown. All are deep threats, and Williams would simply have to set screens and roll hard to the basket.
A ball handler like Irving can get to the same place Harden did in that play. If Horford is on the floor, there's a great chance he's drawn an opposing big away from the basket. That not only gives Irving more room to maneuver, but it also forces the rest of the defense to overreact to their rim protector being pulled away from the hoop.
Much like the Houston play above, it would give Williams an opportunity to slide behind those defenders and put himself in position catch a lob, even if it's thrown at the last millisecond of the play.
Rebounding
Running to the rim like that pays off in other ways too. Capela was one of the league's best offensive rebounders, finishing the regular season fourth in offensive rebounds per 48 minutes and eighth in offensive rebound percentage. By focusing almost entirely on setting picks and putting himself in position to get lobs, Capela also found himself in positions to clean up misses.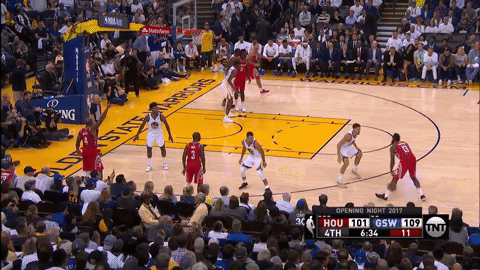 On the Celtics, Williams would not be a primary option in the offense. However, if he can learn how to take advantage of defenses who are focused on stopping the stud scorers the Celtics have, he can make a nice impact early by putting back misses.
Offensive rebounds can be very disheartening to defenses. Williams wouldn't even need to score the ball to have a profound impact on the offense. If he can grab rebounds, he will be forcing opponents to play another 20 seconds of defense. We've seen it happen to Boston over and over again: Good offensive rebounders can make even good defenses look bad.
Williams grabbed about 10 percent of available offensive rebounds at Texas A&M last season, which is three percent lower than Capela. By NBA comparison, it would put him slightly above Celtics center Aron Baynes last season. Baynes, for all his positive impact, was not known as a tremendous offensive rebounder, so Williams will have to work harder on that end to do what Capela does for Houston.
Finding the open spot
Williams will also need to learn how to read situations and make proper cuts to get easy baskets. Plays like this exist every game for Boston: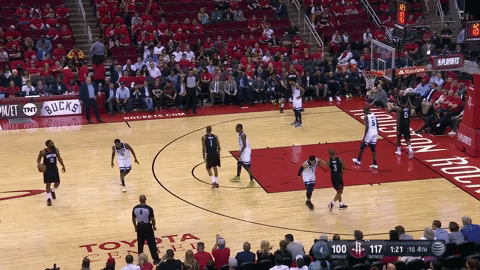 Instead of Chris Paul in the post, you can envision Hayward, Tatum, Marcus Smart, or Horford. All have the ability to draw multiple defenders, and all can pass out of those situations. Recognition of what the defense is doing will be the key to getting Williams easy buckets off another player's post up.
The running theme here is reacting to a defense's overreaction. When a player sees the back of his defender's head because he's focused on the guy with the ball, he should cut backdoor and finish the play. The Celtics will have very good players on the floor that will draw that kind of overreaction, so it's imperative for Williams to recognize it and take advantage whenever he gets on the floor.
The beauty of a player like Williams is that he can stay happy as a scorer simply by living in the wake of other dynamic scorers. The attention Irving, Hayward, Tatum, Horford, and Brown will demand from defenses will leave natural openings for Williams in the half court offense. Beyond his ability to block shots and trigger transition opportunities, Williams can feast when he's on the court just by taking advantage of an opposing defense's natural inclination to pay too much attention to insanely talented offensive players.