Celtics
The Celtics have reportedly extended a qualifying offer to Marcus Smart
What will Smart do next?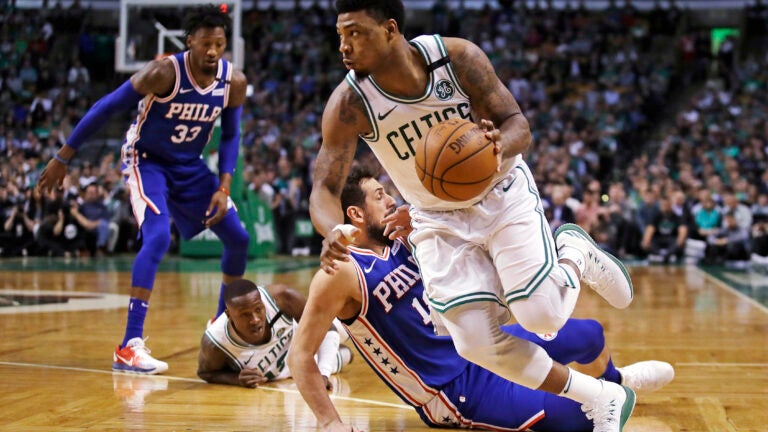 The Boston Celtics have reportedly taken the first step in guard Marcus Smart's restricted free agency.
According to NBA reporter Keith Smith, the Celtics have tendered a $6 million qualifying offer to Smart. Once free agency officially kicks off July 1, Smart essentially has three options:
1. Test the market and strike a deal with another team. Some of the clubs rumored to be interested include the Indiana Pacers, Dallas Mavericks, Chicago Bulls, and Phoenix Suns. Boston will have two days to match any offer sheet Smart receives.
2. Sign the qualifying offer. If Smart is not interested in fielding offers, he can sign the qualifying offer to play in Boston for $6,053,719 next season. As Boston.com's John Karalis laid out, this route is particularly risky because of the disparity in pay between a qualifying offer and new contract.
3. Negotiate a deal with the Celtics. Until he makes a decision, Smart's cap hold is $13.6 million — which could affect Boston's pursuit of other available free agents.
While Smart has made it explicitly clear he wants to — and ultimately thinks he will — stay in Boston, he also is hoping to get paid. The 24-year-old told ESPN's Jackie MacMullan he thinks he's worth "more than $12-14 million" per year.
"My heart's here," Smart said during his exit interview. "I want to be here. I love this city. I love this team. I love the atmosphere it gives off. I've been here for four years. My heart's here, but there's definitely going to be some factors that go into it."
According to Smart, Celtics coach Brad Stevens and president of basketball operations Danny Ainge are "already planning" to bring him back. The Boston Globe's Gary Washburn also reported earlier in June the Celtics were interested in bringing back both Smart and guard Terry Rozier.