Celtics
What Robert Williams had to say in his introductory Celtics press conference
"It's a great fit."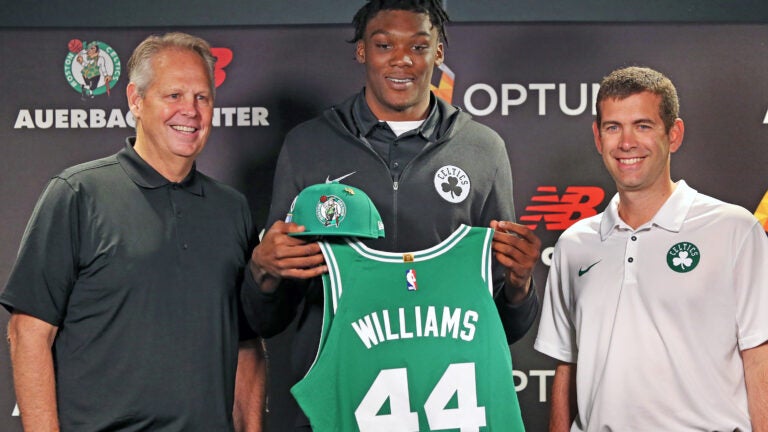 BRIGHTON — Celtics draft pick Robert Williams is already putting in work ahead of his rookie season.
Coach Brad Stevens told reporters the 20-year-old has been in the gym every day since arriving in Boston, including a 6:30 a.m. workout before his introductory press conference Friday morning.
"Boston is a place that loves hard work," Williams said. "They love players and athletes who give it their all, give the city and the team their all."
Stevens and president of basketball operations Danny Ainge — who welcomed Williams and his family to the Auerbach Center Friday — both expressed excitement about the addition of Williams. Stevens said he believes the two-time SEC Defensive Player of the Year at Texas A&M is ready to contribute on both ends of the floor.
"He obviously has a lot of transferable skills right to the NBA," Stevens said. "He's able to get up off the floor quickly, play way above the rim, but also handle the ball and pass the ball, which are really things we need our forwards to be able to do."
Williams, too, expressed excitement about joining the Celtics. The 6-foot-10 forward said he's eager to take in the "energy" and "wisdom" from teammates, the coaching staff, and the community. He specifically mentioned veteran forward Al Horford as a player he'll likely turn to for guidance.
"I plan on looking at the best from Day 1," he said. "Horford has had a great career. He eats right, works out right, does everything you need to do on a day-to-day situation, so I feel like me following in his every footstep will give me the keys to success." 
"What's most interesting about his game is that Al doesn't rush at all," Williams continued. "He takes his time. Even if some people say his moves are too slow, they're efficient. They work. His game, from dribble handoffs to how he's coming off screens in attacking mode, it's all beautiful. It all helps me prepare myself."
The Celtics selected Williams with the 27th pick in the 2018 NBA Draft, although he could have declared for the 2017 draft after a successful freshman season. Williams said he opted to stay another year to improve his maturity on and off the court and also noted he doesn't have any regrets about the decision.
"My mom was a big part of that," he told reporters. "She said I needed to mature more, even if I didn't feel like that."
Questions about his motor may have contributed to his stock dropping in the draft, as experts had initially projected him to be off the board earlier in the first round. But Williams said he knows what he's capable of doing and will only used the doubts as motivation to "do things the right way."
"Their decision was their decision," he said. "My mom always tells me everything happens for a reason, and I feel like I landed in a great, great place."
"I work hard, and I know I can work hard and I'm a hard worker," he continued. "Just being in this organization, like I said, knowing the morals of this organization, knowing what it takes to be in this league, definitely hyped me up and I'm ready to start."
As Ainge put it, "it's hard to have a low motor and be Defensive Player of the Year two years in a row in a tough conference."