Celtics
Jabari Bird on free agency buzz: 'I'm not too concerned about it'
Other teams are reportedly interested in Bird.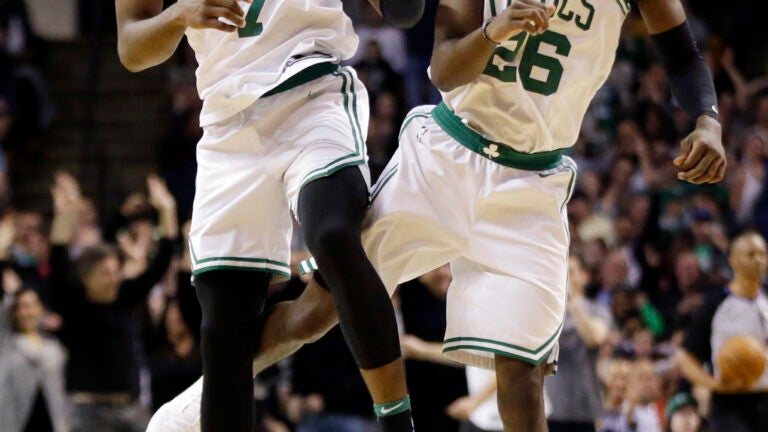 WALTHAM — Celtics shooting guard Jabari Bird could very well be on the move next season, but the 23-year-old isn't too preoccupied with what's to come.
"I'm just worried about practice right now, to be honest," Bird told reporters after the Celtics' first summer league session Sunday. "Whatever happens off the court, my agent is going to handle that for me. But right now, I'm a Celtic. That's what I'm getting ready for, Celtics summer league."
Bird — who is a restricted free agent — has garnered interest from both the Philadelphia 76ers and the Minnesota Timberwolves, according to the Boston Globe's Gary Washburn. The Celtics have reportedly extended a qualifying offer, worth $77,250, and can match any offer sheet he receives from other teams.
If Bird signs the qualifying offer, he will remain a two-way player with the Celtics and their G-League affiliate, the Maine Red Claws. Bird, however, will likely try to negotiate a standard NBA contract — whether that be with the Celtics or another team. As a two-way player, Bird is not considered a part of Boston's 15-man roster and remains ineligible to compete in the postseason.
"I always want to be an NBA player, like on the roster, full-time," he said. "Whatever happens this summer, I'm looking forward to it."
After getting drafted 56th overall in the 2017 NBA Draft, Bird has played in 20 games for the Red Claws and in 13 games for the Celtics. Though his status is unconfirmed for the upcoming season, he is one of 13 players on Boston's summer league roster.
"[My agent] knows right now I'm trying to focus on summer league," Bird said. "But if he hears something kind of official, he'll let me know. Right now, I'm not too concerned about it."
Bird said he feels "a lot more comfortable" with his game this season than he did his rookie year. He seemed eager to apply what he has learned not only from playing with the Celtics for a few weeks at the end of the regular season, but also from watching them compete in the playoffs.
"It was a great experience," he said. "Being up-close and personal in the Eastern Conference finals, watching some of the best basketball players in the world go at it. I was just like taking mental notes in my head the whole series."