Celtics
Al Horford, Pedro Martinez reconnect years later
Horford was one of the Boston athletes to support Martinez at his "Feast with 45."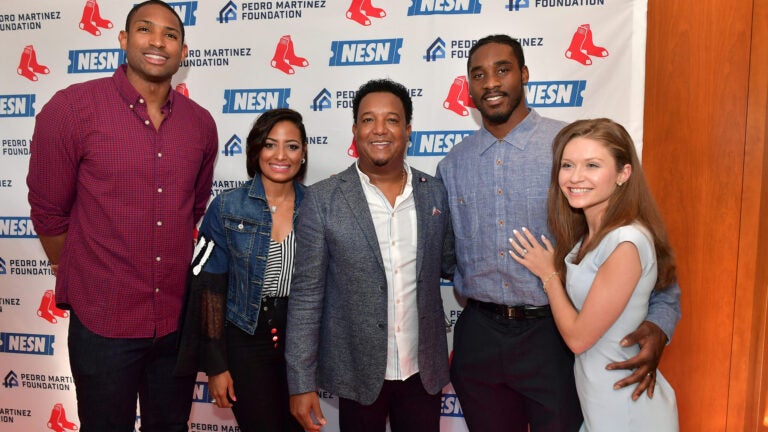 When Celtics forward Al Horford met pitching ace Pedro Martinez, he never thought the two would one day link up in the same sports market.
"I never dreamed I would be in this Boston sports circle," Horford said Friday at Martinez's "Feast with 45," an event featuring dishes from 45 local chefs to benefit the Pedro Martinez Charity.
Horford said he first met Martinez when he was 10 or 11 years old because his mother, Arelis Reynoso, interviewed the pitcher as a sports reporter in the Dominican Republic. At the time, Martinez was a member of the Montreal Expos.
"I've seen him before since, but he's just been surprised in how long it's been and how I'm playing in the NBA and everything," Horford said.
Horford — who is 14 years younger than Martinez — said he, as a young boy, was "very excited" to meet the All-Star righthander.
"Pedro was such an amazing player," he said. "You get to meet one of your heroes. Growing up in the Dominican, it was guys like him, Sammy Sosa, that group that we all looked up, and Pedro was somebody I really looked up to. You always kept up with how many strikeouts he was getting and everything."
After four seasons with the Expos, Martinez was traded to the Red Sox. Horford said he started following him again, as well as other Dominican baseball players, like sluggers David Ortiz and Manny Ramirez. Horford called the shared hometown connection between Dominican athletes in Boston "very special."
"For me, it's a great honor," he said. "I really just soak it in and really try to learn as much as I can from them. Just great players and great people, too."
Before signing with the Celtics, Horford played nine seasons with the Atlanta Hawks. He said playing in Boston, however, is definitely a "different" experience.
"I feel like sports here are a way of life," he said. "People here take a lot of pride in the city. As a player, when you come in, you don't quite understand that. But I've learned to understand and appreciate how passionate the people in Boston are about their community and about sports."
Other players to support Martinez at his "Feast with 45" included former Red Sox players Jason Varitek and Tim Wakefield. Patriots defensive end Geneo Grissom was also in attendance.
***
Celtics draft pick Robert Williams said he plans to turn to veteran forward Al Horford for guidance his rookie season.
"I plan on looking at the best from Day 1," Williams told reporters during his introductory press conference. "Horford has had a great career. He eats right, works out right, does everything you need to do on a day-to-day situation, so I feel like me following in his every footstep will give me the keys to success." 
Horford seemed open to filling that role for Williams.
"I just think he has the mindset he wants to work," Horford said. "He wants to get better. When you have that, it'll make everything much easier. There's a lot going on your rookie year, a lot of things, but we're going to try to help him as best we can so he can feel comfortable and feel good with our group and get integrated as quickly as possible."
Williams got off to a bit of a slow start when he missed his flight for the Celtics' first summer league practice Sunday. Though the 20-year-old arrived a day late, he seemed eager to atone his mistakes.
"He's still really young," Horford said. "But we'll be helping him along."