Celtics
Newly signed Brad Wanamaker has a couple of Celtics connections
Before returning to the United States, Wanamaker already knew both Daniel Theis and Marcus Morris.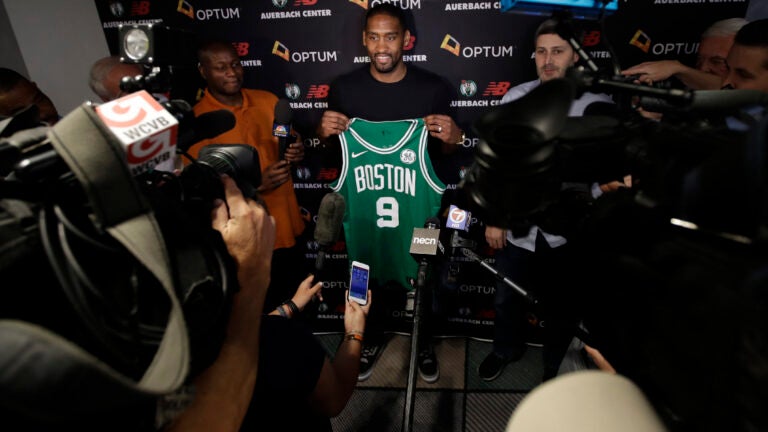 BRIGHTON — After spending nearly the entirety of his professional career overseas, point guard Brad Wanamaker is finally getting a shot in the NBA.
Wanamaker — who went undrafted in the 2011 NBA Draft after four seasons at Pittsburgh — signed a one-year contract with the Celtics Monday. Assistant general manager Mike Zarren introduced the 6-foot-4 guard and his wife, Michelle, before the Celtics' third summer league practice at the Auerbach Center Tuesday.
"He's tough," Zarren said. "He can guard multiple positions. He can shoot. He can handle. We're real happy to add him to the team."
Wanamaker participated in the team's summer league workout Tuesday and expressed excitement about joining fellow members of the 15-man roster during training camp. The 28-year-old said he's had some opportunities to make the jump to the NBA in the past, but called this situation "perfect" for him.
"Over the years, you get them calls from teams, you know, you come out in the summer, you put on a private workout for teams, they're telling you, 'Give us a few days, we're going to send you a contract,' or 'You're high on our radar,'" he said. "This time it was real . . . Draft night, [director of player personnel] Austin [Ainge] hit me up and said, 'We got a spot for you.'"
Though he has never suited up for an NBA game, Wanamaker seemed confident he can contribute to the Celtics. He averaged 11.3 points, 3.8 assists, and 2.7 rebounds in 36 games with Fenerbahçe, a professional team in Turkey, last season. He was also named an All-Star and Turkish League Finals MVP.
Wanamaker said some of his strengths include a "willingness to give it all to the team." Over the course of his seven-year career abroad, he said he has improved his ability to read the game, his leadership, and his ability to knock down shots.
"I'm an all-around player and just want to keep on developing every little thing," Wanamaker said. "[The Celtics] do a lot of switching on defense. [Guards have to] guard multiple players, play multiple positions, and I think I get that."
Before returning to the United States, Wanamaker already knew both Celtics center Daniel Theis and forward Marcus Morris. Theis and Wanamaker played two seasons together in Germany, while Morris and Wanamaker played AAU basketball together in Philadelphia. Though Wanamaker and Morris have not yet spoken since his signing, Wanamaker said Theis told him the Celtics have "a great group," filled with "hard workers and a young core of guys who are hungry to win."
Wanamaker said he believes his game fits the Celtics' system, and he will look to rely on the confidence and skills that earned him this opportunity.
"It's been a dream I had since I was a kid," he said. "It finally happened. I'm here."
"I love to play basketball," he continued. "It got me out of situations growing up. It's my scapegoat, and I just stuck with it. I grinded it out, you know, just trying to get better each year, and now I'm here."