Celtics
What Robert Williams had to say after missing the Celtics' first summer league practice
"Missing my flight didn't help that at all, but like I said, just looking to strive past it."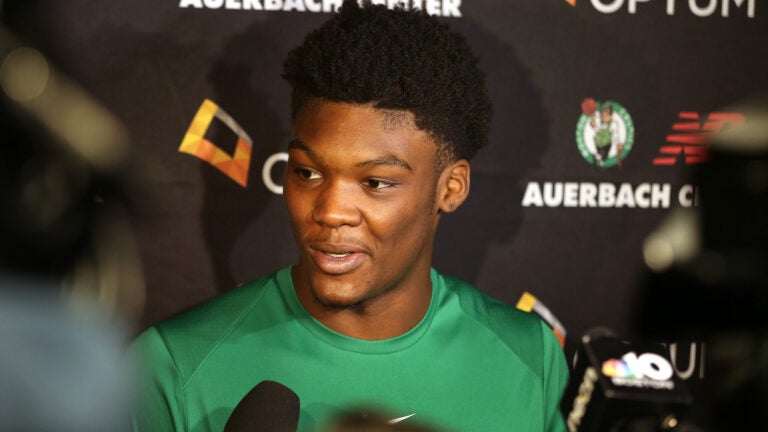 BRIGHTON — Celtics draft pick Robert Williams said his early mishaps with the team have "definitely" been a wakeup call.
Williams was present for the Celtics' third summer league session Tuesday, after being absent for the group's first practice Sunday because he had missed his initial flight to Boston. Williams did arrive in time to participate in practice Monday.
"I went home to get a couple of things and just a missed flight, a miscommunication by me," he said. "It's all on me. I'm just looking to push forward and move past it."
The 6-foot-10 forward out of Texas A&M also overslept his scheduled conference call following the NBA draft. Williams said he has since spoken with coach Brad Stevens, who emphasized the importance of accountability.
"They expressed [that] to me a lot when I first got here," he said. "Just accountability and stressing this is a job, you know, things are different in college. So just knowing what you have and the opportunities are limited."
Williams said discipline was also discussed but did not specify what exactly his punishment would entail — other than "a couple extra sprints or something like that." Notwithstanding the external pressure from his coaches, Williams said he was upset with himself after the mistake. 
"It was more of a self upset because people already have a bad image of me, I guess you could say," he told reporters. "Missing my flight didn't help that at all, but like I said, just looking to strive past it."
Celtics summer league coach Jay Larranaga said his first impression of Williams was a positive one. Larranaga had expressed disappointment after Williams missed the team's opening session, but said Monday's practice went well.
"He's been really, really good, really focused, picked up the points of emphasis that we had yesterday in practice really well [and] seems very coachable," Larranaga said. "Like we said, this is the beginning of a process for him and for our whole summer league team. So day one was good."
Larranaga said the coaching staff has tried to impart the value of a daily routine onto all of the players participating in their summer league workouts. Newly signed Brad Wanamaker and Clyde Drexler's son, Adam, were both present Tuesday.
"The great players I've been fortunate to be around or we've had in our program, they establish a daily routine and they stick to it through the ups and downs of a long season," Larranaga said. "We told them the intensity of that routine might change. Some days they feel like they need to get a good hard workout, some days they're tired or coming off four in five and they're going to do less."
"But the consistency of getting to the facility every day, getting your skill work in, getting your treatment in, getting your strength and conditioning in — that that consistency is what we've seen has helped guys be successful."